Rams fall 38-0 in senior night game
October 5, 2019 by Alina Nelson, Arizona State University
---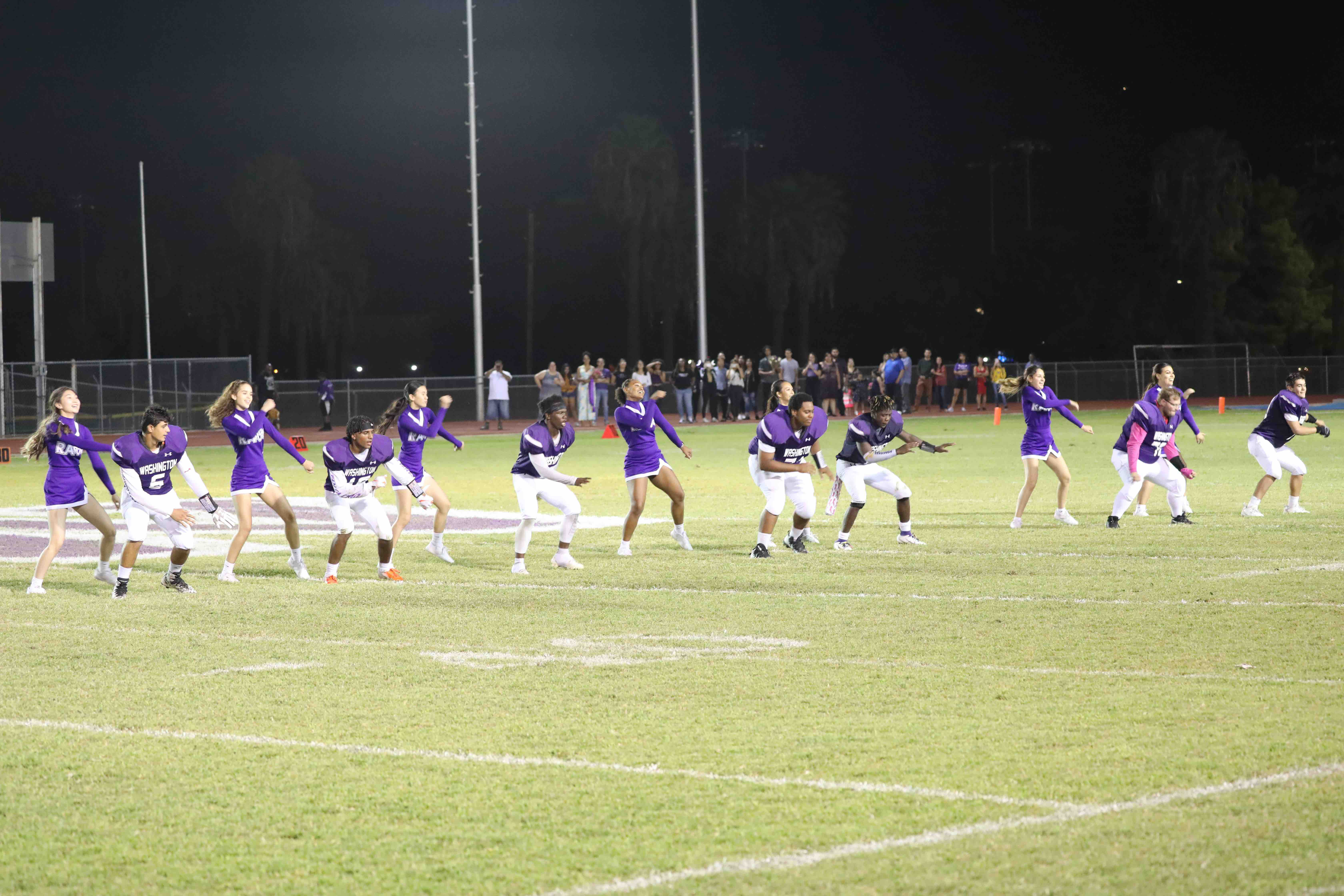 Team spirit was in full effect for senior night as the Washington Rams took on the Apache Junction Prospectors in a home conference game on Friday night.
Family and friends adorned the stands to cheer on their favorite Ram, but their support wasn't enough to bring home a victory. The Rams fell, 38-0, at Pagel Field, dropping their overall record to 3-4. The Rams are 1-1 in the 4A Black Canyon region.
Apache Junction went up 14-0 in the first quarter, successfully completing one of two two-point conversions.
"When they would score first, we would put our heads down," senior guard Carlos Castillo said. "We need to keep a positive vibe. We need to keep rolling like it's our last play, like it's 0-0."
A standout moment for Washington's defense was when senior safety Travion Hughes recovered a fumble in the end zone in the second quarter.
Hughes left the game with a hamstring cramp, but returned shortly after stretching. Injuries were prominent throughout the game.
Senior wide receiver Dae dae Zachery left the game twice with different injuries: back and neck.
With a little over five minutes left in the second quarter, Zachery landed on his back while diving to catch the ball. He sat out for the remainder of the second quarter.
However, Zachery was back on his feet by halftime ready to participate in the festivities.
To kick off halftime, the senior football players participated in a dance with Washington's cheer squad.
"It was something that the cheerleaders wanted to do for the seniors," Zachery said.
"For the last two weeks, we would have to rehearse," Castillo said. "At first, I'll be honest, I wasn't down to do that. It's our senior night, we need to focus on our game, but you know, why not?"
Following the dance, Washington's marching band, the Purple Pride Marching Machine, performed songs including "Fight Song" by Rachel Platten, and "How Far I'll Go" from the Moana soundtrack.
To close out the senior night fun, senior members of the cheer squad and band were escorted down the field by friends and family surrounded by their underclassmen peers.
Zachery's second injury came at the end of the third quarter.
"When I tackled No. 44, my neck jerked back a little bit," Zachery said. "It started hurting and then my right hand got tingly, so I went to make sure I was good."
After the game, friends and family crowded outside the locker room door, ready with balloons and gifts for the players.
"Defensively, we were still in the game, but we had to make adjustments offensively," Castillo said about modifying strategy going into the second half.
"I thought it was a good game," Hughes said. "We just couldn't move the ball on offense to score points."
---