Trivium Prep Remains Unbeaten
October 5, 2019 by Jennifer Jimenez, AZPreps365
---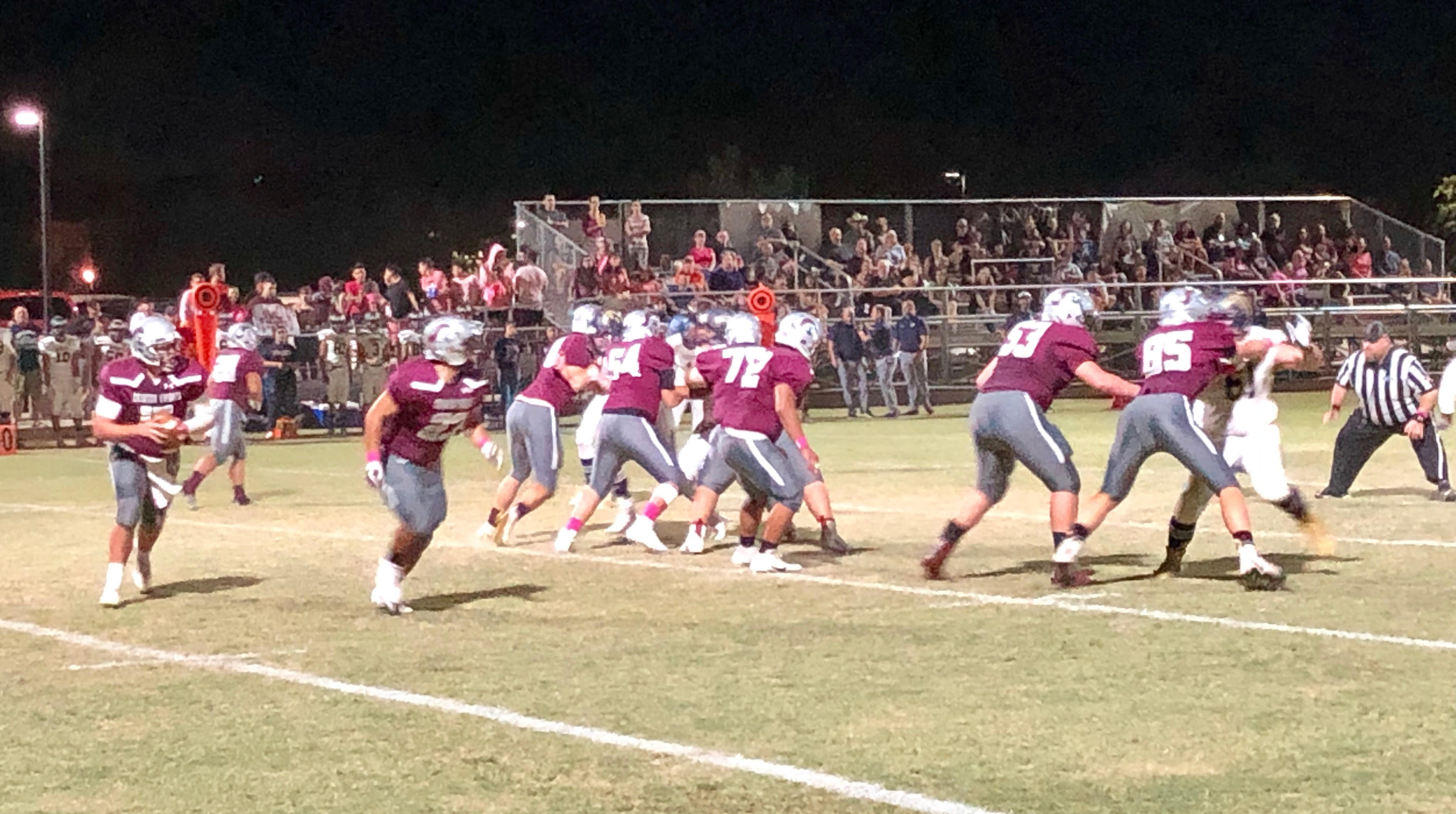 The Trivium Prep Crimson Knights and Parker Broncs met Friday in Goodyear in a battle of the top two power ranked teams in 2A.
It was a game similar to last season's match-up in which Trivium trailed by 21 at the half and rallied to win by a touchdown. This time, the Broncs were behind, but made it interesting in the fourth quarter before falling 41-28.
Trivium Prep scored twice in the fourth, when David Marquez (29 carries) scored his fourth and fifth rushing touchdowns of the game.
"The opportunities are created for me and I just try to do what I can," Marquez said. "My hat goes off to the defense for coming together and making the difference tonight."
Trivium Prep head coach Michael Spencer and staff focused on preparing the defense for the big game.
He had a feeling the offense would find the end zone, he said, with Josh Kottiri running the fly sweep and Marquez pounding the ground.
"With Kottiri running at 4.47 we attack horizontally and David (Marquez) hits them vertically," Spencer said.
Kottiri finished with a 15-yard touchdown.
Parker head coach Jeston Lotts was proud of his team's efforts, saying Parker (6-1) hasn't been in this situation in over 40 years and, with young guys out there, that's all he can ask for.
"We aren't the biggest, fastest or most-talented, but we sure hang our hats on being tough and never giving up," he said. "Wins and loses will happen, but as long as we teach them character that will make a difference."
Parker displayed some of that character after committing a special teams mistake in the fourth quarter.
After the miscue, Parker's Manuel Najera returned the kickoff 73 yards for a touchdown, leaving his team down by 21. Lotts then called for a onsides kick, which Tito Dominguez recovered.
With less than five minutes remaining in the game, the momentum shifted to Parker. Its offense got to the red zone again when junior running back Uriah Martinez scored and Parker followed with a successful two-point conversion.
But Trivium Prep (7-0) closed it out with two big first down runs from Marquez, as the Crimson Knights ran out the clock. Lotts said that trying to contain Marquez was a difficult task, saying he is a monster of a back.
Trivium Prep moved linebacker Kade Gutierrez behind center this year and it wasn't until the Parker match up that both him and Marquez played both ways, keeping the team's athletes on the field in the big game.
"We probably had our best week of practice this week, and we knew we would face a tough Parker team and it would be a dog fight," Spencer said. "It was our goal to make sure we were assignment sharp and mentally focused and knew the way to come out on top was to be prepared and the guys rose to the challenge. Having that preparation gave them sense a of calmness to ease their nerves and come out and follow the game plan."
---