Marshall returns to spark Horizon Honors
October 8, 2019 by Mac Friday, Arizona State University
---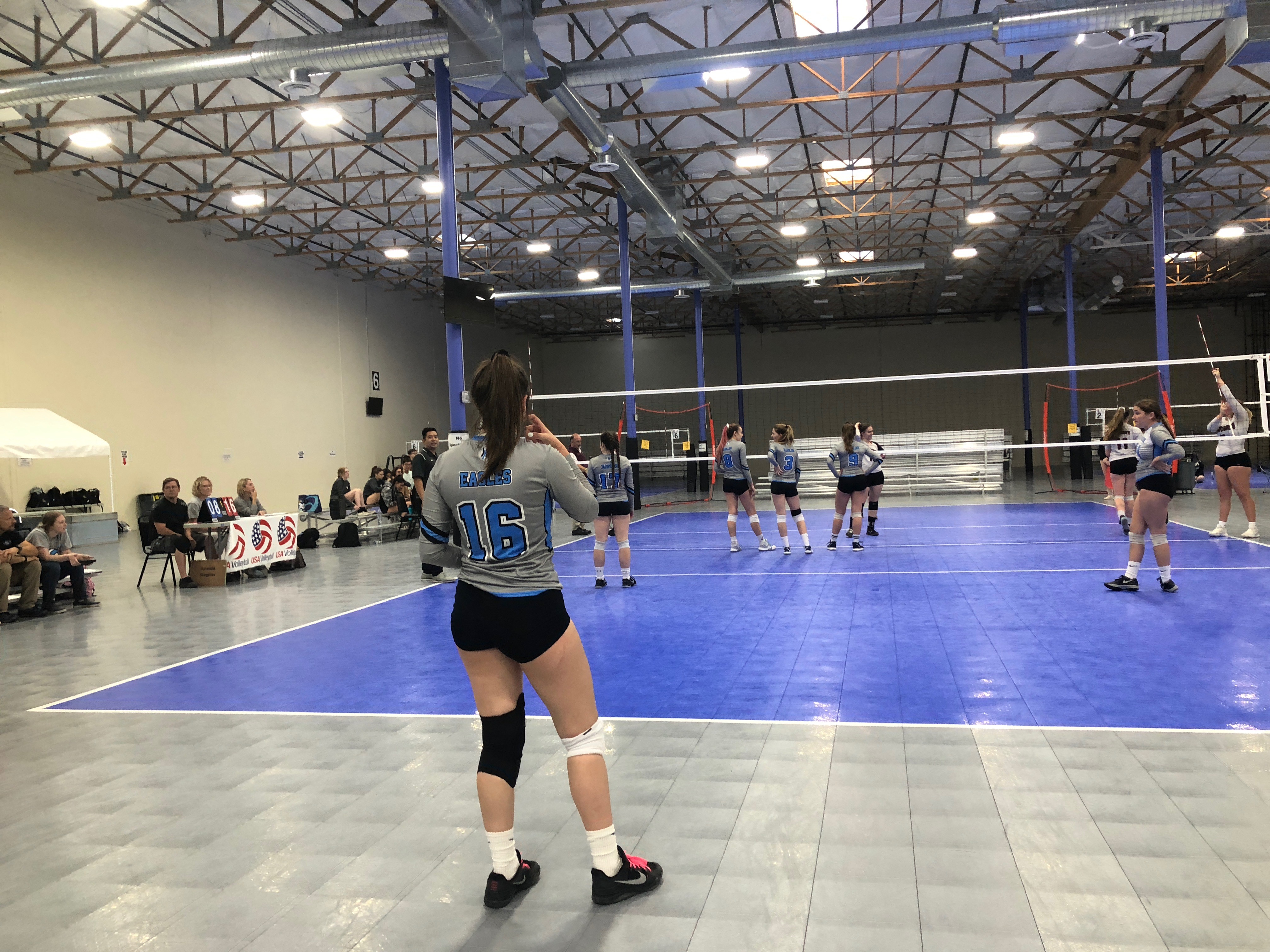 Mac Friday is an ASU Cronkite School of Journalism student assigned to cover Horizon Honors for AZPreps365.com
Rather than dress in sweats and sit on the bench, as she had done for the first nine games and two tournaments of the season, Camryn Marshall donned the gray and blue of Horizon Honors and played the entire contest against Odyssey Institute on Monday night.
The Eagles (3-6) lost in three straight sets against the Minotaurs, but the senior outside hitter remained ecstatic.
"It felt absolutely amazing to be back," Marshall said. "I missed the court so much, it just feels right again, I love it."
Marshall sprained her LCL in a team scrimmage in early September, sidelining her.
During the time she spent injured, the senior coached and encouraged her teammates at every opportunity. She helped them in practice, carefully sending shots and serves over the net for the betterment of her teammates. During games, Marshall sat on the bench and provided leadership, doing what she could to guide the team to victory.
Still sporting a black knee brace, Marshall seemed natural and relaxed on the court and rather than take a gentle approach, the senior went all out on both sides of the ball.
On defense, Marshall led the team in digs with seven and was a constant source of communication, calling plays for herself and her teammates and trying to find a positive outlook after every point, won or lost.
"I'm a really big fan of always being positive, no matter what the score is," Marshall said. "I feel like our team could use more (positivity) so I'm going to try to implement that into everyone's mind for the rest of this season."
Marshall's positivity and leadership did not go unnoticed by her coach and her teammates.
"It was great to see her leadership on the floor," coach Kris Maglunog said. "She definitely contributes a lot to our team and the girls really do lean on her and work off her energy."
"I'm so excited she's back, Camryn brings a lot of energy to the court," senior outside hitter and captain Jordan Cook said. "She's just really positive out there and it's different in a good way."
Marshall also stood out when she took swings on offense. She recorded eight kills, only second to Cook's 10.
During the time she was injured, the Eagles almost exclusively relied on Cook for instant offensive results. Now healthy, Marshall is the piece needed to get the Eagles offense rolling.
Next up for Marshall, Cook and the Eagles is a home matchup with Veritas Prep next Monday.
---