Nicholas Ferrara is at his best in the classroom and on the practice field
October 8, 2019 by Gabrielle Ducharme, Arizona State University
---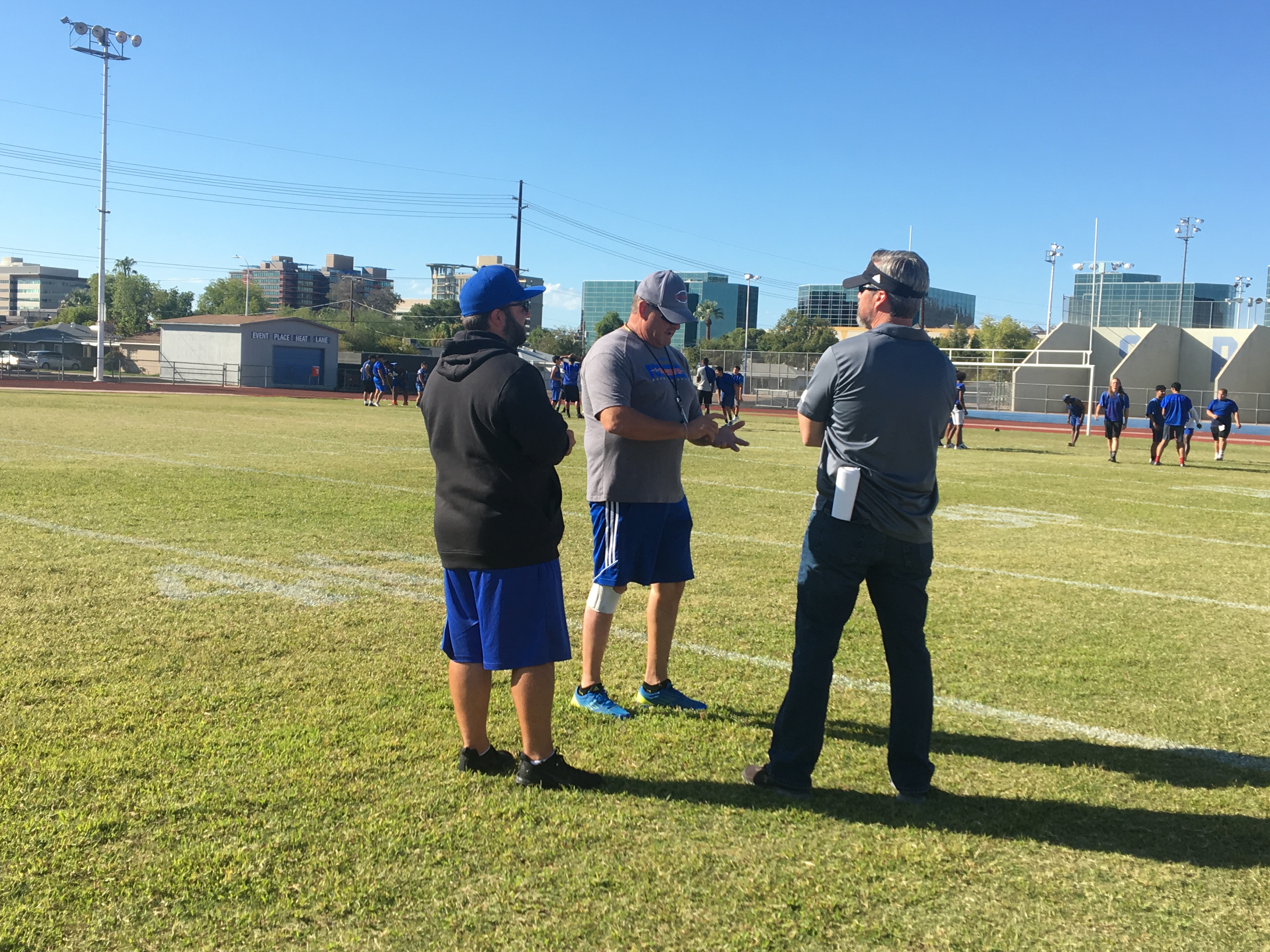 Gabrielle Ducharme is an ASU Cronkite School of Journalism student assigned to cover Camelback High School for AZ Preps365
Nicholas Ferrara is called many names in one day: teacher, coach, father, husband, veteran and "the funniest coach on the Camelback football team."
He teaches biology, coaches three Camelback sports, fathers a 7-month-old and served four years in the Navy.
Despite the accomplishments, Ferrara doesn't like to look back.
"I don't really celebrate those things," Ferrara says.
The teacher grew up in Wisconsin and moved the Phoenix in middle school with his family. He only played one year of Pop Warner football in sixth grade and hasn't played a snap since. He always enjoyed school, showing up an hour early to mingle with friends and staying hours after school ended to interact with teachers. Ferrara coaching and teaching at Camelback was a match made in heaven.
He met Camelback head football coach and teacher, Brandon McNutt while earning his teaching degree at Arizona State. Ferrara was assigned to observe McNutt's class for a semester. McNutt said the observation cycle was full of interesting moments, including one where Ferrara created a power point for the class.
"He spent a week making this, this was gorgeous, he had a powerpoint with interactives, color coded… for a 45-minute class period," McNutt said. "I think the kids were more enamoured by what was going on than the actual lesson. We get the tickets and see that none of them got the right answer!"
The humorous hardworking man soon found himself teaching biology and coaching football alongside McNutt. McNutt convinced Ferrara to come out and coach other sports, so he also began coaching track and field and women's soccer, three sports in different seasons.
"It is actually kind of refreshing because we go from coaching all of the boys in football to coaching all of the girls in soccer," Ferrara said. "The girls are different from boys and present their own challenges. You get to cycle through, meet new kids and it keeps it refreshing."
Ferrara has always been a teacher and mentor at heart, and uses past experience from his time in the military. He served four years in the Navy as a construction mechanic. Ferrara served in three different tours spanning nine months each in Iraq, Afghanistan and Djibouti, Africa. He was apart of a "support effort for the Marines" in the Middle East and did humanitarian work in Africa.
"We built a school for a community down there and built some water wells for people who didn't have access to clean water," Ferrara said. "We built two schools and we built like five water wells while we're there for nine months."
Ferrara's time in the military was nothing more than a job to him. He believes that fulfilled his obligations to his country and family. "It wasn't scary." His experiences have served him well in his time as a teacher, coach and mentor to the next generations.

Camelback assistant coach Dominic Marino was a member of the old football staff from last year. He joined McNutt and Ferrara this year, adapting to their new program seamlessly. Marino believes in Ferrara and admires him for his service.
"To me that gives him instant credibility," Marino said. "Shows his guys that he took that extra step and he was a guy who decided to step up and serve for our country."
Ferrara's time in the military has deeply impacted his coaching style on the field and teaching style in the classroom. He is a man of few words, and prioritizes building relationships with his students. Ferrara the teacher does not care if a student is the star football player or has never played a sport. He is always going to prioritize their education first. Ferrara the coach knows when to joke around with his players and understands the value of being on a team.
"I make fun of myself a lot in front of the kids and if they can see that vulnerability, then they also open themselves up to try new things," Ferrara said.
Junior Saul Corona is Ferrara's biology student and football player. He is getting back on track after a rocky first half of high school. Corona failed biology and now Ferrara is helping him pass all of his classes and remain eligible to play. Corona's coaches believe he will go on to play in college and Ferrara is helping him make that goal a reality.
"He just wants to get the best out of us. Everything changes at 3:10. It is football, it is a different mindset," Corona said. "Once we hit the field, we try to get more serious. You have to have a different mindset than everybody in order to play this sport."
Ferrara believes in his player's success and his time in the Navy taught him that people in this world can be very replaceable, especially in the armed forces. He hopes his players will learn quickly to be their own self-advocates and take responsibility for their lives beyond playing sports. He wants the players to find their own small successes each day in practice and not focus as much on the final scores of games.
Ferrara is inspired by his father, whom he said risked a lot to move his family to Phoenix when he was a young boy. Ferrara supports his wife, who is also a full-time teacher, and son Luca. He balances his busy schedule by "compartmentalizing" all the different parts of his day.
"I just want to be with my family, with my wife, be with my kid," Ferrara said. "That's the stuff that I celebrate, it is them!"
---