Cesar Chavez teams struggle with gym renovations
October 9, 2019 by Colin McAdams, Arizona State University
---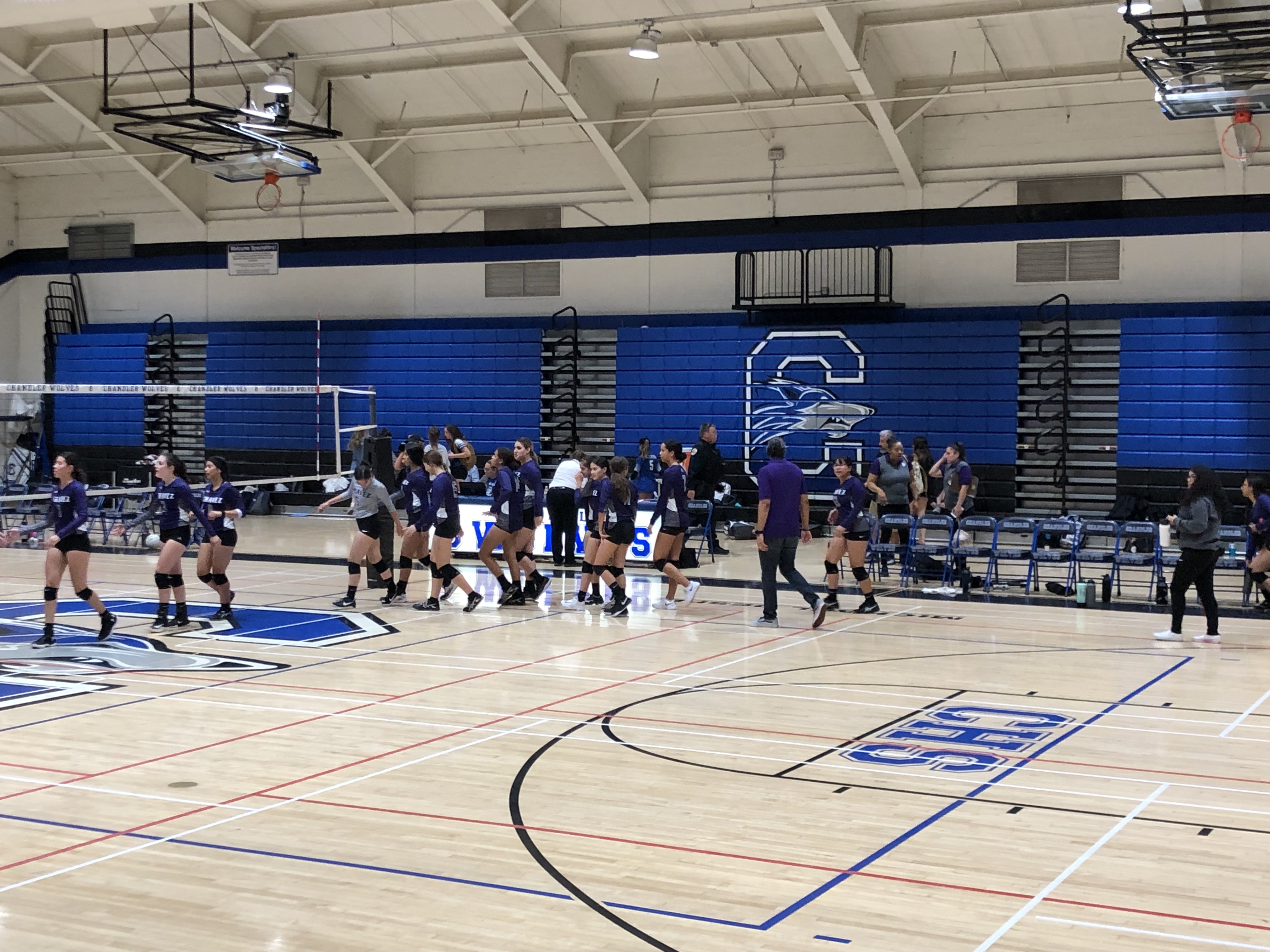 Colin McAdams is an ASU Cronkite School of Journalism student assigned to cover Cesar Chavez High School for AZPreps365.com.
Hoping to build off a successful end to their 8-12 season last year, where they ended conference play 7-3, the Cesar Chavez girls volleyball team was hit with a major roadblock as the 2019-2020 season got underway. The home gym for the Champions, where they hold practice and games, was still undergoing renovations
With no home gym for the start of the season, the volleyball team has been forced to practice in a smaller gym -- the same place where the badminton and cheer squad teams also hold practice.
"It's tough, you know," head volleyball coach Miguel Marrero said. "Not only do we have to now share the smaller court with the other fall sports, but we also now practice on a court that's not regulation size. This means less drills and less conditioning."
The gym renovations have also affected the timing of the practices. With three teams scheduling practices in the same gym, the volleyball team has had to move its practices to later in the day to avoid conflict.
"Our practices now have to start at five," Marreo said. "With both badminton and cheer starting after school, we had to find our best we could with practice time. We are thankful that the coaches of the other two teams and I were able to find some sort of solution."
With eight seniors on the team, badminton has been able to stay consistent throughout the season. Despite having to share practice space with the two other teams, they are holding on to first in their region with just two games left before state playoffs.
Badminton coach Jose Villagomez credits the experience of his girls.
"These eight seniors have been playing together for years," he said. "They all have accepted their role on the team and know exactly what they need to do. It's my goal to make sure I am rotating them properly and getting them all to play."
While the team is leading the region, it still has had its fair share of struggles. With a record of 5-7, Villagomez believes that if his team was able to have full preparation time, some of the early losses would have been wins.
"We have had to cut our normal practice time by an hour. On a week where we have to play multiple games, it can be harder to adjust and prepare for the next team." Villagomez said. "Not enough to work on the little things we can improve on."
The renovation of the home court also had an effect on the home games for the girls volleyball team. With no full court gym available to play on, the team had to move most of its home games to the end of the season.
With seven straight away games to start the season, the Champions had a rough time finding their first win, falling to 0-5 before picking up their first win against Canyon View.
Marrero elaborated on the importance of his team chemistry while the team was going through its bad start.
"The most important thing for me through a rough patch like that is to make sure we stay close as a unit," he said. " I listen to my girls. If they ever feel something is wrong or think we could be doing something better, I listen. I am here in the best interest for them and the team."
Coaches of the volleyball team have also made it a priority to take the team to weekend tournaments and bonding events to help build a comraderie as a team.
"These girls have become a lot closer since the start of the year," Marrero said. "This has been one of the most delightful seasons we have had based off chemistry alone."
The chemistry has started to show on the floor for the Champions girls volleyball team as well, with the girls improving their record to 6-10 with eight more matches still to go in the regular season. Sitting at second in the region standings with a 3-1 record, the team hopes their later home games can help lift them to a strong finish.
"It is going to be exciting," Marrero said. "My hat goes off to the community. The school does a great job attracting the student body as well as locals to come support our teams. It's going to be hard having to fit everyone into the smaller gym. I worry about Senior Night. But it is going to be good for our girls to be able to play in front of their family and friends more."
As for a timetable on the gym renovations, both coaches expect their seasons to be finishing up before they are finished.
"It's unfortunate," Marrero said. "I would have loved for the girls who are seniors to be able to play in a new gym for their last season. We have made good with what we got though and hope to end the season on a winning track."
"I hope they can get it finished soon," Villagomez said. "But I don't know. I'm not getting my hopes up."
---