Volleyball: Perry repeats as Birdcage Invite champion
October 12, 2019 by Les Willsey, AZPreps365
---
A mix of volleyball teams from several conferences gathered this weekend for the 2nd Annual Birdcage Invitational. It was the top-ranked team in 6A winning the crown again -- Perry.
The Pumas lost only one set over two days and eight matches culminating with its 25-22, 25-15 victory over Scottsdale Christian in the tourney hosted by Chaparral High School.
"We started a little slow (Friday), but we got better as the day went on," Perry coach Fred Mann said. "Today we played very well. Particularly our setter, Jenna Heller. I would say if there was an MVP for us in the tournament it would be Jenna. She's an intelligent player and spreads the ball around. Usually to the person with the best chance of putting it down."
Heller, a junior, collected 23 assists in the title match. Junior outside hitter Ella Rud led Perry with 10 kills and senior outside Tatum Stall checked in with 8 kills and four aces.
After easily topping Desert Ridge, Greenway and Chaparral to reach the title match on Saturday, Perry took some time getting going against Scottsdale Christian - the only team that won a set from the Pumas in the tournament.
Scottsdale Christian, the defending 2A champ, jumped out to an 8-2 lead only to see Perry come roaring back for a 15-10 advantage. Next thing you knew SCA was back in front, 21-17.
But Perry ran off eight of the next nine points to notch the first set. SCA helped Perry in that stretch with a net violation, lift and four hitting errors.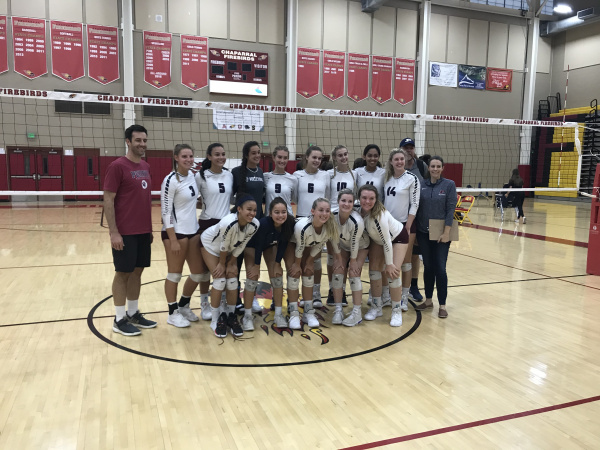 Perry players and coaches pose for their accomplishment of winning the Birdcage titel for the second year in a row. (AzPreps365 photo).
SCA paid for opening the door open for Perry to win the first set. The Pumas played much better from the start in the second set and the final tie of the set was 7-7. A dump kill by Heller capped a 7-0 run that essentially put the Eagles away down 14-7. Stall served six of those seven points.
Scottsdale Christian's attack was paced by senior outside hitter Taylor Raiola with a match-high 12 kills. Raiola registered eight of those kills in the second set.
Five of the eight teams entered were 6A - Perry, Chaparral, Desert Ridge, Valley Vista and Sandra Day O'Connor. Defending 4A champ Greenway and and 5A Cactus Shadows completed the field with SCA. All the teams except Valley Vista are ranked in the top 10 of their respective conferences.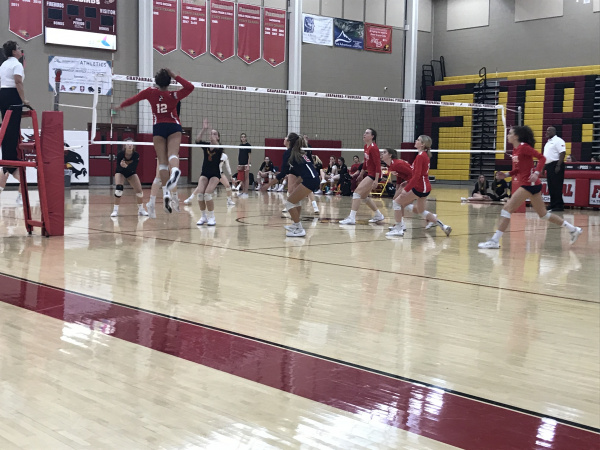 Scottsdale Christian's Taylor Raiola (12) on the attack in the Eagles' win over Chaparral at the Birdcage Invite (AzPreps365 photo)
---