Seton Catholic golf coach leads by example with pride
October 17, 2019 by Ike Everard, Arizona State University
---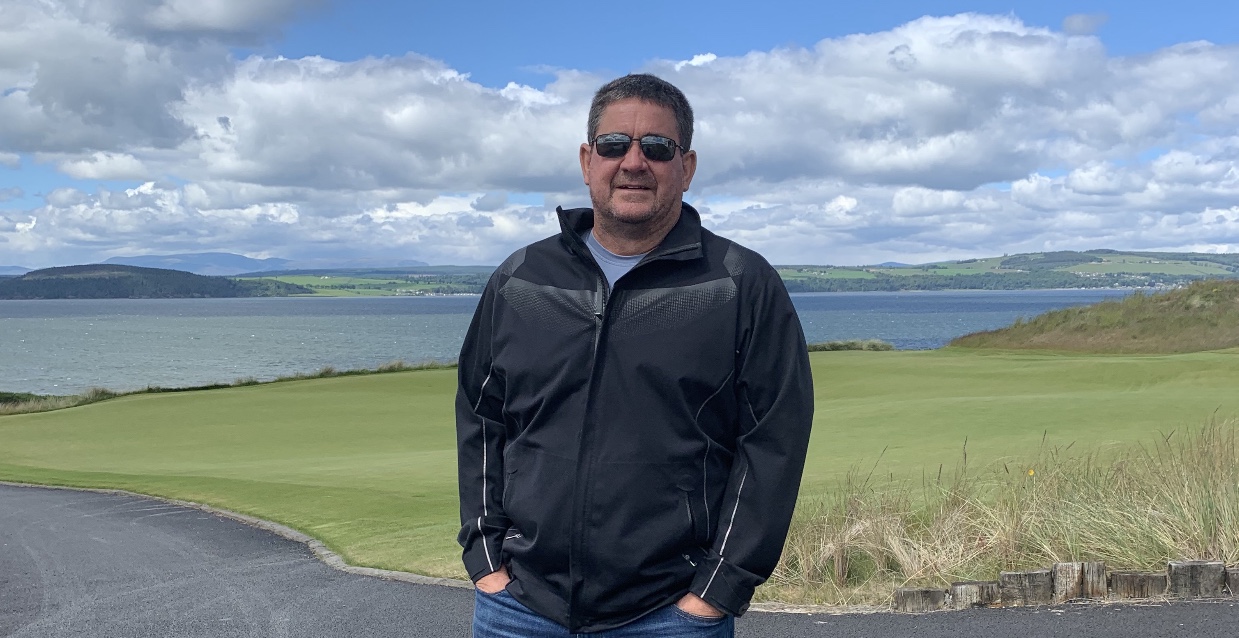 Ike Everard is a Cronkite School of Journalism student assigned to cover Seton Catholic by AZPreps365
A man in a blue polo walks up to Mark Bakeman with a notebook outlining a new geese prevention plan for Ocotillo Golf Club. The setup features poles about three feet high with fishing wire strung between them meant to keep the geese from encroaching on the land.
Bakeman signs off on the proposal, joking with the man before wishing him luck on the project.
"Geese are very lazy," Bakeman said. "They don't like to spend a lot of energy getting out of the water."
Aside from being an amateur goose expert and the Golf Director at Ocotillo, Bakeman is the head coach for Seton Catholic's boys golf team.
"It keeps me young," Bakeman said. "The PGA's mantra is to spread the game."
Bakeman is always there for his team, just as he is for every goose deterrent method. If his team was the golf course, Bakeman is the fishing line, protecting and nurturing his players as they grow from boys to men.
"He is a great mentor to the junior golfers that he coaches and gives lessons too. He hears back from some of them later and they thank him for the opportunity," Cindy Bakeman, Mark's wife of 33 years, said. "Not only does he coach them, but he's just an all-around great guy.
"I think that the kids are lucky to have him. He's always had a real love of junior golf."
Growing up in a military family, Bakeman moved from Georgia to Kansas to Europe and finally to California. Golf offered a way to connect with his father, a battalion commander who was stationed in Monterrey.
Bakeman tells of the day when he first caddied for his dad, watching him as he made his way through the course. "I kind of laughed and smirked a lot, and he gave me the look like, 'Can you do it better?'"
From there, the addiction grew as father and son played courses like Pebble Beach and Spyglass.
The boy became a teen and after a moderately successful high school career attended Arizona State, where he joined the golf team during his freshman year.
"I never played in a match," Bakeman said. "Coach just kept me around."
He left the team after that year to focus on his studies in general business, working part time at Papago and eventually getting his PGA certification in 1990.
Coaching, though, came as a happy accident.
"Seton was here practicing and playing and as I watched the coaches, I found out that a lot of them were just teachers that didn't know much about golf," Bakeman said. "I thought that as a PGA guy I should give some effort."
"It was unique because we were switching golf courses," Seton Catholic athletic director Matt Mayo said. "We had established a relationship with Ocotillo, and then Mark expressed interest in the coaching position. Getting somebody of Mark's caliber was a huge unexpected benefit for us."
The positive benefits of Bakeman's coaching aren't just limited to the golfers: they've extended to the man himself.
"He's just more in awe of the future of the kids. When he started coaching, our own kids were in high school too so that was cool to watch him think of them differently," Cindy said.
Much like coaching, his journey to Ocotillo came by way of convenience. For four years Bakeman commuted to Lake Pleasant, sixty-seven miles each way.
"Every day I'd drive by here [Ocotillo], and I was like, 'It'd be nice to work there, wouldn't it?'" Bakeman said. "It was a little less pay, but it made up for it in the amount of money I spent on gas. I went through one car in four years, just destroyed it."
Now, Bakeman drives a 2002 330 ci BMW coupe which he bought used three years ago. Driving, though, is something Bakeman just can't seem to escape.
If Seton Catholic has a match at 12:30 p.m., Bakeman has to leave at 10:30 a.m. to pick his team up. Then he has to drive a small bus all the way to the match and back again. "I won't be home until 8 o'clock at night," Bakeman said.
"He's such a dedicated golf guy," Mayo said. "You can see the kids really respect him because of his background and what he does."
While his journey has brought him all over the world and seen him play golf with icons such as Phil Mickelson, Bakeman makes sure to never stray far from his roots. Within his golf bag there are ball marks from Pebble Beach as well as rain gear, holdovers from his days playing in California.
Through coaching, Bakeman has brought that history and love he developed playing golf with his father to a new generation.
"I'm just trying to leave some sort of impression on them as they develop into young men. It's not real drill oriented. My philosophy is just to be a mentor and make sure they're having fun," Bakeman said.
---