Badminton individual champions crowned
October 26, 2019 by Les Willsey, AZPreps365
---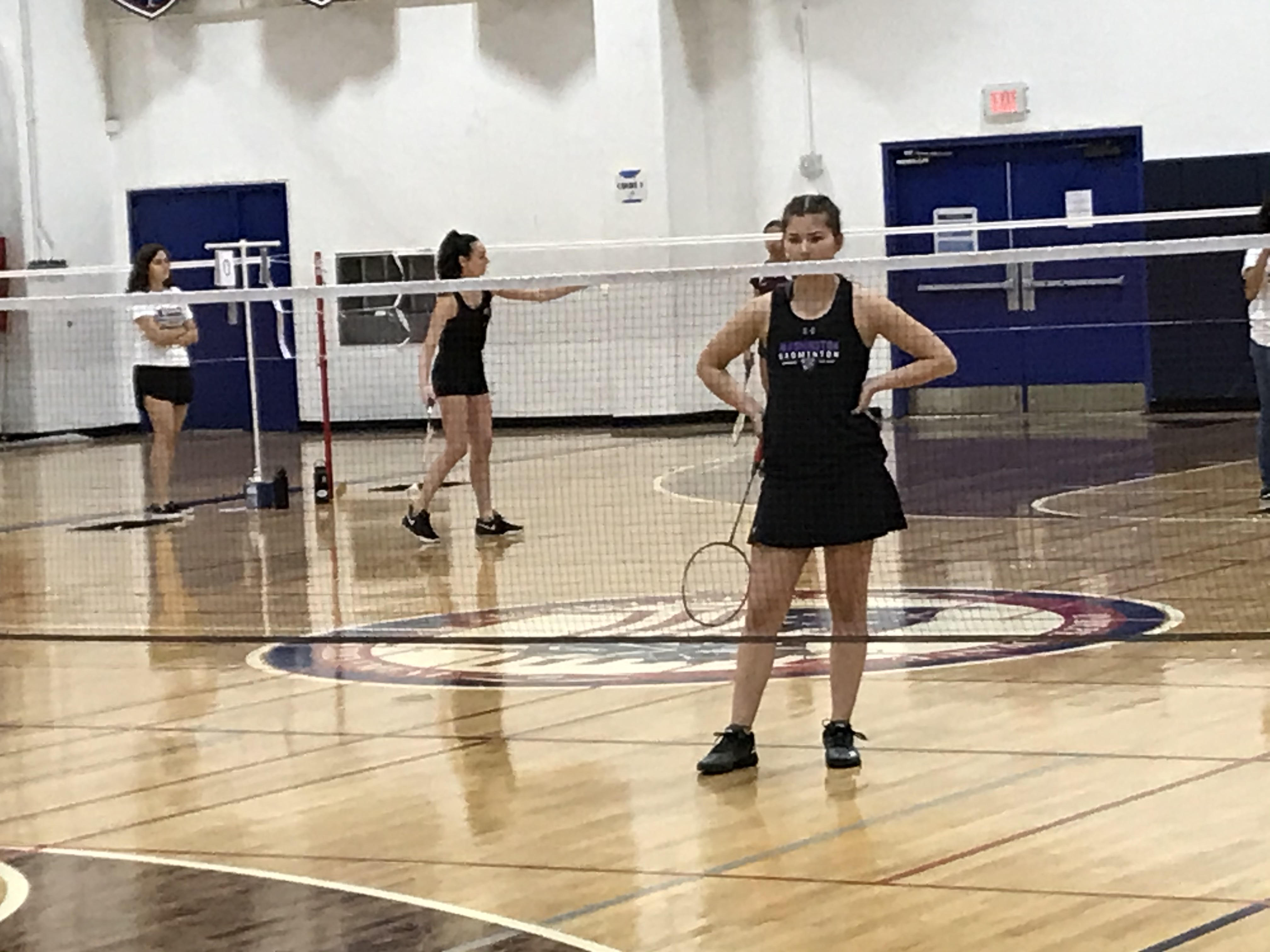 Repeating as a state champ can be hard. Washington's Jordan Ludwig made it look rather easy in taking the D-II title while Perry's doubles team of Nikhita Jayaraj and Ashley Rodarte were pressed by their Puma teammates no less to gain back-to-back D-I crowns.
Four championships were earned Saturday in Division I and Division II badminton singles and doubles with the aforementioned repeaters leading the charge. Division I saw Hamilton's Rujuta Sane put her name in the record book as D-I singles titleist while Mesquite's doubles team of Allyssa Dong and Sabrina Farias took care of business in winning D-II's top spot.
Ludwig, a senior, put a cap on her career with her second title plus a runner-up finish she secured as a sophomore in 2017. That was a loss in the final to two-time singles champ Natalie Weber of Mesquite. Ludwig didn't lose a set in reeling off five wins in the two-day tournament. She defeated Deer Valley's Sara Roskelly 21-16, 21-7 in the semis and dropped Sunnyslope's Sofia Lovesy in the final, 21-16, 21-9. Lovesy, a junior, was runner-up in doubles last year.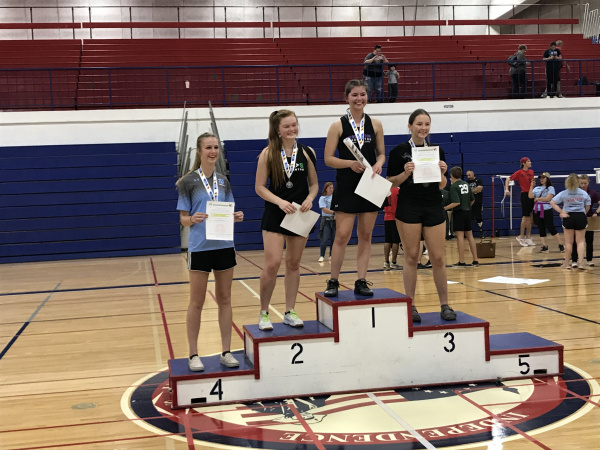 D-II singles placers from left -- Deer Valley's Sara Roskelley; Sunnyslope's Sofia Lovesy; Washington's Jordan Ludwig and Mesquite's Payton Foti.Top-seed Jayaraj-Rodarte, sophomore and junior, resspectively, got matched up in their final with senior teammates Sophie Jex and Megan Dye. Jex and Dye worked this season as the Pumas' No. 2 doubles team. Coach Lerina Johnson tried to get them seeded, but since they played No. 2 doubles all year (undefeated at 14-0) it wasa no go. Jex and Dye proved themselves and thensome.
After beating Chaparral's Emi Pham and Midori Pham in two sets, they got a shot at Jayaraj-Rodarte, who they practiced with and played against in practice. Jex-Dye won the first set of the final, 21-14, putting pressure squarely on their younger, but tournament-tested foes.
Jex-Dye led the second set 16-13, but Jayaraj-Rodarte showed their mettle surviving to a third with a 21-19 win. Jayaraj-Rodarte weren't to be denied the final set, winning 21-11.
"I didn't coach either of them," Johnson said of the second doubles final match featuring her players that also took place in 2017. "They have the no-how to take care of things for themselves. Nikhita and Ashley battled back. But Sophie and Megan didn't hand it over to them. The match was hard-fought and competitive as I knew it would be."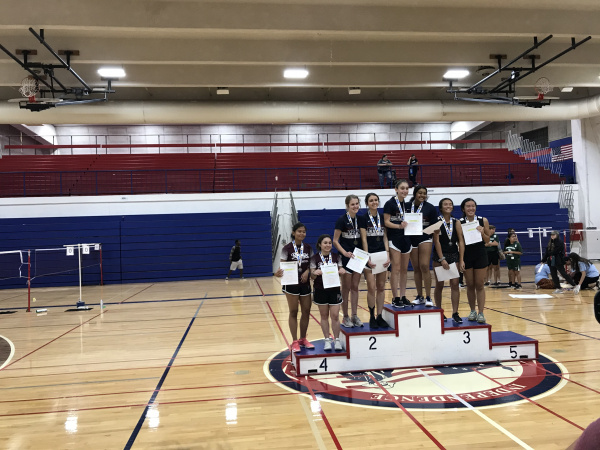 D-I doubles state placers from left -- Kaitlin Tucay-Morgan Pearson, Mtn. Ridge; Sophie Jex-Megan Dye, Perry; Ashley Rodarte-NIkhita Jayaraj, Perry and Emi Pham-Midori Pham, Chaparral.
The D-II doubles title for Dong-Farias was much the opposite of the all Perry D-I final. Top-seed Dong-Farias were paired in the final against No. 2 Nancy Cryan and Israa Kingwaba of Saguaro. Those teams did not meet all season. So they knew little to nothing about their opponent. Dong-Farias, fourth-place in doubles last season, reached the top with a 21-13, 21-19 victory.
Dong-Farias knew their road would be tense and tough in the semifinals as they faced defending champs Kaity Woods and Tori Pepe of Horizon. Woods-Pepe beat Dong-Farias in the semis last year. Dong-Farias prevailed this time in three sets, 21-12, 19-21, 21-15.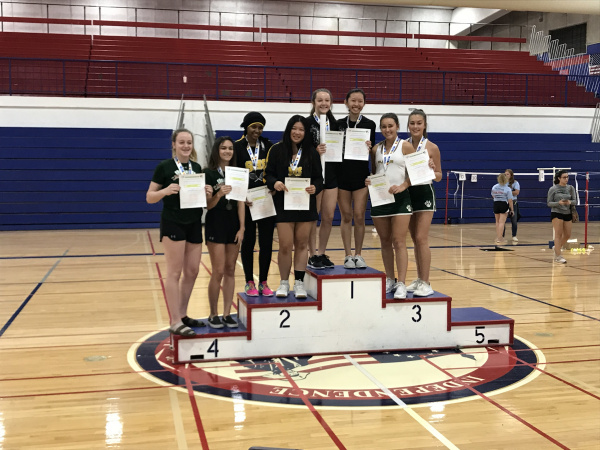 D-II doubles placers from left - Jacylyn Gibbs-Maya Whaley, Campo Verde; Israa Kingwaba-Nancy Cryan, Saguaro;, Sabrina Farias-Alyssa Dong, Mesquite; and Kaity Woods-Tori Pepe, Horizon.
Also improving on her finish from a year ago was Sane, a sophomore, who placed third last year. Sane defeated another returning state placer from last year, Corona del Sol's Eileen Li, in the final. Scores were 21-18, 21-16. Li was third playing doubles last year.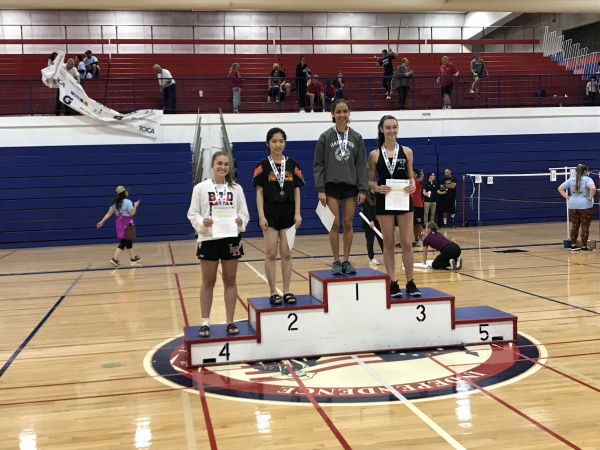 D-I singles state placers from left - Liberty's Alexis Davies; Corona del Sol's Eileen Li; Hamilton's Rujuta Sane; Desert Ridge's Halle Swinney.
---