Golf runs in the family for Saguaro senior Joey Harmon
October 28, 2019 by Andrew Columbro, Arizona State University
---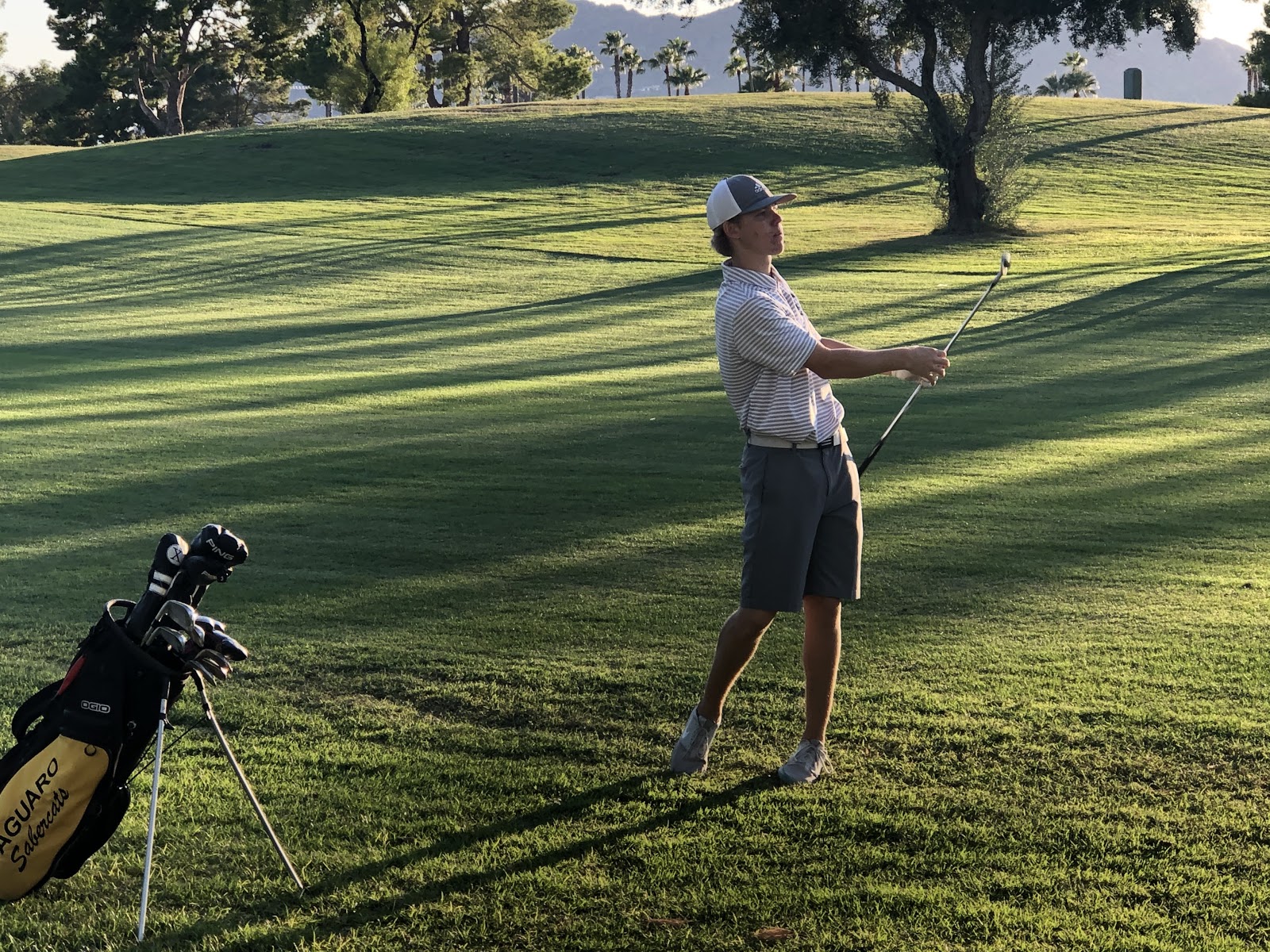 It all started with 9-year-old Joey Harmon hanging out in the backyard with a broomstick that his dad gave him. He would hit rocks against the fence to kill time. Grandpa Bill Lukenbill has been able to see the growth of Harmon as an athlete and a person.
Lukenbill goes to all of his golf matches and other sporting events, where you'll often see him driving the golf cart following Harmon.
"I have watched Joey play golf since the first time he picked up a golf club," said Lukenbill.
What started as a sport that Harmon would only play once or twice a year became something that he played on a regular basis. The Harmon family has an annual trip to Lake Tahoe to escape the heat during the summer. The trip is a kickstart to Joey's golf season and a family tradition.
The sport taught Harmon many things that his family considers to be important and can be transferred to any aspect of life.
"Everything he does is just super competitive, and disciplined with a lot of preparation behind it," said Lukenbill.
The four-year-letterman is a natural competitor who has made the state championship the past three seasons for the Saguaro Sabercats. Harmon, 18, was born and raised in Scottsdale, Arizona, where golf is a popular sport and can be played all year long.
Harmon has always been able to rise up to the challenge and loves to be competitive.
"The competitive aspects of sports is what drives me," said Harmon.
He always measured himself to his older brother, Jack Harmon. Joey always wanted to beat his brother in everything he did, according to his father, John Harmon.
Joey was introduced to competitive golf in seventh grade at the urging of Jack, who at the time was a sophomore playing for Saguaro High School. The Harmon brothers got to play together for one season when Joey was a freshman and Jack was a senior.
They both were able to push one another to become a better golfer with tons of practice rounds and driving range sessions throughout that year. They always one-upped each other.
"I rubbed it in his face that I made the state championship as an individual my sophomore year because he didn't make state until his senior year," said Joey.
Joey currently has bragging rights over Jack, as he has a better scoring average.
Their father was also competitive, playing tennis in junior college. He was a three-sport athlete at one point. He also plays golf, as does Joey's grandfather, and they fully support Joey's career.
Joey is thriving. He completed his senior season with a 1.32 handicap and remained the most consistent scorer on the Sabercats. Joey hopes to incorporate what he learned from golf into everyday life like how his family has been able to.
"Golf has taught me about the mental aspect of life, such as how to turn the page and let things go," said Joey. "It taught me how to face adversity and work hard."
---