Eunice Ineza: A Hawk for All Seasons at the Gregory School
October 28, 2019 by Drew Messing, The Gregory School
---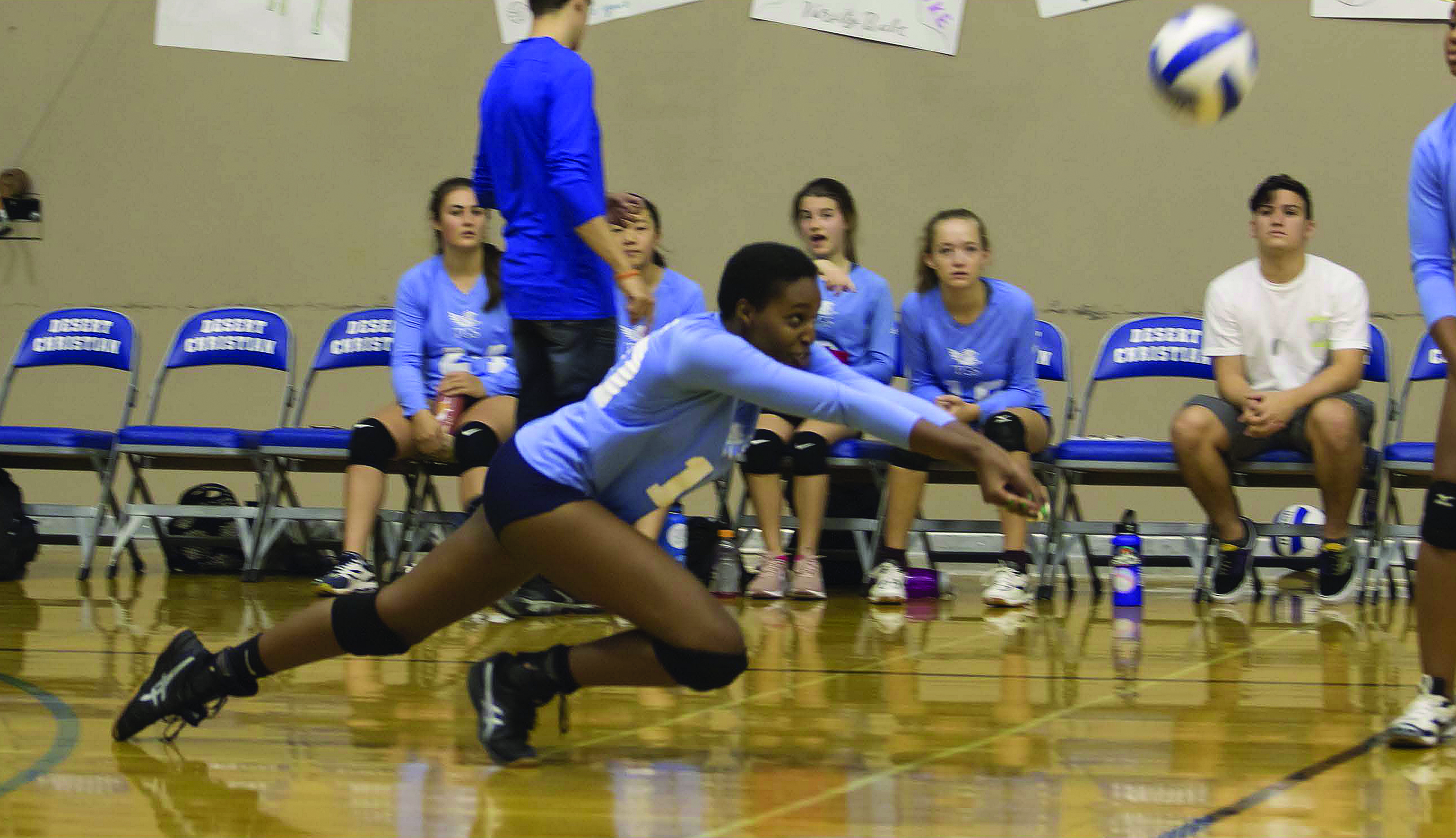 This article was written by Drew Messing, The Gregory School's appointed AIA School Information Director. Messing is a Junior at The Gregory School.
The Hawk for All Seasons Award was initiated at The Gregory School in 2017. The award is given to athletes who play a sport for every season of their high school career. The first recipient of the award was Alex Sparks for participating in Soccer, Basketball, Baseball and Tennis in his four-year tenure at The Gregory School.
The second Hawk for All Seasons Award will be given to Eunice Ineza at the conclusion of the 2019-2020 school year. Since her freshman year, Ineza has played Volleyball, Basketball and Tennis during every athletic season. Not only has Ineza played these sports, but she has excelled in them.
Ineza was born in the East African country of Rwanda and is fluent in English, Kinyarwanda, Swahili and Kirundi. She moved to the United States when she was nine years old and quickly picked up basketball. Ineza said that she "grew up playing and loving athletics." After enrolling at The Gregory School in ninth grade, Ineza continued to play basketball and decided to join the volleyball and tennis teams.
Out of the sports Eunice Ineza plays, she dedicates the most time to basketball. Ineza has served as captain of the basketball team since her sophomore season. She has led her team in points, blocks, rebounds and steals for the past two years. Ineza's goal for the upcoming season is to further her development as a player and "become the best leader [she] can be."
As someone who speaks four languages, Ineza believes that communication is vital to a team's success. Ineza has flourished in her basketball career. As a freshman, The Gregory School made the state semifinals, and as a sophomore the team qualified for the state tournament. Furthermore, Ineza's basketball skills have improved each year, which is evident through the recognition she has received from AllSportsTucson.com. As a freshman, Ineza was selected to the 1A Girls All-Stars Third Team. The next year, she received 1A Girls All-Stars First Team honors. As a junior, Ineza was picked for the Southern Arizona Girls All-Stars Second Team and 1A Girls All-Stars Second Team.
Since her freshman season, Ineza has shown grit and determination in tennis. Her 6-foot tall height and athletic frame enabled her to pick up the sport easily. She has been on the varsity team since her freshman year. After her sophomore year, Ineza was selected to be on AllSportsTucson.com's All-Division III Second Team. According to Gregory School tennis coach Gabe Swenson, Ineza is extremely focused and will work hard to win.
Swenson said, "I have never seen Eunice give up in a tennis match. Her opponent could have match point, and Eunice would still fight as hard as she could. I don't think I have ever coached someone who has come back and won so many matches in tiebreakers. Her competitive nature and sense of humor have made her an integral player on the team."
Ineza has played an important role on the girl's volleyball team for four years. She started playing volleyball as a freshman and was part of the junior varsity team. In her second year, Ineza was an important player on the varsity team that qualified for the state tournament. Eunice Ineza continued her improvement in her junior season when she was awarded with AllSportsTucson.com's 1A Conference Second Team. This year, she is the captain of the varsity team. The Gregory School volleyball coach, Marc Burris, said that Ineza is "one of the team's top scorers" and "always shows up on game day ready to fight." Eunice Ineza has built a reputation as a reliable and consistently improving player over the past four years.
In a time when most high school athletes specialize in one sport, Ineza has shined in three different high school sports. She has been placed on all-star lists for basketball, tennis, and volleyball and has captained two different teams. Ineza finds that by playing three different sports, she has developed certain skills that can benefit each sport. Leaping for an overhead smash in tennis or spiking a volleyball has refined Ineza's ability to rebound or block a shot in basketball. At the end of this school year, Eunice Ineza will be the second recipient of The Hawk for All Seasons Award. Her commitment to playing various sports and devotion to excellence in athletics will be missed when she graduates this spring.
---