D-I badminton: Perry blazes to three-peat
October 31, 2019 by Les Willsey, AZPreps365
---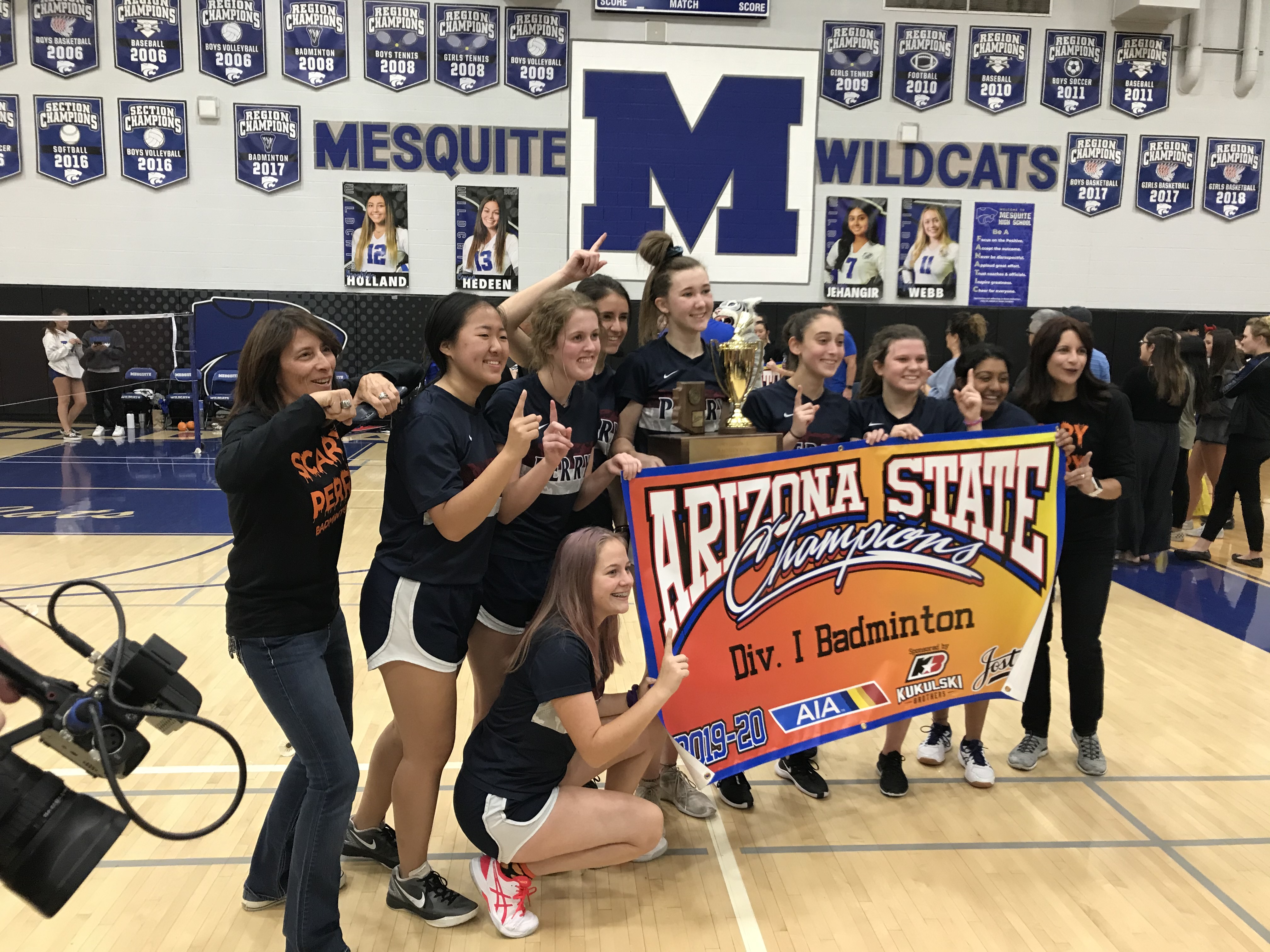 Perry badminton is a juggernaut.
The top-seeded Pumas made it a three-peat ,topping district and region rival, No. 3 Hamilton, 5-0 in the Division I team final at Mesquite High School.
Perry (17-0), which reached the final for the fifth time in the last six years, endured only one tough match this season and that was against Hamilton. The tally that day was 6-3.
Perry coach Lerina Johnson, who takes nothing for granted despite the Pumas' prowess of late, was prepared for all eventualities.
"I thought it would go to doubles," Johnson said. "We worked extra on doubles. We got off to a great start winning No. 1 singles."
That victory was unexpected as recently crowned D-I singles champ Rujuta Sane held dominion over Perry No.1 Sue Kwon. Sane had never lost to Kwon over the past two years. Kwon topped Sane in three sets.
"That got us off to a great start" Johnson said. "She (Kwon) was a little disappointed in how she played in the individual tournament. She redeemed herself tonight.....
"The girls executed the plan and thensome. It was awesome."
Also winning singles matches for Perry in the final were No. 2 Nikhita Jayaraj (21-16, 21-16) over Neha Sakir; No. 3 Ashley Rodarte (21-14, 21-10) over Nidhi Pulicherla; No. 4 Sophie Jex (21-15, 21-13) over Samantha Diep and the title-clinching win by No 6 MacKenzie Holian (21-15, 21-9) over Abby Liu.
Jex, a senior, has know nothing but state titles in her varsity experience.
"This is the third one for me," Jex said. "We really did think we'd have to play doubles. We all pulled through and showed up."
Johnson, while enjoying another title, took a moment to glance at next year.
"We have three coming back," Johnson said, referring to juniors Rodarte, Kate MacPherson and sophomore Jayaraj. Rodarte-Jayaraj are two-time doubles state champs.
Hamilton finished the season 15-2 failing only to solve Perry, which has has been a thorn for them and everyone else in D-I. Hamilton knocked off #6 Chaparral and #2 Pinnacle to reach the final. Four of the Huskies who competed in the final are underclassmen, led by sophomore Sane.
Mesquite got revenge in helping coach longtime coach Mark Hanna acquire a championship banner. Last year Mesquite was bounced by lower-seeded Horizon in the quarterfinals, 5-4. That was after two successive seasons of finishing runner-up to Sunnyslope, a three-peat school 2016-2018. Horizon ended Sunnyslope's bid for a fourth straight title, besting the Vikings in the quarterfinals.Back in September, Mesquite and Horizon met with the Wildcats blanking Horizon, 9-0.
Foti and Dong (2017). Jex, Jayaraj and Rodartein 2018 for Perry.
---