D-II badminton: Mesquite tops Horizon for 1st title
October 31, 2019 by Les Willsey, AZPreps365
---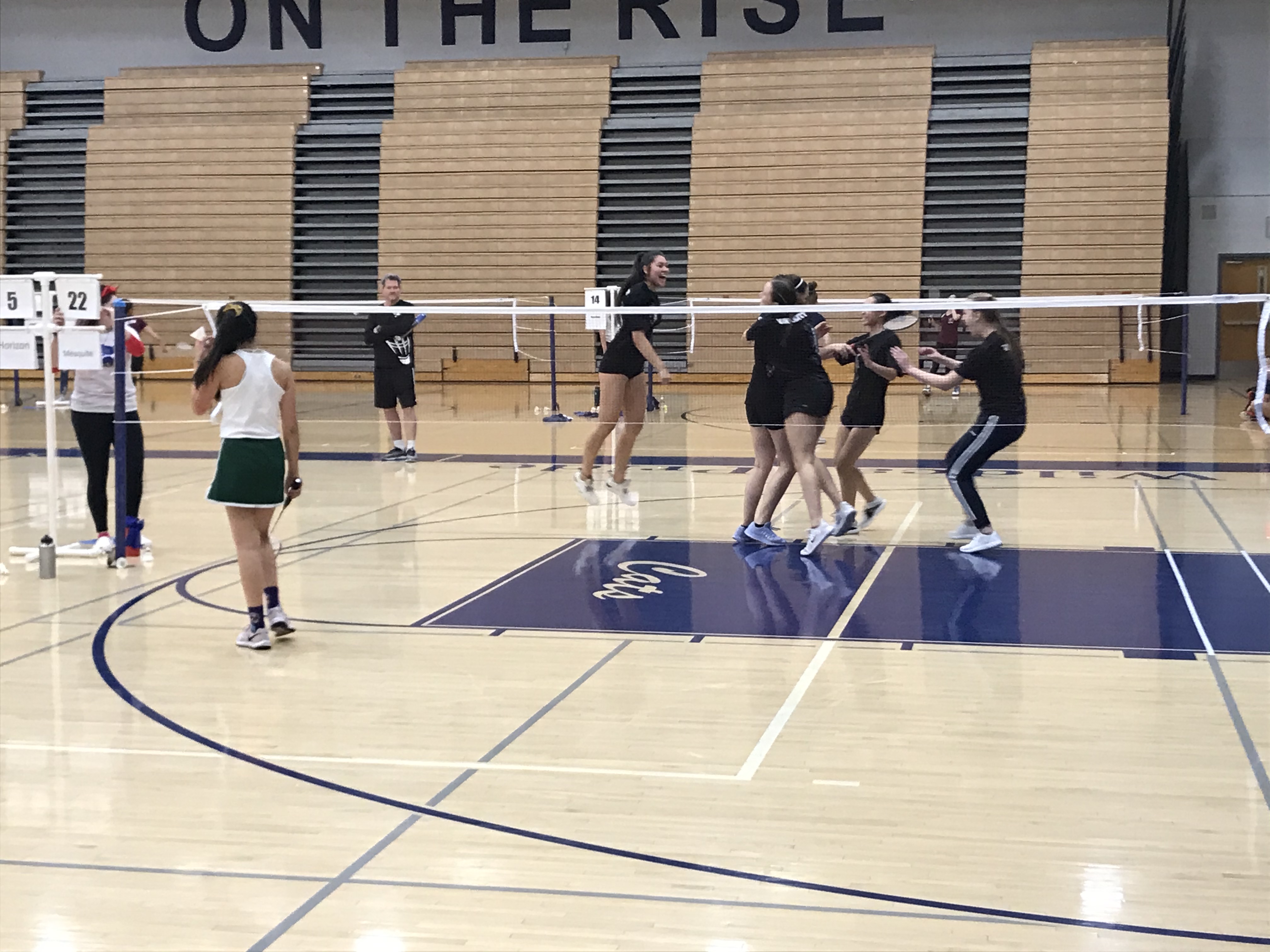 Mesquite badminton coach Mark Hanna shrugged off the notion his top-seeded Wildcats could duplicate the lopsided outcome of a match two months ago with Thursday night's D-II title opponent, Horizon.
Hanna was wrong. He's OK with that and everything is right for Mesquite badminton as of Thursday evening as the the Wildcats steamrolled Horizon, 5-0, for the school's first badminton title on their home floor no less.
Mesquite walloped Horizon on the Huskies' home floor, 9-0, in September. Hanna needed only view Horizon's exploits earlier this week as the No. 7 seed knocking off three-time state champ and No.2 Sunnyslope on Monday and following up edging #3 Ironwood, 5-4, in a semifinal nailbiter on Wednesday to respect his championship foe.
Mesquite got payback although that wasn't foremost on its mind. The team was focused on helping Hanna, the Wildcats coach the past 12 seasons, and themselves secure a championship banner.
Last year Mesquite was bounced by lower-seeded Horizon in the quarterfinals, 5-4. That was after two successive seasons of finishing runner-up to Sunnyslope, a three-peat D-II champ 2016-2018.
Mesquite did not lose a set in the five singles matches Thursday that brought it a title. That suprised Hanna although he was beaming with the accomplishment. The match winners for Mesquite were No. 1 Payton Foti (21-18, 21-7) over Horizon's Kaity Woods; No. 2 Sabrina Farias (21-14, 21-11) over Tori Pepe; No. 3 Alyssa Dong (21-14, 21-19) over Emily Newton; No. 4 Kirko Westover (21-8, 21-8) over Anna Meyer and No. 6 Gretta Barrios (2-14, 21-5) over Kelly Nguyen.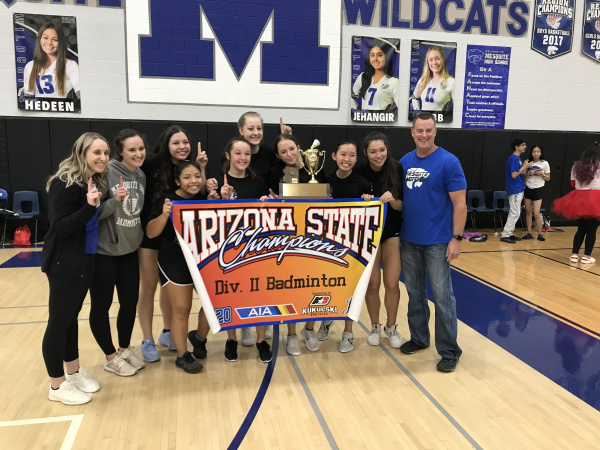 Mesquite proudly displays its first badminton title and third girls championship in school history. (AzPreps365 photo).
"You get to this level, everything changes," Hanna said. "They come in with momentum beating the No. 2 and No. 3 teams. We thought we would see Ironwood. We were worried about Horizon because they've been playing so well."
Senior Foti, one of two players along with Dong that was on the 2017 runner-up squad, didn't want to experience the close-but-no-cigar feeling again.
"I was focused on winning, I wanted to win," Foti said. "I didn't want to lose with another chance to win a championship. We pulled together."
Horizon coach Leanne Quaranto was satisfied with her team's week despite ending as runner-up.
"The matches they played Monday, and last (Wednesday) night will be remembered," Quaranto said. "I think last night had a lot of emotion. It made it hard to keep it going. So proud of my team."
---