Phoenix Christian athletes eyeing next level
November 1, 2019 by Jerry Walker, Arizona State University
---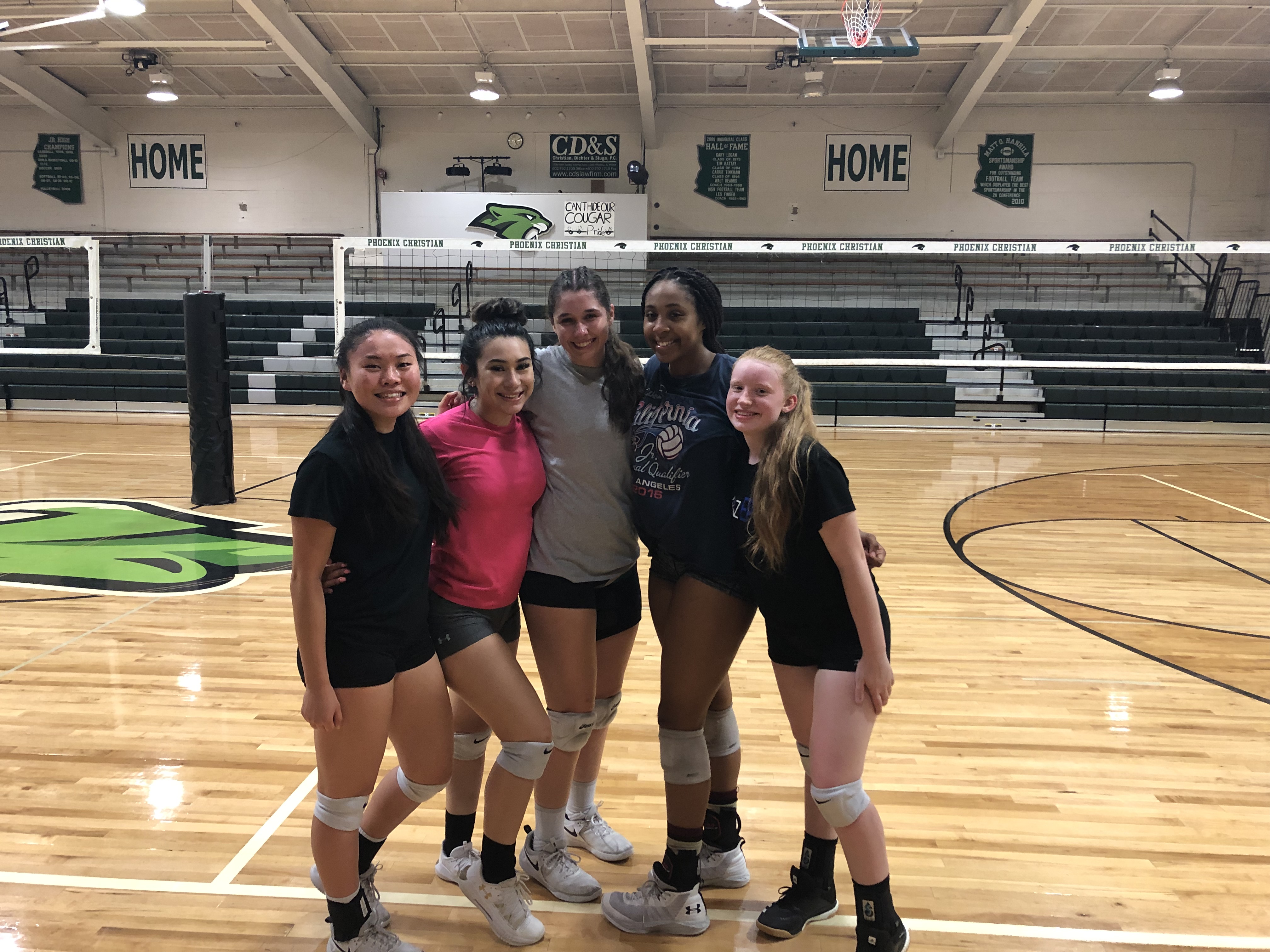 Playing college sports is a goal of most high school athletes. At Phoenix Christian, five players on the girls' volleyball team have the chance to turn that dream into a reality.
Seniors Atlantis Jamerson, Danielle Bejarano and MeiLing Milgrim, and juniors Cassidy Clifford and Ainsley Ebert have all been contacted by coaches about the opportunity to play collegiate volleyball. Some have been approached about playing other sports as well.
Milgrim has been playing volleyball since middle school but is also a highly skilled softball player.
"Most of the schools that I have talked to have been about softball," said Milgrim.
As of now, Milgrim wants to play volleyball in college, but once the volleyball season comes to an end and her attention switches to softball, her desire to play softball in college may increase.
Ebert has also been approached by a coach to play a different sport besides volleyball in college.
"I have only been in touch with one coach for basketball," said Ebert.
Ebert desires to play both basketball and volleyball in college, but if a choice had to be made she would likely choose to play basketball over volleyball. She also did not believe that she really had a chance to play volleyball in college until a recent coaching change at Phoenix Christian brought in Amanda Lopez.
"It became a reality when Coach Amanda walked through the door," said Ebert.
Similarly, to Ebert, Clifford realized that her chance to play volleyball in college is not as far-fetched as it once seemed. With new coaches, the opportunity is within reach.
"When I started working with Amanda and Rosario and improved a lot, I thought that I should start embracing it. And I am finding it as a way to get to college and get through college," said Clifford.
Lopez is the college recruiting director for the Arizona Saguaros Volleyball Club, where she has also coached for 14 years. When she arrived at Phoenix Christian last offseason, she had no idea how many high-level players she truly had. Since the start of the season, Lopez has noticed that some players who believed they did not have a chance to advance their volleyball careers now have that chance.
"I watched the girls blossom throughout the season and see which ones really took pull to it and advanced," Lopez said. "I got to see who would be great candidates for that to fulfill those opportunities and not just try out and not make it."
Some of her players have overcome adversity to reach that next level.
This was true for Jamerson, who missed most of last season because of a dislocated ankle. Her return to the court has taken a lot of physical therapy and support from her mom.
Jamerson has returned with a bang, leading the Cougars with 283 kills. Despite her impressive performance, "I still have those weak moments with my ankles where they hurt a little bit more one day than another," she said.
Four schools have been in touch with the senior. The schools range from Division III all the way to Division I school Jackson State.
Bejarano, meanwhile, was slowed down by issues in her personal life and school. Yet the volleyball court was always one place she felt at home.
She also felt doubted by a lot of people throughout her volleyball career. She took that doubt and used it as motivation to turn herself into a player who has the chance to play in college.
"A lot of people always had a lot of doubt in me, but that is what made me push a lot harder and it made me believe that I could do more than what other people perceived I could be," she said.
---