Division I Golf: Hamilton standouts Joy Callinan & Johnny Walker sweep championships
November 6, 2019 by Andy Morales, AZPreps365
---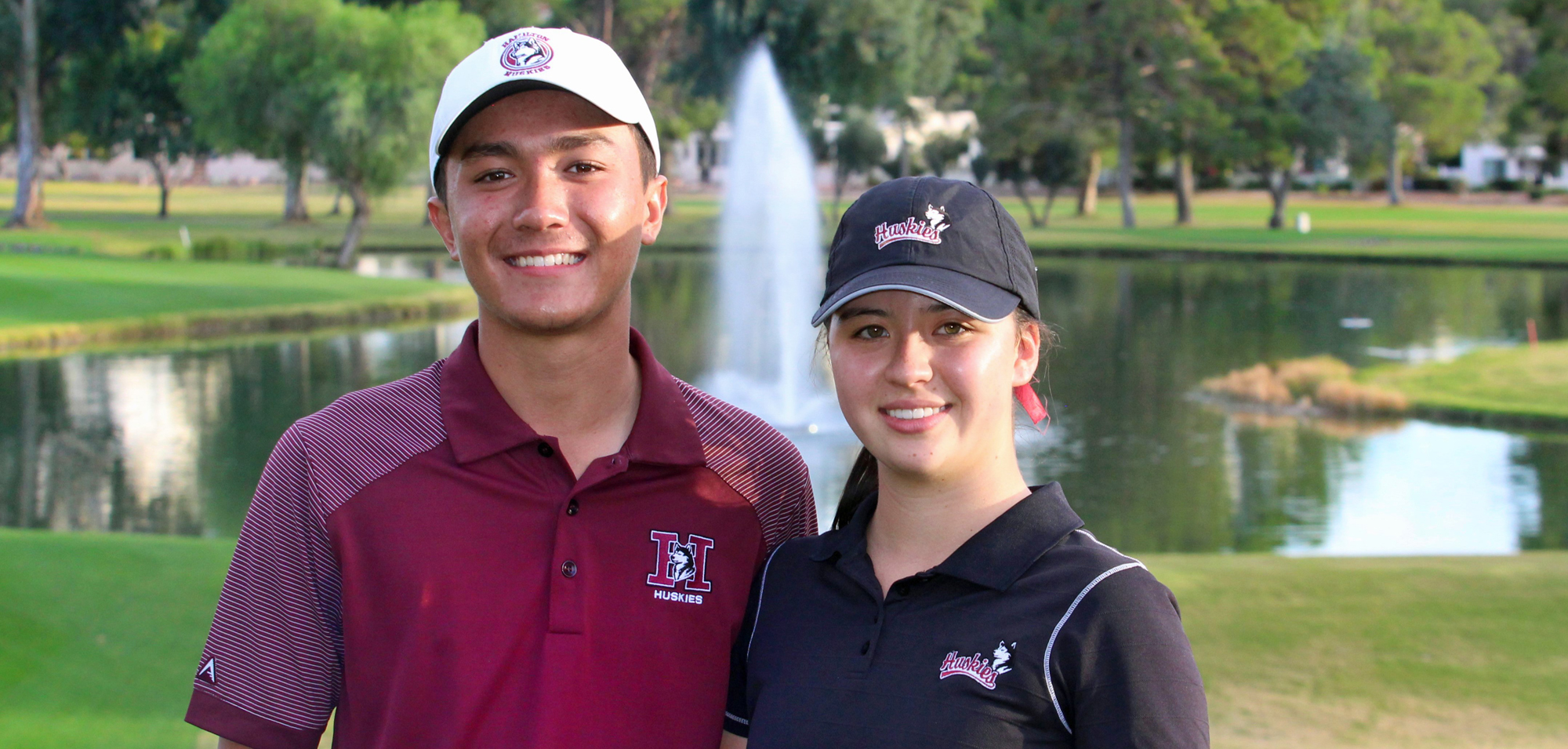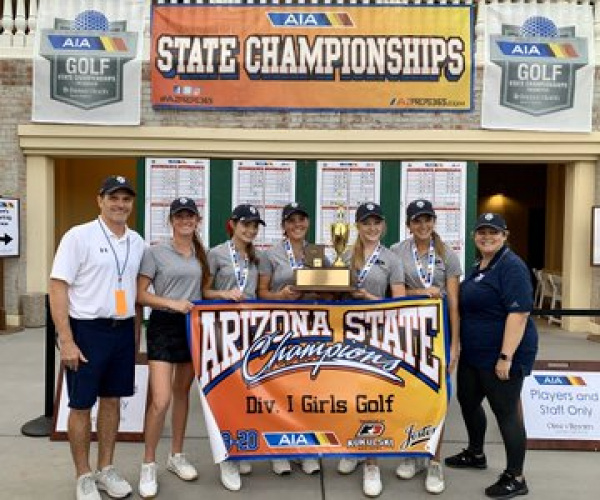 (Andy Morales/AZPreps365.com)
Division I Golf Championships
Nov. 4-5: Omni Tucson National
Joy Callinan shot a 12-over-par 166 to take 18th place at the Division I state championships last year and she came into the 2019 playoffs ranked No. 14 in the state. The Hamilton senior was ranked below some of the biggest names in Arizona including three-time state champion Ashley Menne of Xavier. Menne is one of only three high school golfers (boys or girls) to win three state championships and she was favored to win her fourth but no one counted on Callinan.
A transfer student from Hawaii, Callinan's biggest claim to fame was marching in the Macy's Day Parade in 2017 as part of the Hawaii All State Marching Band but her bio will have to be updated after she pulled off a stunning victory to win the D-I state title at the Omni Tucson National on Tuesday.
Callinan was in great position after the first round on the Sonoran Course with a 4-under 67, one stroke behind Chaparral standout Grace Summerhays but it was a crowded field with two other golfers tied with Callinan for second and three others were two shots back of Summerhays including Menne.
Menne started to roll after shooting a birdie on the par-5 5th hole and another on the par-3 6th. She made the turn and record another birdie on the 11th to go 7-under. Meanwhile, Callinan played even until she pulled out an eagle on the 15th to go 7-under.
Summerhays was unable to build on her 5-under first round score and she fell back despite playing even until a double bogey on the 18th put her at 4-under for the tournament for a 5th place finish.
Callinan and Menne approached the final fairway tied at 7-under. Preparations for a playoff were in the works but Menne overshot the green on her second offering after Callinan placed hers on the table, some 10 yards away from the final hole. Menne almost ended it on her next shot but her incredible offering rolled slowly - inches past the cup.
Callinan placed her putt close to the hole and Menne rolled her par attempt inches away and Callinan secured her victory on her next play. Menne shot a bogey to earn runner-up honors, but, with three state championships and second place finish, Menne can easily be considered the best championship golfer in Arizona history.
Callinan became the fourth golfer in Hamilton history to win an individual title and the Huskies earned third place for the second year in a row after taking second place in 2016 and 2017. The Huskies also took second in 2011 and 2012 but 2010 was the year Hamilton won it all by defeating Xavier Prep. It was only the fourth time a team had come out on top of Xavier since 1979 and that number increased to five after Pinnacle shot a 6-under 562 to beat the Gators by 16 strokes.
The championship was the first in Pinnacle history and it was a slow build from second last year and third place in 2017.
The boys played both rounds on the Catalina Course and O'Connor standout Gordon Lu and Chaparral standout Preston Summerhays started the final day with a one-stroke lead over a crowded field of five golfers including Johnny Walker of Hamilton and defending state champion Ben Lorenz of Sunrise Mountain.
Walker came into the tournament ranked No. 5 in the state and Lorenz was No. 1. Lu came in ranked 27th and Summerhays was ranked No. 14. Walker made his move on the final day on the second hole and he never really looked back. In all, Walker recorded seven birdies on Tuesday including a tournament clinching three in a row at the turn. He added another birdie on 15th to go 8-under and he beat Lorenz and Desert View standout Scott Schadler by four strokes.
Walker became the seventh individual champion from Hamilton in program history and he is only a junior. The individual sweep by Husky standouts Callinan and Walker was made a bit sweeter thanks to the seventh team title in school history after the school defeated Brophy Prep 571 to 574. Brophy Prep won it all in 2018 and the Huskies came in second.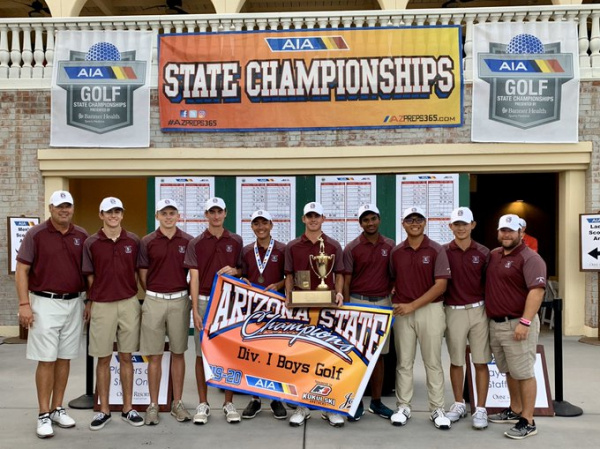 (Andy Morales/AZPreps365.com)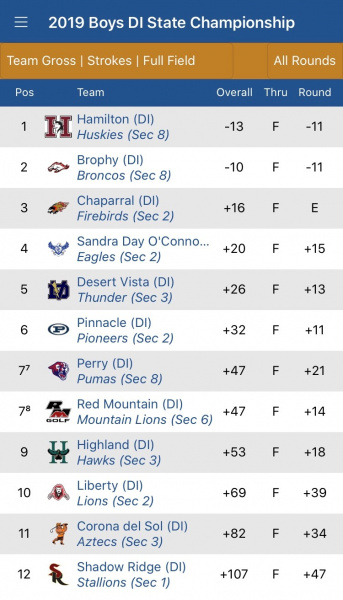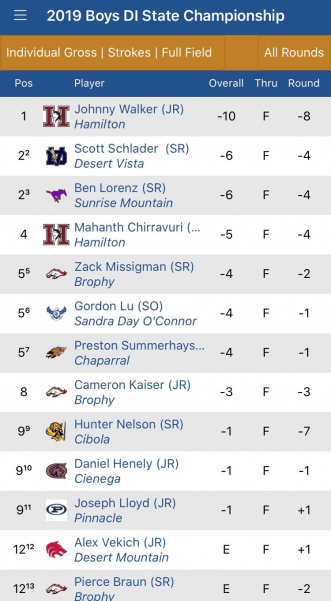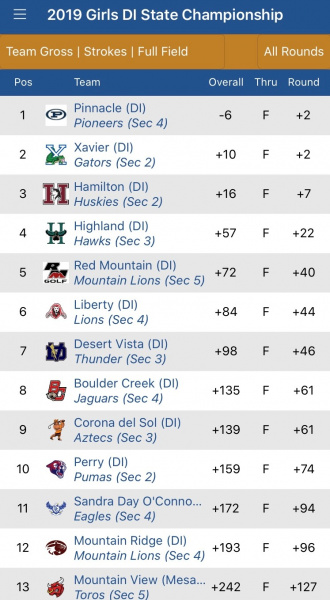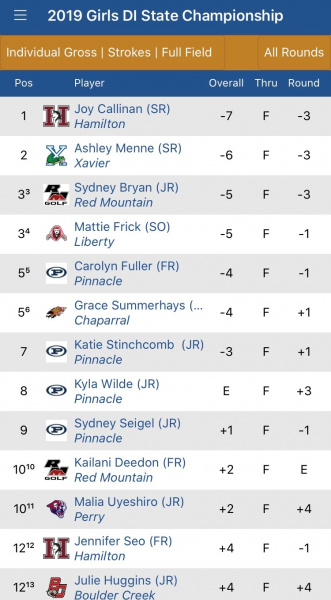 ---