VB: Highland ousts Xavier Prep in 5 sets
November 7, 2019 by Les Willsey, AZPreps365
---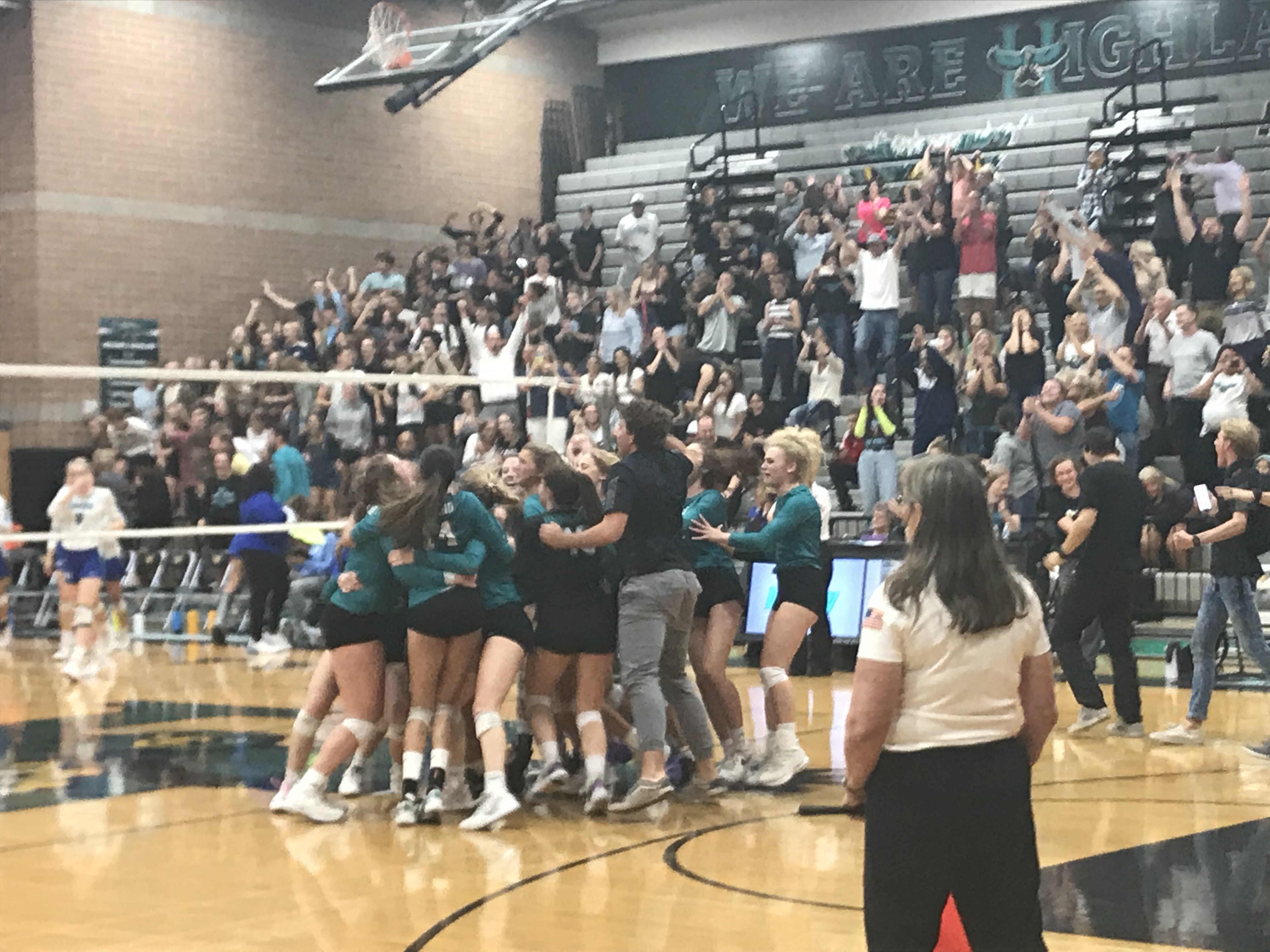 There was quite a twist by virtue of the outcome of #4 Highland's riveting, five-set victory over #5 Xavier Prep on Thursday night in the 6A girls volleyball quarterfinals.
In a match that would have made the heartiest of sailors succumb to seasickness, Highland managed a 25-17, 21-25, 25-16, 22-25, 17-15 triumph over Xavier at Highland.
The result of the Hawks' victory is their first-ever trip to a state volleyball semifinal. Xavier Prep won't be advancing for the first time in 15 years. Highland plays that first semifinal on Saturday against #1 Perry at Perry. Perry topped Desert Vista, 3-1. Xavier finished its season 30-12.
"Were we down 14-12," asked Highland coach Jordan Neal as recall of the match slowly returned after a prolonged celebration. "It was a phenomenal match. This is our first semifinal, and I think the first time we've beaten Xavier."
All of that true. The teams alternated wins the first four sets with Highland taking the first and third comfortably and Xavier snagging the second and fourth by tight margins.
The final set was like the first four except the runs each team went on were less - three points mostly instead of four or five. Xavier quickly led the the fifth, 5-2, but Highland tied it at 5 and two-point spreads were the largest the rest of the way.
The Hawks went up 9-7. Time out Xavier. Xavier bounced back, 10-9. Time out Highland. Highland pulled in front, 12-10. Time out Xavier. Xavier grabbed momentum and 13-12 lead. Time out Highland.
A kill by Xavier senior middle blocker Jasmine Knight put ultimate pressure on Highland's bid at a first semi. A 14-12 lead meant two shots at match point.
Highland responded with its own middle blocker - senior Anna Toolson. Toolson notched the first of three kills in a closing 5-1 stretch. A Xavier error tie it at 14 and Xavier gained a third try at match point after a block by Knight.
Toolson responded with kills 19 and 20 tying and then putting the Hawks in fron for their first chance at set point. Xavier's errant attack was the clincher and the Highland side of its large, well-lit gym was bedlam.
"I was telling our team just to give it their all and play joyful like we have all year," Toolson said. "Play joyful and play together." Not easy when the season comes down to a point or two.
Xavier's effort in its bid to make a 15th successive semifinal was exemplary. The Gators played their first-round match essentially without their top hitter - senior Bri McKnight, who injured her ankle and played just a few points of the first set vs. Liberty.
McKnight, who led Xavier in kills this season with 500, was sidelined again for this match. She wore a boot and walked with the aid of crutches.
"So close, so close," Xavier coach Lamar-Renee Bryant said. "But when you get to the end with a chance to win you have to put it away. We gave a great effort. You wouldn't have known we were missing a six-rotation player the way we played. I'm proud of them."
Along with Toolson's career best day in kills (20 in 36 attempts), two other Hawks were in double-digits in that department. Junior outsides Samia Bhakta and Kennedy Williams had 13 and 12, respectively. Libero Abby Peterson led in digs with 33 and Williams and setter Natalie Palmer checked in with 15 apiece.
Knight paced Xavier's attack with 18 kills and senior outside Julie Westfall had 11. Sophomore setter Alexa Shiner had 35 assists and 15 digs, libero Abby Converse had 15 digs and three aces and Kaori Robertson a team-high 20 digs.

---