Football: Campo Verde turns back McClintock, 41-20
November 8, 2019 by Les Willsey, AZPreps365
---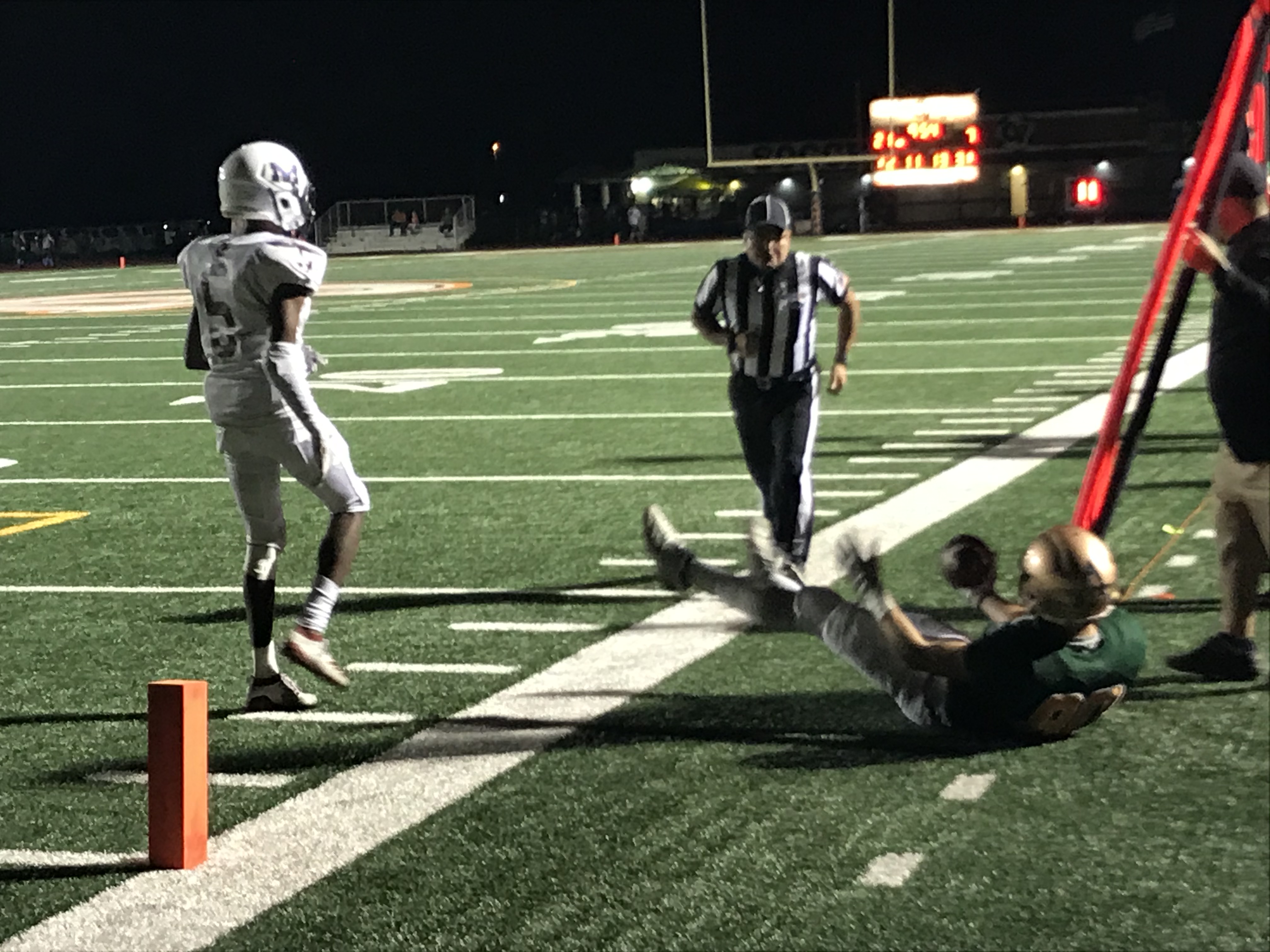 Campo Verde made McClintock's first visit to postseason in a decade a short one. Defense and a ground-and-pound running game was the formula.
Three interceptions, a blocked punt and two grind-it-out drives spelled a 41-20 triumph for #6 Campo Verde over #11 McClintock in the first round of the 5A playoffs at Campo Verde.
Campo Verde (8-3) advances to next week's quarterfinals for a rematch with Higley. Higley defeated Ironwood Ridge, 56-12, to advance. McClintock capped a good year at 7-4.
Campo Verde coach Max Ragsdale was anxious about seeing how his team would respond after closing the regular season with three straight losses to Higley, Williams Field and Casteel - teams seeded #3, #1 and #4 in the 5A bracket. Ragsdale's concern was alleviated pretty much by the early moments of the third period as the Coyotes had amassed a 34-7 lead.
"Our calling card is defense and running the football and those two areas were solid," Ragsdale said.
A Campo player who feasted on the defensive side Friday was senior linebacker Zach Harper. Harper scored a pair of touchdowns and didn't have to run very far to score them.
He chased down a blocked punt and fell on it in the end zone early in the second quarter that actually deflected off a McClintock protector tin the end zone to break a 7-7 tie with 6:18 before the half.
Then in the final two minutes of the half with McClintock backed up inside its 10, Harper picked off a pitch and ran in it from three yards out to make it 21-7.
"The first one was just going after the ball," Harper said. "The next one followed their receiver on a reverse. The quarterback was pressured and threw it right to me."
Workhorse running back Cayden Calloway had his usual full evening carrying 28 times for 155 yards and a touchdown. Younger brother Conner Calloway added a short TD run as did Jayden Fletcher. Campo finished with 228 yards rushing. The Coyotes had two scoring drives that didn't use a turnover as the impetus.
Campo managed to cutdown on the number of big passing plays it's allowed of late while limiting McClintock to virtually zero yards rushing through three quarters. Combined they used 16 plays and 15 were runs.
McClintock standout Bryce Tate caught three passes for 73 yards, one for a TD that brought McClintock even early in the second quarter.
'We made mistakes early and didn't take advantage of opportunities prior to those," McClintock coach Corbin Smith said. "We didn't execute when we should have. Our defense fought their butts off, but they were on the field too long.
"This is the East Valley and the league Campo plays in is very tough. They took advantage of our mistakes."
#12 McClintock (7-3) vs. #5 Campo Verde (7-3)
McClintock last playoff win in 2005 vs. Pinnacle; Campo only playoff win in 2013 vs. Sahuaro.
---