1A FB semis: Same final 4 teams, but Williams is healthy and the favorite
November 8, 2019 by Jose Garcia, AZPreps365
---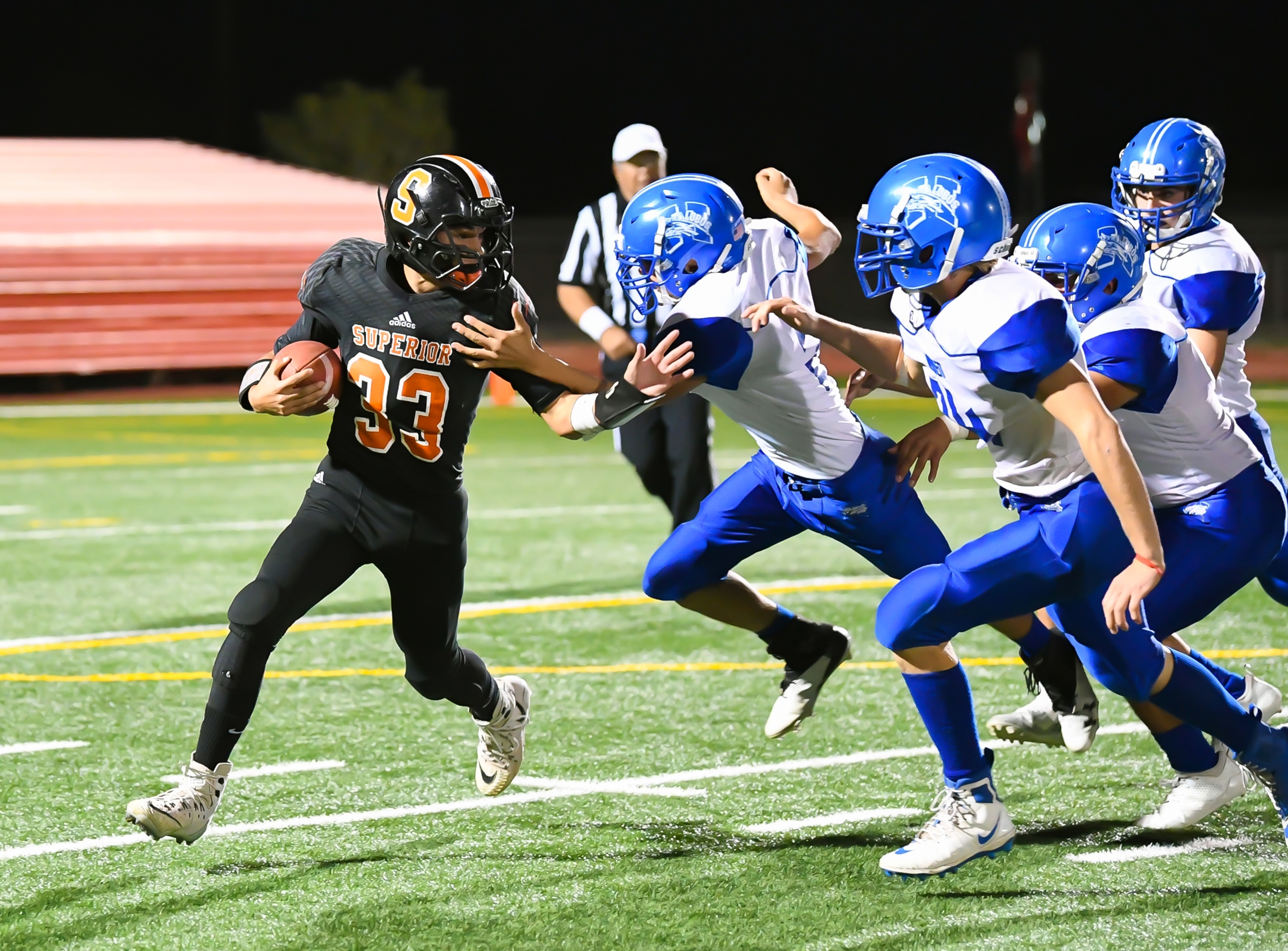 Hayden, Mogollon, Superior and Williams returned to the 1A Conference football semifinals, but the 2018 plots did not.
For starters, Williams isn't missing injured key cast members like last year, complicating Hayden's semifinal upset quest when it meets Williams Friday.
In Saturday's 1A state semifinal game at Coronado High, Superior is the defending champ and playing a Mogollon program under a different but very familiar coach, Ron Tenney.
"That speaks volumes of the traditions of the programs that we have the same teams back in the semis," Superior coach Ryan Palmer said. "We do have a rematch in each game, but Williams is the heavy favorite. It's a deep team, and that goes a long way in our conference. But you never know."
The last time Tenney, the superintendent of the Heber-Overgaard Unified School District and volunteer coach the last four years, wore the Mogollon head coach cap was in 2009.
But Mogollon's winning ways continued while Tenney was coaching at Snowflake and as an assistant at Mogollon. Last week, he and his program resumed their postseason prowess.
But last week's victory was somewhat of a stunner.
Mogollon surprised even its fans with a 28-18 win over Bagdad, considered the No. 2 ranked team in 1A this season, in the quarterfinals.
Mogollon turned the ball over only once, kept the penalty flags away and tallied few negative yardage plays in that game, Tenney said. Also, with the score tied at 12-12, Bagdad was a couple of yards away from scoring during its opening second half drive.
But Mogollon's defense held its ground, forcing Bagdad to turn the ball over on downs. Mogollon's offense then marched down the field and scored, completing the momentum shifting drive.
"It (quarterfinal victory) surprised a lot of the people in our community," Tenney said. "Our team has been resilient and kept fighting. It sure created quite the stir for the community when we got back into town after the game."
Against Superior on Nov. 8, Tenney's boys will be the underdogs again despite beating a Bagdad team that defeated Superior 48-40 in the regular season.
The results of the last two meetings between Superior and Mogollon are the reasons why. Mogollon lost those games, including last year's semifinal game, by a combined 68 points.
"Superior is a solid team," Tenney said. "I feel like our boys have a little chip on their shoulder with something to prove. Confidence wise we are in a better place than when we faced them before."
Junior quarterback Caden Owens is one of the players whose confidence continues to grow.
He's in his first year under center after Tenney's son, Trey, held that post the previous three seasons. Owens is doing a better job of reading defenses and has a great touch, Tenney said.
In the quarterfinals, Mogollon started three freshmen, Trexton Reidhead, Landon Stephens and Jayk Kelton. But Kelton has started for most of the year at wide receiver and corner, and Reidhead stepped up at defensive end when a senior, Denin Porter, went down with an injury.
Mogollon doesn't post its stats until after the season, but opponents know that seniors Dallin Rice, DB/RB Timmy Porter, LB/RB Rhett Mclaws and linemen Bruno Corrales and Diego Amaya and Corales' brother, Edy, are Tenney's leaders. Superior's big-play ability hurt Mogollon in their last two games.
One of Superior's smallest players caused the biggest damage. Adam Navarrette (5-7, 140) rushed for 169 yards and two touchdowns on 14 carries in Superior's 52-14 regular season win over Mogollon.
The other home run guy for 8-1 Superior is Sammy Lopez, who is tied with Navarrette for the team lead in touchdowns with 17. Lopez is also a ball hawk on defense and is tied for the state lead in interceptions with 10.
In 2018, Superior won its first official state title behind the 1A Conference Player of the Year, quarterback Steven Ybarra.
This year, sophomore Matthew Cruz (31 touchdowns, 3 interceptions) blossomed while the 2019 Superior Panthers found their identity.
"At the beginning of the preseason we had a meeting and told the guys that last year we did something for the first time in 64 years at this school," Palmer said. "You can hang your hat on that or accept the challenge of defending the title and that's the new standard we want to live up.
"Hard work allowed us to make the transition."
This is the fifth consecutive season that Superior has reached the state semifinals.
Hard work has also helped Hayden (7-2) get back to where coach John Estrada wants his program to be every year.
Last year, it reached its first final since 1988 after defeating an injured Williams team in the semifinals. But three weeks ago, Hayden ran into Williams again and the outcome — Williams won 68-6 — was much different this time.
With the postseason approaching and not wanting to lose players to injury, Hayden sat its starters at halftime of that game three weeks ago. On Friday, don't expect Hayden's starters to be on the bench when its meets Williams again.
"I think we are in a better spot than we were three weeks ago," Estrada said. "Do we have a chance? I believe we do. The kids got that feel back that we didn't have in a while. They have that bounce. I think it's going to be a different game. But don't get me wrong, Williams is tougher than heck."
Hayden suffered a big blow when it lost its starting quarterback, A.J. Castillo, for the year with a collar bone injury.
Estrada said that Castillo won't play in the semifinals. Senior running backs Jorge Rodriguez and Gilberto Carmelo have carried the load in Castillo's absence and while back up quarterback Manny Guillen learned the offense.
Rodriguez has been playing with an injured toe but refuses to sit until the season is over.
"We have fought through some adversity, and that has really defined our team," Estrada said.
Other than its out of state game this year, Williams hasn't faced much in-state adversity this season.
Last year was a different story, though. The team was poised to reach its third consecutive 8-man championship game, but its run ended in the semifinals due to injuries.
In 2019, the team is healthy and playing like the favorite. An Arizona team has yet to give 8-1 Williams a game this year.
Its only challenge came when Williams lost 20-14 to a Nevada team, Pahranagat Valley. The favorite to win 1A Conference Player of the Year honors this year, Chance Pearson, went over the 1,000 rushing yard mark for the second time in his career and registered his third season with 72 tackles or more.
Pearson was the biggest loss Williams suffered last year during the playoffs. The healthy Pearson also has scored 23 touchdowns in 2019.
And Williams' bookend defensive linemen Luis Lara Arredondo (16 sacks) and Dorian Ayala (11.5 sacks) are double-trouble for opponents.
"We are a very physical and fast football team," Williams coach Jeff Brownlee said. "We have been in the best game shape this season."
---