Hawks advance to their first semifinal with win over Xavier
November 8, 2019 by Mike McQuade, Arizona State University
---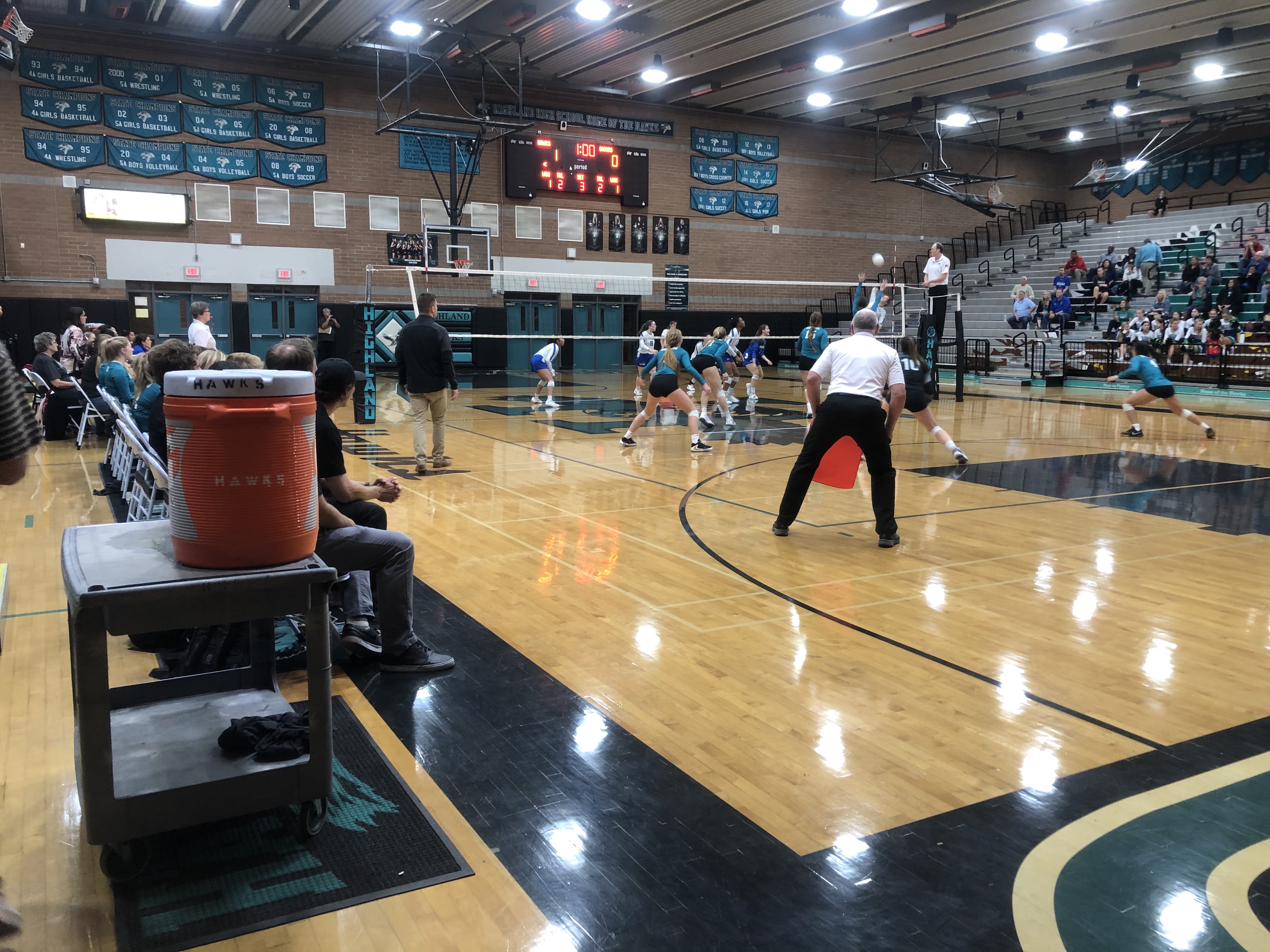 Mike McQuade is an ASU Cronkite School of Journalism student.
The Xavier College Prep Gators, defending state champions in 6A girls volleyball, were ousted from this year's state tournament Thursday night, losing in five sets to Highland, 25-17, 21-25, 25-16, 22-25, 17-15.
The loss snapped the Gators' impressive record of reaching the state semifinals 14 consecutive years.
Heading into the tournament, Highland was seeded fourth and Xavier was seeded fifth.
Highland head coach Jordan Neal gave all the credit to her five senior girls.
"This group of five seniors has just led us in a completely new direction in a way we have never had kids lead us before," Neal said. "Leading by example, they are the first ones here every day, cleaning up and leaving late every day, and that's who they have been."
Senior outside hitter Anna Toolson led the offense with 20 kills and had two huge back-to -back points in the third set with a block and a spike.
"She's got ice in her veins," Neal said. "She's not afraid of anybody. She really went after those kids every chance she had, and has worked really hard to have the kind of skill set she needs to do it."
Highland also got a big effort from senior Abby Peterson, who had 33 digs and 13 aces.
Highland's semifinal match will be against top-seeded Perry at 6 p.m. Saturday at Perry High School.
The core five seHighlniors have made history already in Highland but there next matchup comes against Perry highschool.
"Perry is really tough," Neal said. "We have gotten to see them a couple times this year, so we know what they want to do and stopping it is kinda of a different story."
In their two matches this season against Perry, the Hawks have split, winning and losing by 2-1 series.
Xavier head coach Lamar-Renee Bryant applauded her girls for fighting back to force a fifth set.
"I'm still proud of my girls," she said. "I mean, our captain, our sixth rotation outside hitter, went down and you would never know, we battled to the end."
Xavier had players step into big roles this game that did not have experience in a state tournament playoff run was mentioned by Bryant.
"Number 14, Hannah Ulisch, a libero from JV, and here you are playing three rotations in one of our biggest matches for the last day in a half," Bryant said. "Katelen Tellez, was a junior on JV last year, and this day and age how many juniors are on JV and stick with the program."
Sophomore setter Alexa Shiner had a big night for the Gators offense with 35 assists. Also, on the defensive end, she notched 19 digs in the back row.
Senior captain Jasmine Knight ended her Gators career with 18 kills.
"She led us in kills, hitting percentages, blocks all season. We rode her arm all year," Bryant said.
---