2A VB: Scottsdale Christian champs again
November 9, 2019 by Les Willsey, AZPreps365
---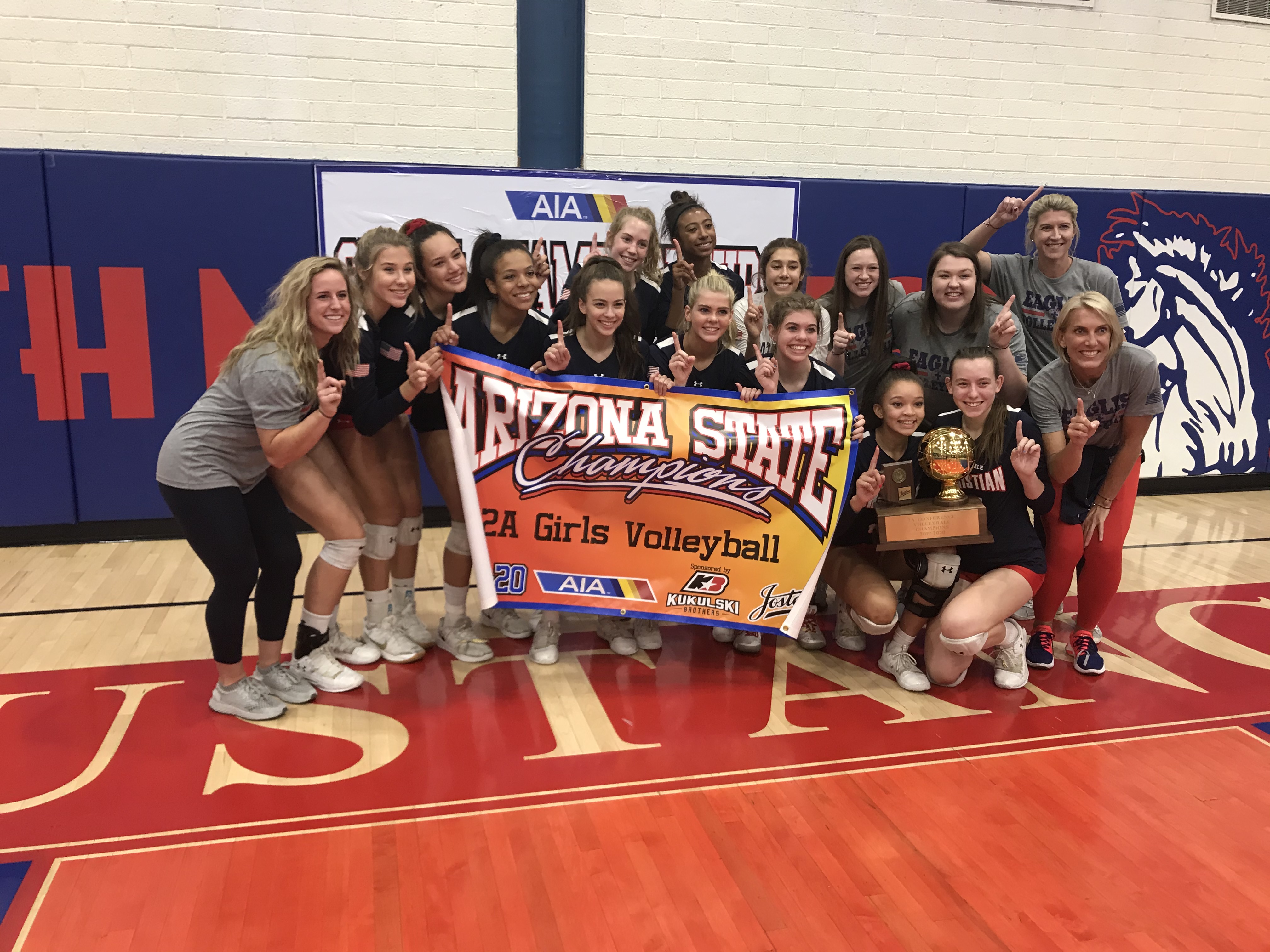 The only difference between the last two championships Scottsdale Christian's girls volleyball team won and the one it claimed Saturday was the Eagles lost a set on the way to the title.
#2 Scottsdale Christian was in its usual form of recent years as it swept Thatcher's Eagles, 25-11, 25-11, 25-6 in the 2A final at North High School.
Scottsdale Christian (28-8-2) swept its way to titles in 2017 and 2018 going 12-0 in each tournament (four sweeps). A 3-1 win over #3 Veritas Prep in the semis on Saturday was the lone blemish. Thatcher, which disposed of Phoenix Christian and Scottsdale Prep on Friday, and played five sets to knock off Trivium Prep in the semis, finished 25-7. It was the Eagles first trip to a final since 2015 when they won the second of back-to-back titles.
Leading the way and a huge part of two of the three titles for SCA is senior Taylor Raoila. Raiola, a senior outside hitter committed to the Air Force Academy, put on a show in her final match. She registered 16 kills, served 13 of her team's 25 points in the second set and finished with four aces.
"The championships have been amazing," Raiola said. "I'm so excited because this team worked hard to build on what's been done the last two years. I had a lot of fun out there."
Scottsdale Christian coach Kim Ohlinger wasn't surprised to see Raiola finish on a high note.
"She's been awesome," Ohlinger said. "She's fit right in ever since she came here from Michigan. She's our captain and always is there for the team....
"I'm so happy for her and our other players. We have six underclassmen, three freshmen and three sophomores. They're very skilled and have made an impact immediately."
Junior Sophia Wadsworth was next behind Raiola on the attack for SCA with seven kills. Senior Caroline Montgomery added five kills, four in the first set. Thatcher's attack was limited, and paced by senior middle Taya Baldwin, who finished with nine kills.
---