3A VB: Northwest Christian repeats, upends Valley Christian
November 9, 2019 by Les Willsey, AZPreps365
---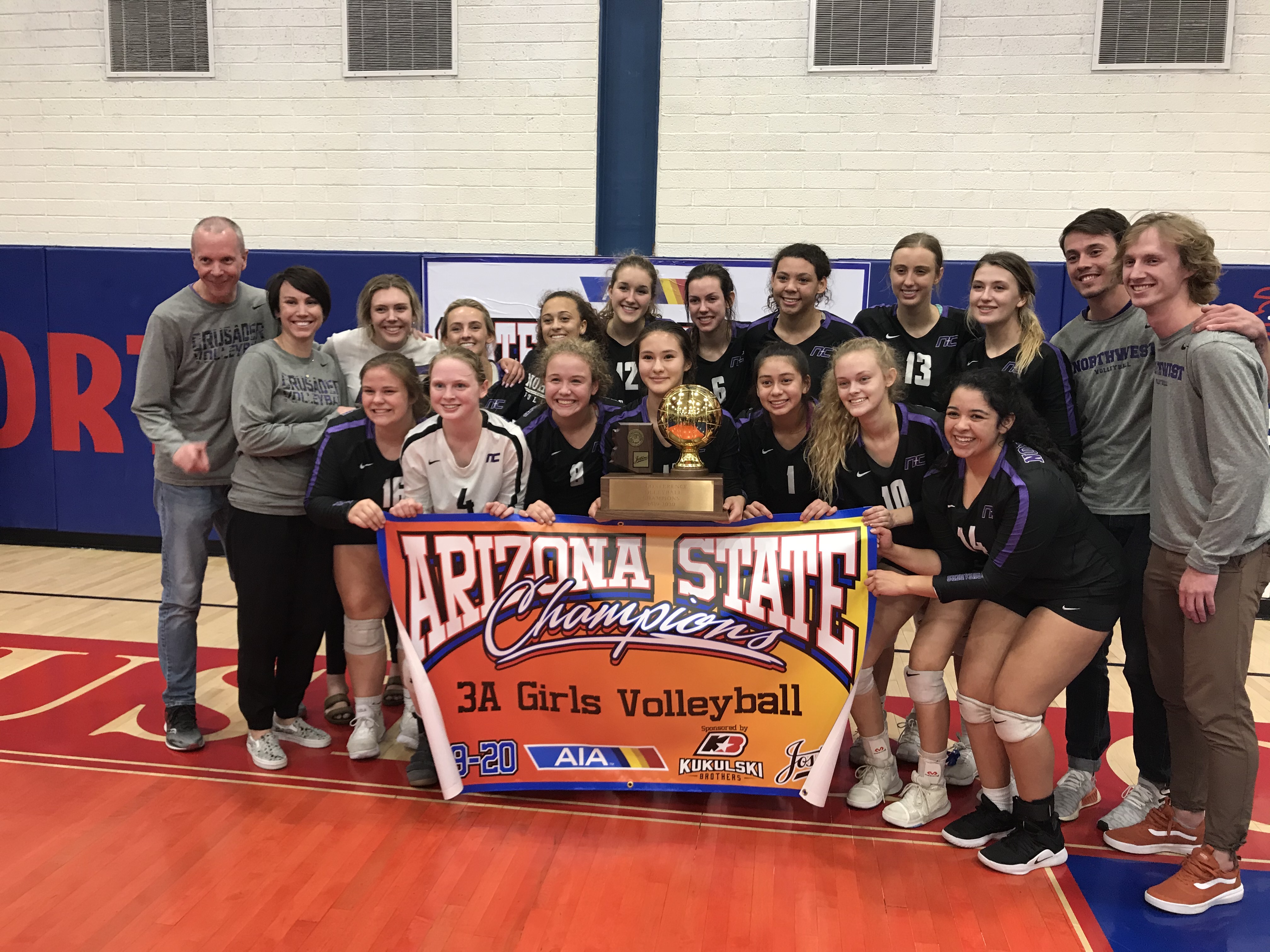 When a team plays like Northwest Christian's girls volleyball team did Saturday night, it can make a very good team, a #1 seed, look ordinary.
That's about the size of things as the Crusaders defended their 3A title in the same fashion they won it a year ago sweeping the field. NWC denied Valley Christian's shot at a title it last won a decade ago by stopping the Trojans, 25-15, 25-20, 25-14 at North High School. The teams played six weeks ago with NWC winning via sweep, but the match was much more competitive with the Crusaders winning 25-20, 25-20, 26-24.
Northwest Christian wasn't pushed hard in its first three tournament matches and maybe that gave the Crusaders a bit of an edge. Sweeps of Show Low and Tuba City on Friday and Snowflake in the semifinals earlier Saturday were a smooth path to the final. Valley Christian had the same good fortune the first two rounds taking 3-0 wins over Payson and Page.
The Trojans' Saturday afternoon semifinal, however, went five sets and they expended great effort in edging #4 Odyssey Institute, 3-2. It took a rally from an 8-4 deficit in the fifth set for the Trojans to earn their first finals berth since 2009. Last year NWC swept Show Low, Fountain Hills, Tuba City and Arizona College Prep to bring home the trophy.
"We really did a good job, we played at a high level," Northwest Christian coach Jenna Hope said. "(Setter) Molly (Kipp) ran a great offense and gave us good sets all match. We got contributions from everyone."
NWC's attack was led by versatile junior and Oregon commit Reagan Hope, who slammed down a team and match-high 18 kills. Freshman Kierstyn Barton added 8 kills and the trio of Ashlyn Nevrla, Zoe Dalessandri and Jadeyn Shaw collected five apiece. Late in the second set - the closest of the three - NWC landed three aces that helped finish out the set. Emma Harmeyer (four aces) and Shaw (three aces) were the leaders. L
Seven of nine players who got most of the playing time for NWC will return next season led by Hope, Kipp, Shaw and Miranna Berles.
Valley Christian led sparingly throughout the match and never led by more than two points. Runs were scarce and the Trojans' attack was suppressed to the degree its kill leaders were Breanna Brooks with six and Cara Braun and Emma Richardson with five each.
Valley Christian coach LIndy Ramsland, expecting a baby by Dec. 3 if not sooner, spent all her timeouts in each set as the Trojans weren't able to overcome the relentlessness thrown at them in all phases by NWC.
---