St. Mary's athlete attributes success to faith
November 10, 2019 by Maryn Weeks, Arizona State University
---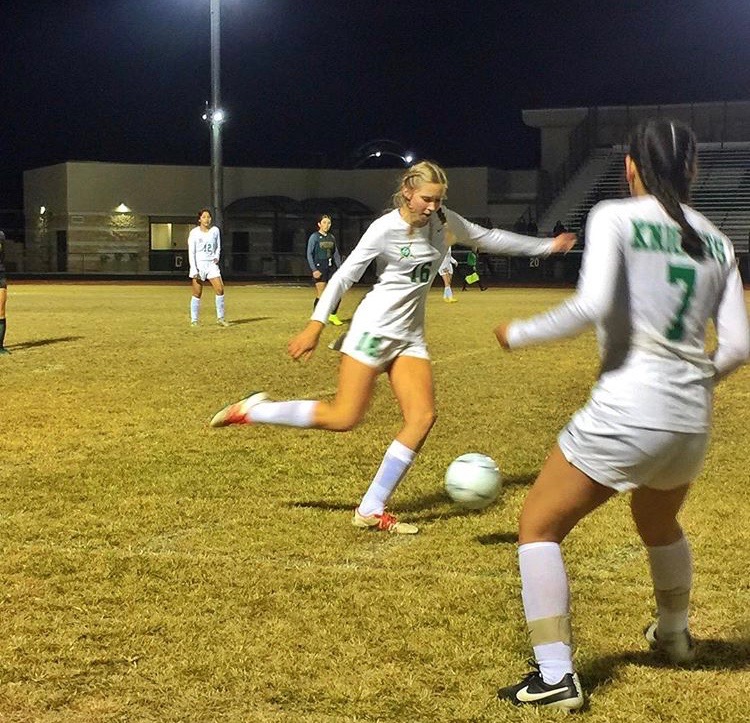 "If you have any faith hold on to it and keep trying to grow it because it will only end up benefiting you," St. Mary's senior athlete Genna Gignoux says.
Gignoux was raised in a Catholic family and believes that her faith has contributed to many of her successful moments in life.
She has been playing soccer since she was 7 years old. She started playing because she liked the idea of staying active while being physical at the same time. Then she started to love the game. She now plays soccer at St. Mary's. She also runs for the schools cross-country team.
Gignoux started running for St. Mary's cross-country team her freshman year and has continued to do it because of the teammates she has bonded with.
"They're some of the most positive people I've met," Gignoux said. "They always encourage me to PR."
St. Mary's encourages its athletes to connect with each other through faith as well as sports. Gignoux relies on that faith to build friendships and to succeed in everything she does on and off the field.
"We always do prayer every day at practice and every time before meets," Gignoux said. "We always go to team mass and we kind of have that community as well as being a team."
Each day, Gignoux immerses herself in mass, prayer, confession, and youth group to keep her faith strong.
"St. Mary's has really pushed me and made me take my faith on to be my own," Gignoux said.
She is thankful to be on teams that begin and end with prayer, according to her mom Cristina Gignoux. Cristina believes it is what unites the team and sets it apart from others.
Gignoux relies on her faith during stressful times because she feels it allows her to have something else to fall back on if something goes wrong.
"It's really something that motivates me," Genna said. "I'm motivated to keep up with it."
According to her younger sister, Lizzie Gignoux, she always takes the stressful things to prayer, which creates a noticeable difference in her attitude and mentality.
"Her faith is stronger than most kids her age," cross-country coach Don Durkee said. "She has very strong faith and I think that's part of her family that she grew up in."
Faith has been prominent in her life since she was born. Since she was young, her family has participated in family prayer and has been enrolled in Catholic schools.
Genna has one older sibling and four younger siblings and says she appreciates the ability to be a role model. She also enjoys having siblings because of the companionship that comes with it.
"It's like having built-in best friends," she said.
Genna said her oldest sister, Sister Catherine Paul, is someone who inspires her to be better and continue to strengthen her faith.
Sister Paul entered the convent after high school and, according to Genna, that has had a big impact on their family.
"Seeing her want to give her life to God and devotion to that and to really be doing what she feels like she should do is inspiring," Genna said.
Genna also participates in extra-curricular activities such as National Honor Society, Ambassadors and Youth for Life as a way to give back to St. Mary's.
"I like to volunteer my time to stand up for what's important to me," she said.
Genna plans to attend a Catholic college to study nursing once she graduates.
---