6A VB: #3 Basha beats Perry in battle of 1st-time finalists
November 13, 2019 by Les Willsey, AZPreps365
---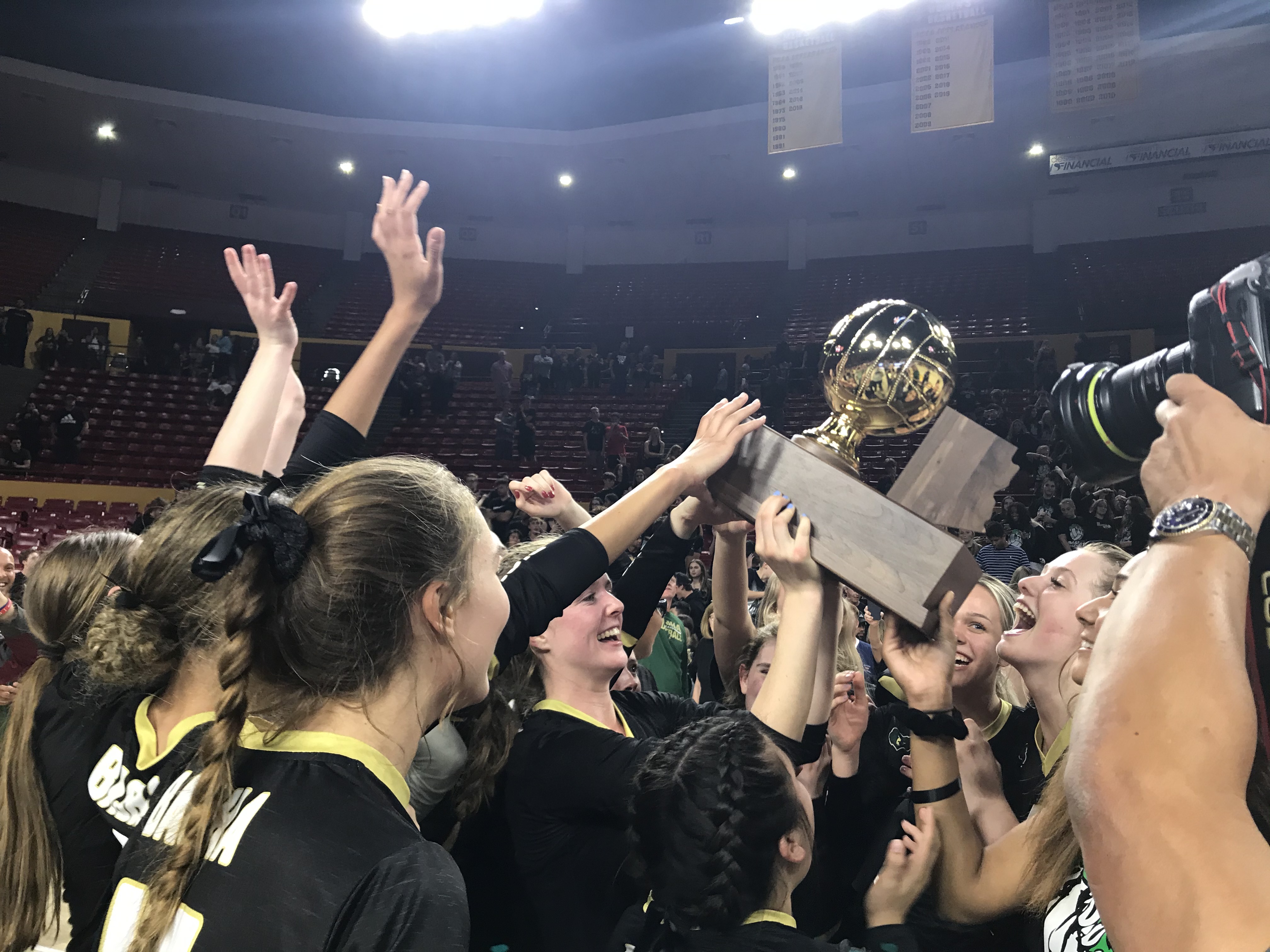 Basha girls volleyball coach Terri Spann took a brief moment while filling out her lineup sheet for the fifth and final set against Perry Tuesday night to succinctly let her feelings known.
"I love this stuff," Spann said.
What wasn't to love. Her team, which lost the first two sets to top-seed Perry and survived four match points in a marathon third set to stay alive, was as fired up as she was when the match began nearly two hours prior.
Oh, and Spann loved the final outcome. Basha rallied from an 0-2 deficit to claim its first girls volleyball title in its first attempt with a 14-25, 21-25, 32-30, 25-23, 15-10 triumph over Perry in the 6A final at ASU's Desert Financial Arena.
"I knew after we won the third set that our conditioning would help us win out," Spann said. "(Perry) looked tired after the third set. We condition so hard and do so much extra stuff just for matches like this. I believe in these kids, and they got it done."
The title was Spann's second as a head coach. She piloted Xavier Prep to a title in 2000 and a runner-up finish in 1999 prior to marriage as Terri Cox.
Basha (26-16) relied on monster games from three-year varsity veteran and senior Samantha Drewry and half-season senior transfer Jaelyn Hodge to wear down Perry (34-4-1) with their attack skill. Hodge finished with a match-high 33 kills and Drewry added 24. Drewry was especially potent after the opening set, netting 23 of her 24 kills in the final four sets.
The decisive fifth set was tied 6-6 when Basha began pulling away. Drewry gave Basha the lead for good with two kills sandwiched around an ace by Taylor Williams. Drewry and Hodge combined for three more kills and Perry helped with a net violation, service error and attack error. Hodge finished the match with kill No. 33.
"We had the chance to put it away in the third set," Perry coach Fred Mann said. "We had service errors three times. Their top hitters were really good. We let them get more comfortable as the match went on and that made it tough for us."
The key to Basha's victory certainly was the third set. The Bears led most of the way, but Perry pecked away at what was a 17-12 deficit to take a 23-22 lead - two points shy of a sweep. Drewry saved Basha with a kill on the first match point, tying it at 26. Three more match points failed via Perry service errors. Finally with the set tied at 30, Drewry found the floor with back-to-back kills to prolong the match , the last on the Bears' fourth try at set point. The 32-30 score tied the state tournament title-game record for a set score done twice previously - Centennial-Sunnyslope in 2017 and Desert Vista-Xavier in 2015.
Neither team led by more than two points in the fourth set. The only three-point run of the set came at the end from Basha when it trailed, 23-22. A Drewry kill, an ace by Williams (one of her team-high four) and a Perry attack error sent the teams to a fifth set for the third time in their three meetings this season.
"We worked so hard in practice and it paid off," Drewry said. "I knew if we kept pushing we could win it. We had momentum at the end."
Perry had more balance and variety in its attack led by senior Tatum Stall (20 kills), junior Ella Rud (16) and juior Makayla Long (11). Sian Richardson led the Pumas defense with 24 digs. Junior setter Jenna Heller collected 55 assists.
Basha's defense was paced by junior ibero Haley Carrington (22 digs) and Williams (15). Senior setter Aspen Aldous had 53 of the Bears 61 assists.
A complete box score from the match can be seen by clicking on the link below:
http://www.aiaonline.org/files/16869/2019-6a-girls-volleyball-championship-box-score.pdf
---