Boy's Cross Country Division III, Section IV: Page prepares for state meet
November 15, 2019 by Oree Foster, AZPreps365
---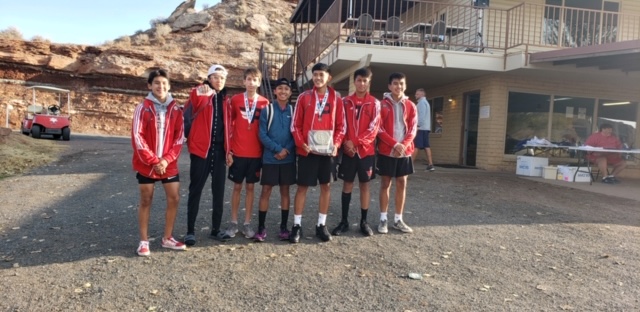 Page placed three scoring runners in the top nine to post a six-point victory, 52-58, over Prescott for the boy's Division III, Section IV team championship at Hidden Cove Golf Course in Holbrook.
Page junior Trent Holiday nailed down the individual championship, touring the 5K course in 16:27. Sand Devil junior Rex Martin crossed the finiah line in third place, negotiating the course in 16:46. Senior Skyler Sandoval was Page's third finisher, claiming ninth place with a 16:58.
Page sophomore Colton Yazzie completed the race in 17:15. Sand Devil freshman Shayden Begay was clocked in 17:55.07 for 33rd place. Quentin Davis followed in 34th place, posting a 17:55.75.
Page has won five state championship in a row and 16 boy's state titles. Former head coach MacArthur Lane guided Page boy's team to four straight state championships.
Tim Martin coached Page to the state title last year. His twin brother, Theo Martin, is the Sand Devils current head coach. Theo Martin won a pair of state championships, coaching Page's girl's team to the 2009 an 2010 state crowns.
Page head coach Theo Martin said the Sand Devil runners have to tighten up its team spread.
"The team will have to tighten up the team spread, 1 to 5 runners, 40 seconds and possibly 1 to 7 runners, 45 seconds," Martin said. "We will have to run in packs of three and four. We will have to run at our best to break the front group up. We will have to use top runner Trent (Holiday) and stay with him."
Martin said last week's Division III, Section IV runner-up Prescott, Salpointe Catholic of Tucson and his Page team are expected to challenge for the state championship.
Martin pointed out that Rio Rico's Rashan Tinoco-Mira is the individual favorite to win the state championship. Walden Grove's Jonathan Lee and Palo Verde's Abraham Valenzuela are expected to push Tinoco-Mira.
"We will race the best we can," Martin said. "All the teams in the top 21 will be challenging."
Martin said his team has aches and pains, but will be ready to race on Saturday.
The state championship is scheduled for Saturday at Cave Creek Golf Course in Phoenix.
---