Open Division FB: It's 6A vs. 4A in semifinals
November 21, 2019 by Les Willsey, AZPreps365
---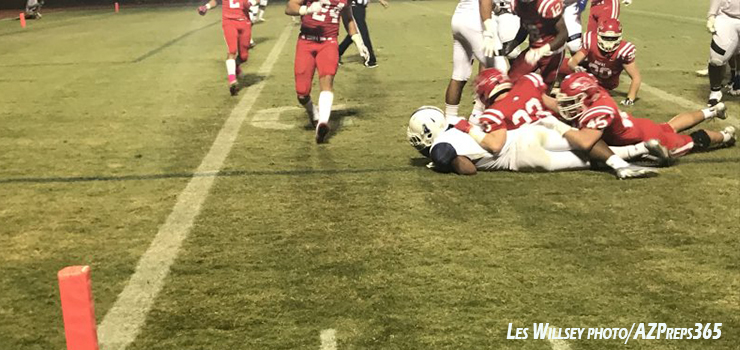 OPEN DIVISION SEMIFINAL PREVIEW
Both games Saturday Nov. 23 at 6 p.m.
#1 Chandler (11-0) vs. #4 Salpointe (10-0) at Hamilton HS
How they got here: Chandler rampaged through the regular season to the tune of 10-0 with a close call at the end to rival Hamilton.Salpointe wasn't challenged in posting a 9-0 mark with a 10th game cancelled early on by an out -of-state opponent. First-round games: Chandler looked like it did the bulk of the regular season by pasting #8 Chaparral, 56-10. Salpointe pulled away in the second half to rock #5 Pinnacle, 48-10.
The matchup: This is Chandler coach Rick Garretson's first season as head coach. Salpointe coach Dennis Bene is wrapping up his coaching career after this season, his 19th guiding his alma mater. Arguably the state's top two running backs face off in this one - Chandler senior Dae Dae Hunter and Salpointe senior and record-shattering Bijan Robinson. Hunter, who transferred from Colorado, has rushed for 1,465 yards and 31 TDs. Those numbers are on were on 129 carries for an 11.4 yard-per-carry average. Robinson passed the 2,000-yard mark last week (2,116) on 108 attempts for a 19.6 yard average and 37 TDs. Chandler owns a more prolific passing game led by junior quarterback Mikey Keene. Keene has passed for 2,435 yards, 19 touchdowns with five picks. The completion percentage is high at 74 percent. Salpointe sophomore Treyson Bourguet stepped in at quarterback at midseason after transferring from Marana. He's been asked to throw an average of eight times a game. Bourguet has passed for 537 yards with 12 TDs and two interceptions. His best game was last week vs. Pinnacle when he threw for 243 yards and four TDs, nearly doubling his pass attempts for the season in six games. Chandler's defense is led by senior linebacker Tate Romney. Salpointe's by two-way standout safety Lathan Ransom and linebacker/defensive end Luke Regina (nine sacks). Both schools are averaging 50-plus points per game and allowing 12 points per game.
#7 Hamilton (9-2) vs. #3 Saguaro (10-1) at Coronado HS
How they got here: Hamilton reversed a 3-7, non-playoff season a year ago to make the playoffs albeit the Open Division no less. The Huskies were solid throughout the season with its losses to Brophy and Chandler in a nail-biter. Saguaro's only loss was to out-of-state foe Cathedral Catholic (San Diego, CA), 18-10, in Week 2. The Sabercats haven't lost to an Arizona opponent in their last 56 games against dating back to 2015. Their closest call this year was a a 38-24 win over Chaparral that had them rallying in the second half to win. First-round games: Hamilton went to the mat to edge #2 Centennial, 28-19 in the best of the opening-round Open Division games. On the flip side, Saguaro had the easist time, dispatching Horizon, 49-3.
The matchup: Hamilton is coached by Mike Zdebski, who is 12-9 in his first two seasons after arriving from Michigan. Saguaro is coached by Jason Mohns, who owns a 96-11 record and six consecutive state titles since taking over in 2012. Hamilton's offense is well-rounded with a 50-50 split rushing and passing. It starts with senior quarterback Nick Arvay, 2,087 yards passing, 16 TDs and 3 interceptions. The running game is more than capable with a nice 1-2 punch of Gabe Armenta (888 yards, 18 TDs) and Sebastian Dorman (689 yards, 10 TDs). The receving corps is led by Brenden Rice and Brady Shough, who have combined for 73 catches and 1,072 yards. The scoring threat is Rice with 9 TD receptions. Saguaro also offers nice balance. Senior quarterback Tyler Beverett leads the Sabercats in rushing (741 yards, 8 TDs) and has thrown for 1,653 yards, 21 TDs with 3 picks. Capable in the ground game are the Sabercats' top all-around player and region player of the year, Kelee Ringo (641 yards, 10 TDs), Will Shaffer and David Soboyejo. Beverett's top target are seniors Matt Polk, Jakob Pettijohn and junior Xander Werner. Hamilton's defense is led by a trio of first-team all-region picks - defensive back Jamar Brown, lineman Alex Wielert and linebacker Jeremiah Trojan. Saguaro sports six first-team, all- region players from the 4A Desert Sky - linemen Quentin Somerville, Alani Ma'afu and Damien Sellers linebackers Shaffer and McCade Siegel and deep back Jacobe Covington.
---