The motivation behind Brophy Prep's Nuez
November 20, 2019 by Hogan Armstrong, Arizona State University
---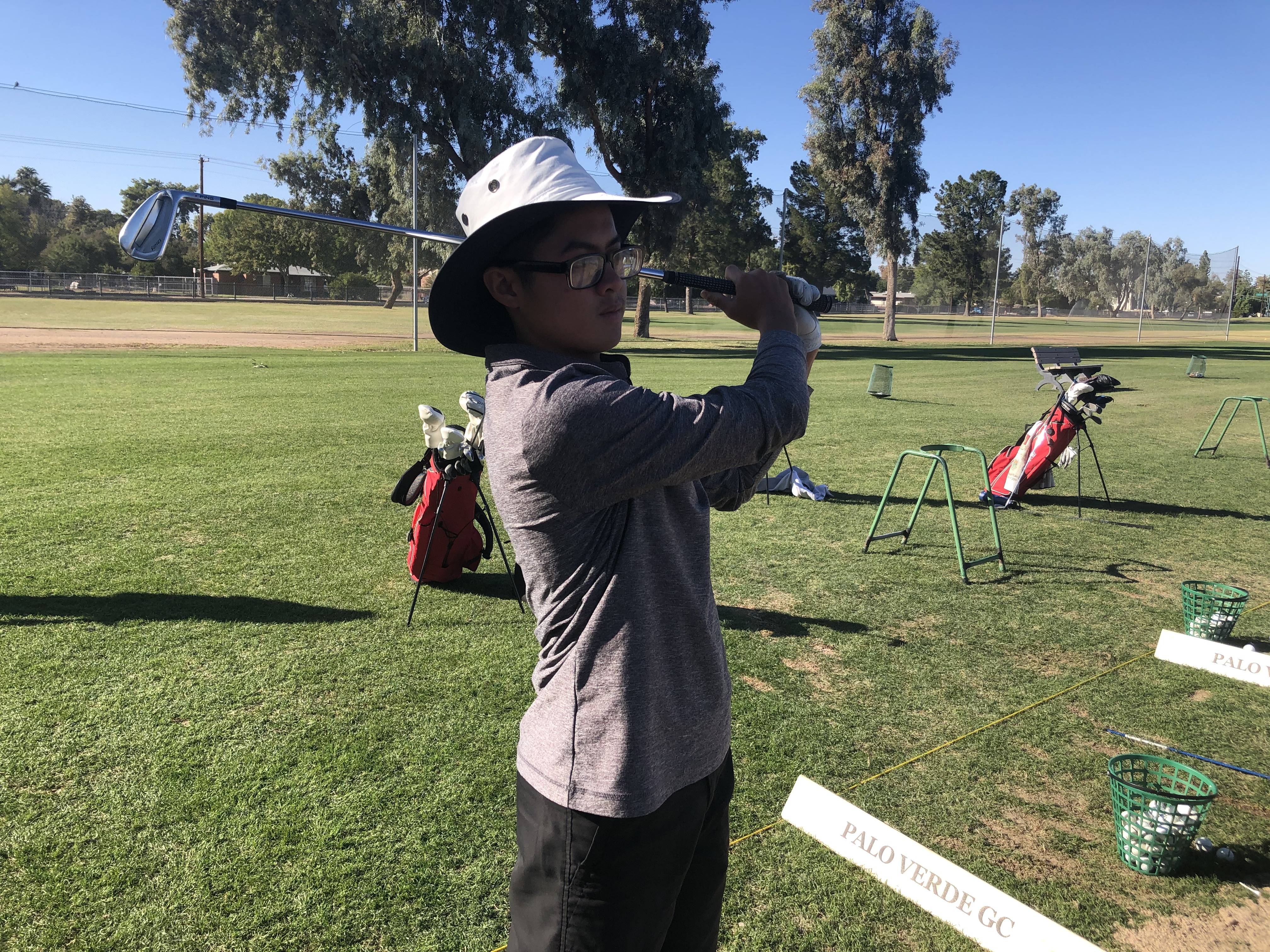 When Noah Nuez picked up a golf club for the first time at the age of 2, there was no way for him to know that he would be holding up the Division 1 state championship trophy for his high school golf team 15 years later.
Now, as he faces the last two years of his high school career, Nuez looks to extend that success to another state championship for his Brophy Broncos.
Born and raised in Arizona, Nuez picked up the sport early from his father, who gained his golf experience from playing at the collegiate level. Nuez was taught at a very young age how to keep his mental composure, which has been a key factor to his success at Brophy.
From beating thousands of golf balls a week on the practice range, to playing 36 holes a day, Nuez credits his father for his success.
"Everything I know about the game is from him," said Nuez.
Wynfredo Nuez, Noah's father, has played a tremendous role in his son's development as a golfer and as a person. He taught him the fundamentals of putting, chipping and pitching through hundreds of hours of practice.
"At a young age he was really hard on me, but I think that taught me to have that perseverance and discipline," Noah Nuez said. "I know that he does it out of love."
Noah Nuez made a name for himself in the Arizona golf scene early on, winning his first golf tournament at the age of 4 in the 7-to-8-year-old division of the JGAA's Boys Golf Club. He is also the only golfer to win "Player of the Year" in the 15-to-18-year-old division in back-to-back years, doing so at the age of 12 and 13.
"I wanted to teach my sons something I was competitive in and passionate about," said Wynfredo Nuez.
After a work-related accident left him mobility-disabled, Wynfredo Nuez spent a lot of time helping his four sons develop their golf and tennis games.
"I consider my disability a blessing in disguise," Wynfredo Nuez said. "It has afforded me and my wife the ability to spend more time watching my kids grow up, teach them the sport I love … and have a positive impact on society by being competitive in academics and golf."
The relationship between Noah Nuez and his father, along with the talent he presented, immediately caught the eye of future influences of his golf career. Coach Jon Shores of the Brophy golf team saw Noah Nuez's unique talent at a young age.
"I remember Noah being a little kid on the putting green at Aguila golf course," Shores said. "I didn't really know him, but I knew that he was this kid that was passionate about golf."
That passion would later grant him a hard-earned spot on the Brophy golf team, where he would be able to showcase his talent against competitors across the state.
Shores knows that Noah Nuez has honed his skills over the years to be one of the most composed and competitive golfers in the state, and that his focus and discipline will lead him far in life.
"I think Noah will be successful at whatever he does," said Shores. "He's going to be successful in the type of person that he is."
Noah Nuez hasn't looked too far into the future, keeping his mindset on the state championship, his game, and his teammates for the remainder of the fall season.
"My ultimate dream is to play professionally," he said. "Everything happens for a reason, and whatever I end up pursuing, I'll be content with no matter what."
---