6A FB semi: Red Mtn. grinds out 21-9 win over Queen Creek
November 22, 2019 by Les Willsey, AZPreps365
---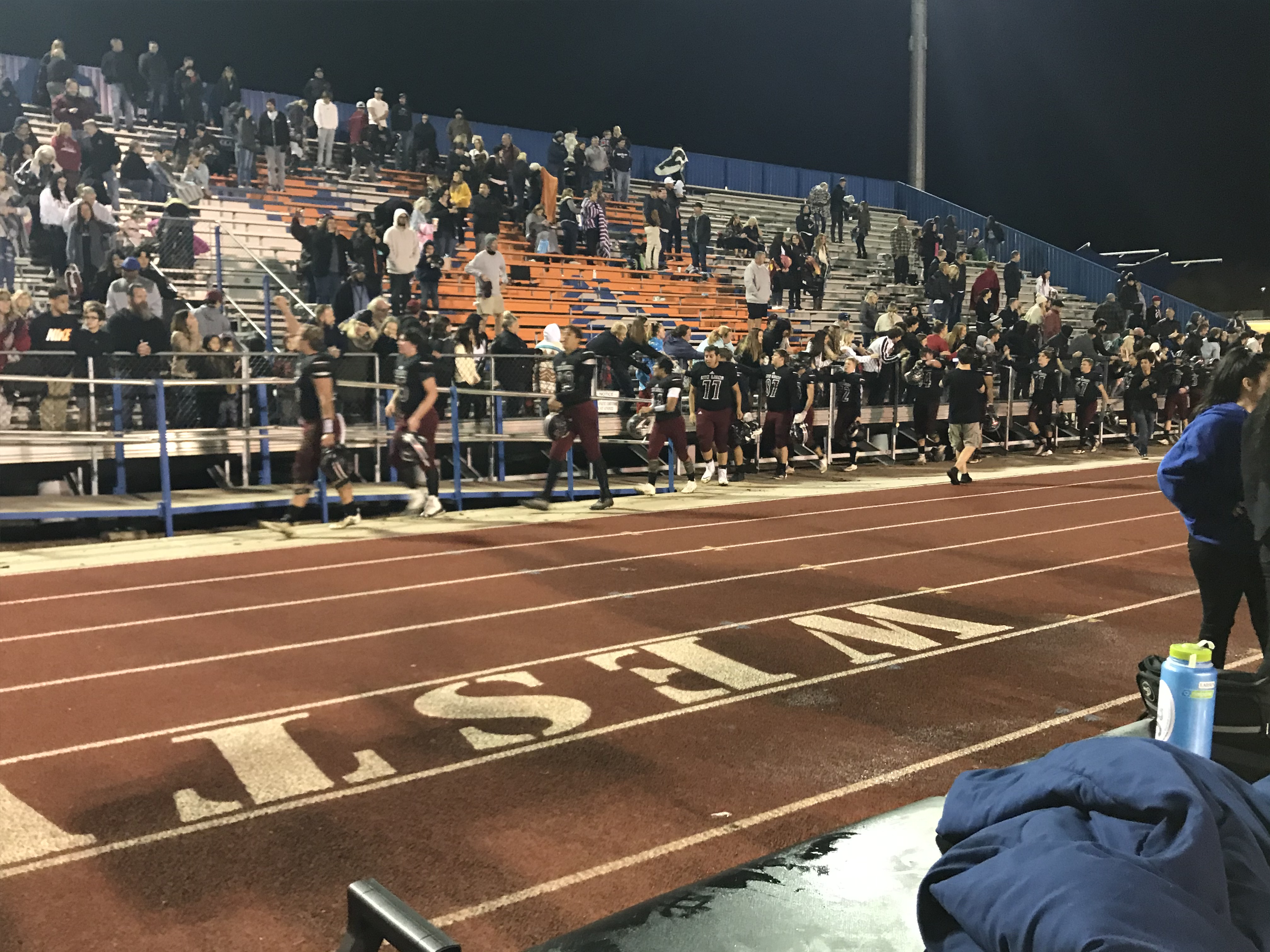 Top-seed Red Mountain may have wanted to throw the ball a little more than it did Friday night. But with two picks ending drives and nearly a third almost curtailing its opening march, the Mountain Lions settled for a lot of Ty McElroy and a little Hyrum Boren to subdue #4 Queen Creek, 21-9, in a 6A semifinal game at Westwood's Brimhall Field.
Red Mountain's 10th consecutive victory puts it in a title game for the first time since 2001. The Mountain Lions won back-to-back titles in 2000 and 2001-- their only two in school history. Red Mountain faces #7 Liberty, a 33-30 winner over #6 Desert Vista, in the title game on Dec. 6 at 7 p.m. at Sun Devil Stadium.
The Mountain Lions won back-to-back titles in 2000 and 2001-- its only two in school history. The Mountain Lions are the first Mesa district school to reach a title game in a decade. Mesa High was the last in 2009. Queen Creek never gave in despite falling behind 14-0 early and battled to the end in finishing 9-4 under the return to head coaching by Joe Germaine.
McElroy a solid back in what has been 1-2 punch with fellow senior and 1,000-yard rusher Deonce Elliott, had to absorb more of the load Friday with Elliott sidelined with a knee injury. McElroy responded in a big way with an unofficial total of 162 yards on 21 carries and one TD. McElroy dominate the Mountain Lions' second and third touchdown driver with tough running between the tackles and occasionally turning the corner. Boren added 97 yards on 118 rushes, most of that in the first half.
"Credit our offense, they found a way to win on this wet, slippery field," Red Mountain coach MIke Peterson said. "Our line was amazing running down people. I told Ty to be patient and wait for the crease."
Red Mountain did score on the first possesion of the game marching 75 yards in 12 plays and chewing up half the quarter. Boren squeezed a 5-yard TD pass top Jared Wilson for a 7-0 lead. After two interceptions later in the quarter, the Mountain Lions stuck to the ground the entire second quarter. They made it 14-0 midway throuigh the stanza with McElroy capping an 11-play, 86-yard drive.
Queen Creek despite struggling on offense with Red Mountain's staunch defense due credit, pulled within 14-7 with 3:26 left in the third period. The Bullogs third interception of Boren - this one by Zane Lalama, set up a drive at the Red Mountain 36. Six plays later, the biggest play a completion from quarterback Devin Brown to Keshaun Calip, Brown did the honors with 1-yard sneak.
Queen Creek's momentum from the turnover carried into the final period as they seemingly had forced a punt in the opening moments. But on the fourth-and-three from Red Mountain's 43, Queen Creek was called for offside. That gave Red Mountain a first down and the Mountain Lions went on behind four gashing runs by McElroy to finish off a 91-yard drive, this time using 15 plays and more than seven minutes of clock. Boren struck paydird with an 11-yard run and a 21-7 lead with 7:35 left.
Queen Creek picked up a safety as high snap in punt formation led to Red Montain falling (slipping) down in its end zone. The Bulldogs had two more drives before the finish, but both didn't finish with a score. Brown was picked in the end zone by Red Mountaiin's Andrew Bonham to stop the first and the Mountain Lions held on downs at the their 4 with less than two minutes left.
"I was happy with our effort," Germaine said. "We played hard, but couldn't execute on offense."
Queen Creek managed about 40 yards rushing and Brown was under pressure on virtually every pass attempt. Brown finished 14 of 34 for 193 yards. Calip was his top target with three catches for 85 yards.
---