3A FB: ALA-QC pounds its way past NWC
November 23, 2019 by Les Willsey, AZPreps365
---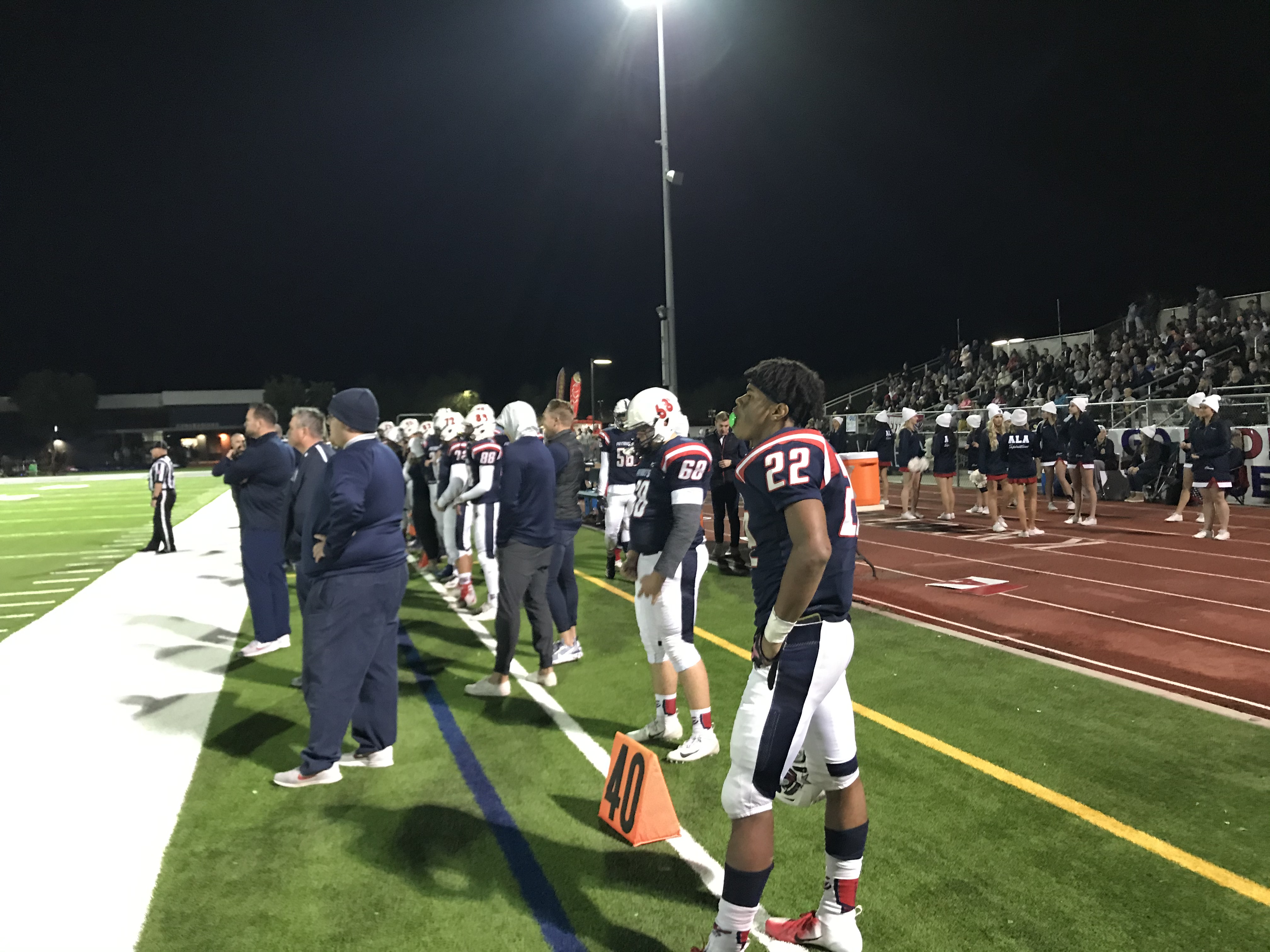 Not sure "workhorse" adequately defines the night American Leadership Academy Queen Creek running back Aziya Jamison and wide out Ethen Cluff produced Saturday in the 3A semifinal battle with Northwest Christian.
Jamison carried 42 times for 260 yards and three touchdowns and Cluff led the passing attack with 11 catches for 151 yards pacing the #2 Patriots to a 39-24 win over defending champ and #3 Northwest Christian at Higley High School.
ALA-QC (12-1), denied postseason last year due to probation, returns to a title game for the first time since it won the crown in 2016. The Patriots face #1 Benjamin Franklin for the title on Friday Nov. 29 at Campo Verde HS. Benjamin Franklin edged #4 Snowflake, 16-14, to advance.
NWC (10-2), which endured nearly a complete turnover of starters (19 lost to graduation) from last year's championship season, didn't go down without a fight in finishing its season 10-2. ALA-QC's impetus to victory came from outscoring NWC, 15-0, in the second period.
NWC took a 3-0 lead late in the first quarter on a 27-yard field goal from Liam O'Neil. Then early in the second period after ALA-QC downed a punt at the NWC 1, the Patriots registered a safety tackling Crusaders running back Austin Young just behind the goal line.
ALA-QC took possession at its 48 after the kickoff. An adjustment by coaches got Jamison unleashed after a pedestrian opening period in which he gained just 15 yards on five carries.
"Coach (Max) Hall and coach (Dave) Mayhew changed formations," ALA-QC coach Rich Edwards said. "They put in Zak (Robertson) as a lead blocker and that changed things for us. Our running game kicked in from there."
"We had a hard time settling in, but the safety did seem to get us going," Edwards said.
Two minutes after the safety, ALA-QC went ahead to stay, 8-3, on its first TD -- a 4-yard run by Jamison. Jamison rushed for 36 yards on that drive. The Patriots added their second TD of the quarter 58 seconds before intermission. Quarterback Rand Jensen's 21-yard strike to Carter Taylor made it 15-3.
Jamison, a 6-foot-1, 200-pound sophomore, finished the first half with 81 yards on 15 carries. His second-half numbers - 27 rushes for 179 yards.
NWC couldn't pull any closer than it was at halftime trading scores in the second half. The Crusaders demonstrated their will to the end. After giving up a field goal with 17 seconds left that made it 39-17, NWC used the final seconds to score a TD in two plays.
Senior Cameron Adams capped a big game with his third TD of the half gathering in a 5-yard TD pass after setting up the score with a 49-yard reception. Adams other scores were on a 9-yard run and an 80-yard kickoff return.
"If you would have told me in May we'd be going toe-to-toe in the semifinals I'm not sure I would have believed it," Northwest coach Dave Inness said, "These kids gave their all and some of them had never played a down of football before this year. ...
"We walk out of here with our heads held high. I'd go to battle with these kids any day."
---