Centennial takes down Paradise Valley in overtime at Coyote Classic
November 25, 2019 by Jackson Coppinger, Arizona State University
---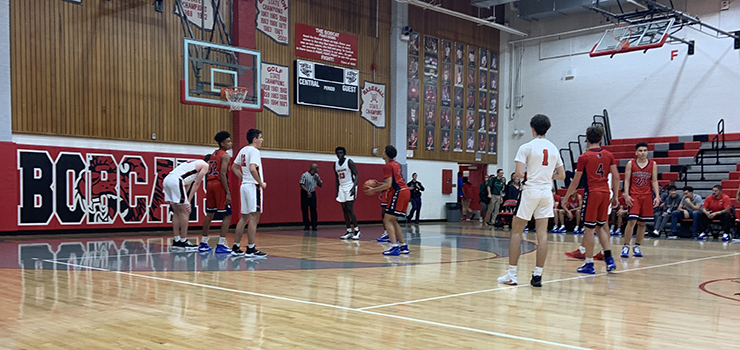 Centennial took an early lead in overtime to hold on and defeat Paradise Valley 65-62 in the Coyote Classic preseason tournament at Central High School on Monday.
The Paradise Valley Trojans ran into foul trouble late in overtime, putting Centennial in the bonus and sending a parade to the free-throw line to seal the deal.
The Centennial Coyotes took a small lead in the first quarter and held on to it the majority of the contest. Early in the fourth quarter, Centennial went on a 7-0 run to extend its lead to 10 with just over six minutes to go.
Paradise Valley responded. With a layup by forward Moses Demalek, Paradise Valley tied the game with just under a minute to go, capping off a late 12-2 run by the Trojans.
Paradise Valley eventually had a chance to win the game with 15 seconds left in the fourth quarter. As the Trojans took the ball up court, Centennial forward Malcolm Daniels stole the ball and got fouled on the fast break layup to go to the line with five seconds remaining. Daniels missed both his free throws and gave Paradise Valley another chance to win with four seconds left.
The in-bound pass was stolen by Centennial forward Jayson Petty to send the game to overtime.
In overtime, Paradise Valley couldn't stop Centennial from driving to the basket, eventually putting the Coyotes in the bonus. With two free throws made by Centennial's Andre Logan, Centennial was able to extend its lead to 10 with a minute and 30 seconds remaining in the game.
Led by the front court of forward Moses Demalek and center Anthony Giliberto, Paradise Valley made an effort to get back in it again. With a 3-pointer by Colin Lloyd, Paradise Valley was back within three points with 18 seconds remaining in overtime. They fouled Daniels, who hit a free throw to give Centennial a four-point-cushion and go on to win the game.
Paradise Valley head coach Cory Bardet liked to see the fight his team had to get back in the game, even when facing gaps in the score late.
"It talks a lot about our experience this team has. This was a game that last year we wouldn't have been able to dig ourselves out of a hole like we did tonight," Bardet said. "The ball didn't really bounce our way in overtime, but we're very pleased that we at least gave ourselves a shot there."
Demalek had three assists to Giliberto in the paint and emphasized the chemistry their front court shares.
"We compete every day in practice, we go at it. We talk to each other, and the team needs leaders so we do the best we can to be that for them," Demalek said.
Giliberto believes that the chemistry between him and Demalek will only improve throughout the upcoming season.
"We're getting there. I think as we go on and play a few more games the chemistry will build on itself," Giliberto said. "Tough first loss, but I think we'll be alright."
Paradise Valley will now face tournament elimination in its matchup with Metro Tech on Tuesday at North High School.
Paradise Valley's first regular-season game is Dec. 3 at home against defending 4A champion Shadow Mountain.
---