Titan boys lead wire-to-wire in victory over Chargers
November 27, 2019 by Caleb Gottry, Chandler Preparatory Academy
---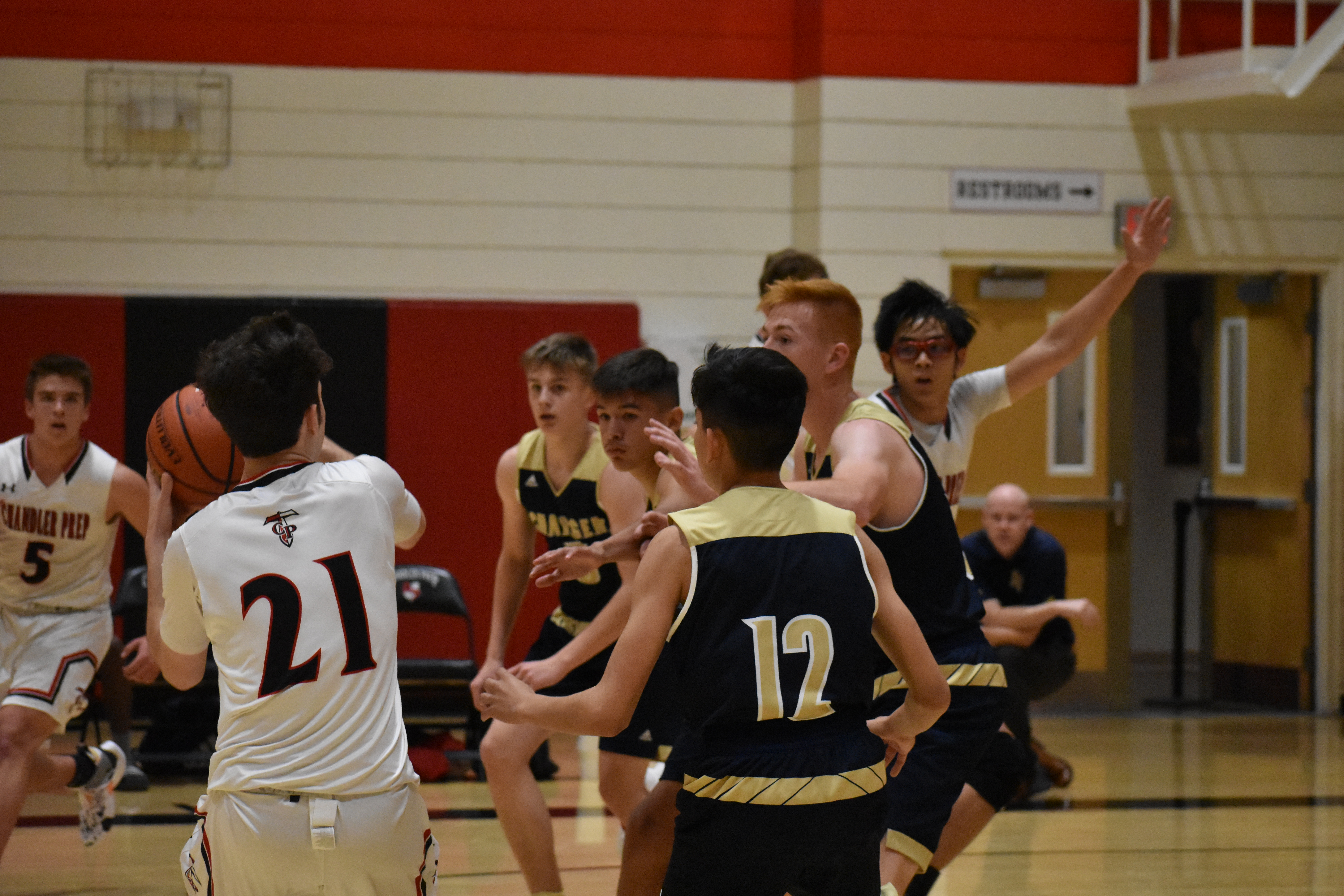 Caleb Gottry attends Chandler Preparatory Academy and is a member of the AIA's Student SID program.
The Chandler Prep boys' basketball played well and claimed a convincing victory over the Benjamin Franklin Chargers on Tuesday, November 26. Head Coach Wilson said this:
"I am proud that they stuck in there. It was the first game, so there's a lot wrong, but it's good to have a 'W' amongst a lot of mistakes"
The Titans claimed an early lead that they never lost, putting up points with layup drives from junior Josh Capel and seniors Quenton Barger and Andrew Cook as well as sophomore Noah Rasmussen sinking threes. Both teams played rough throughout the game and ended the second half in double bonus. Senior Cameron Nikjou went 100% from the free throw line earning the Titans several points off of the Charger fouls. Senior Christian LeClaire, a strong part of the Titan defense with rebounds and a steal for a fast break layup, said this:
"We performed pretty well, you know, it's good to get a win in our first game. We weren't able to do that last year, so it's good to get off to a good start with that. We've got a lot to improve on, but overall, a good win today."
The Titans started the second half with a six-point lead, but worked hard in the lane and performed well at the free-throw line to lead 31-20 going into the fourth quarter. The game moved quickly in the fourth with both teams driving for layups. Junior Andrew Hahn worked hard to get boards defensively, coming down with the ball three times in the first couple minutes of play. The Chargers outscored the Titans by two points in the final quarter, but Chandler Prep claimed a 42-33 victory. Looking forward to the season ahead, Coach Wilson said this:
"I think we're only going to get better from here. We're returning a lot of guys. We're starting a little slow, but that means we have room to grow, so I think we'll get better and I'm looking forward to the rest of the season."
The boys' basketball team from Chandler Prep looks to remain undefeated as they host Horizon Honors on December 3 at 7:30pm. Titan Up.
---