3A football: Ben Franklin- ALA-QC collide for title
November 29, 2019 by Les Willsey, AZPreps365
---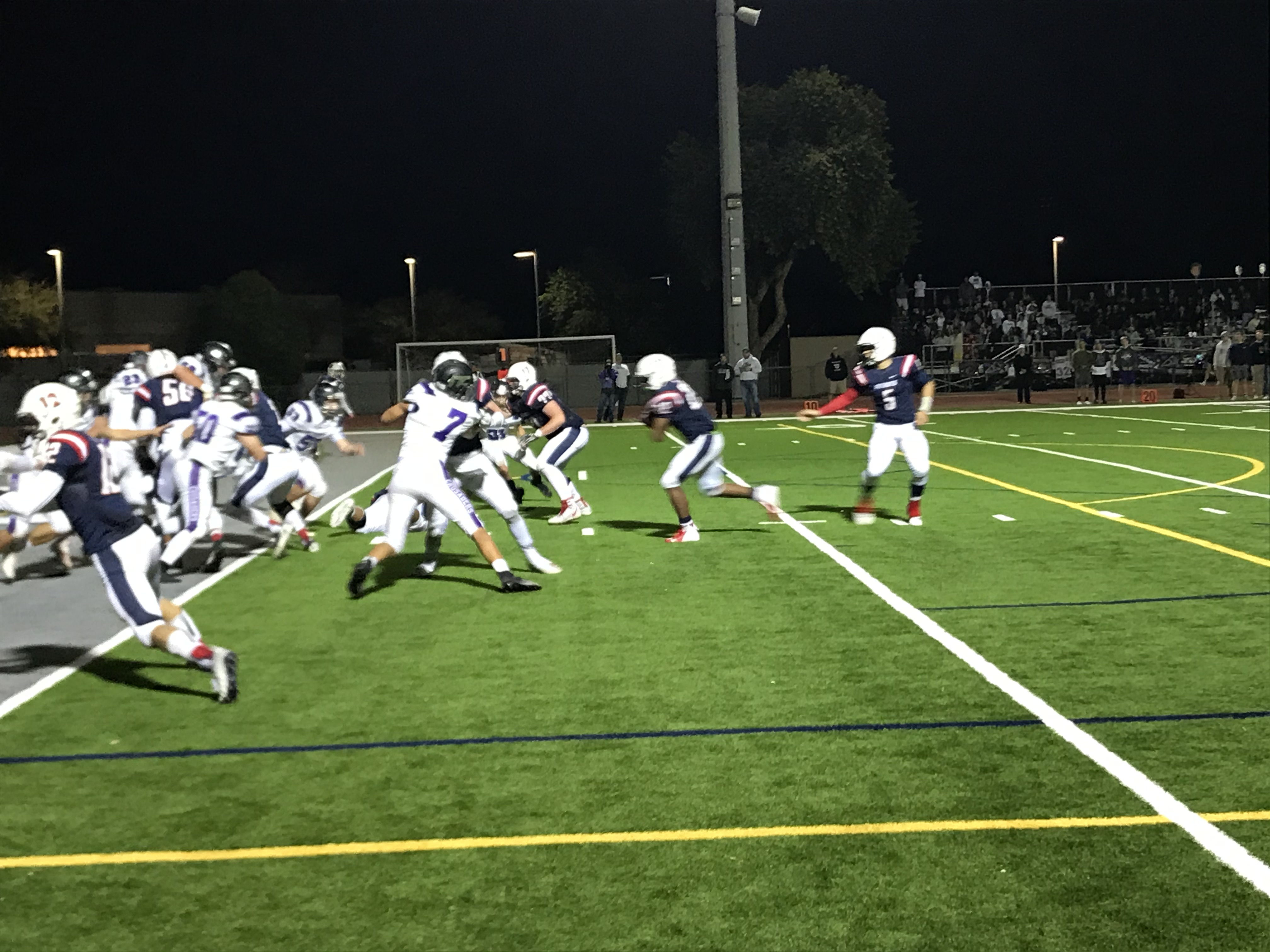 #1 Benjamin Franklin and #2 American Leadership Academy-Queen Creek will have a hard time surpassing the drama of their Central Region matchup in mid-October. Nonetheless they'll give it a shot Friday on a soaked turf field for the 3A football crown at Campo Verde High School. Kickoff is at 6 p.m.
Benjamin Franklin (12-1) seeks to avenge its only loss, a 26-14 decision, closer than the score indicated. The Chargers were in the red zone with under 20 seconds left facing a 19-14 deficit. A gadget play seeking the winning score was thwarted and taken back 89 yards the other way by ALA-QC defensive back safety Ben Strong to halt Ben Franklin's rally from a 19-7 deficit.
"Bad (play) call on my part and a great play on their part was the difference," Benjamin Franklin coach Dave Jefferies said. "They outsize us and have a lot of talented skill kids. They are a handful. For us we need to maintain possession and do what we do best."
That's running the football with the double wing and the Chargers utilize a host of backs although minus one and its top rusher by a few yards -- Jefferies' son, Zach. Zach Jefferies suffered a knee injury in the 16-14 win over Snowflake in the semis and will not play. There are three capable backs remaining who have produced all season at any rate - senior Ammon Warby (856 yards, 11 TDs, quarterback Danner Bowen (684 yards, 8 TDs) and Chancin Loving (653 yards, 9 TDs). Loving is a defensive stalwart at linebacker and second on the team in tackles so his role is likely to expand.
Overall the loss of Zach Jefferies is a huge loss. He's been one of the mainstays of the program the last four years and has played three of four offensive positions when needed and every positon level on defense (line, linebacker or secondary).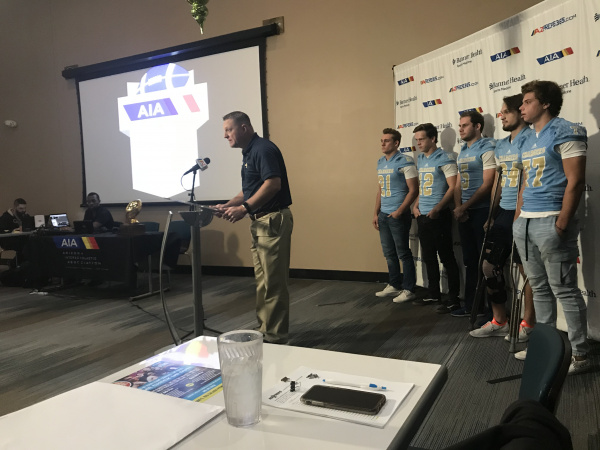 Benjamin Franklin coach Dave Jefferies addresses the media with five of his top players heading to Friday's title game against American Leadership-Queen Creek. Players are from left -- Cade Mcafee, Danner Bowen, Ammon Warby, Zach Jefferies and Tanner Willis. (AzPreps365 photo).
Loving and leading tackler and fellow linebacker Cade Mcafee (121 tackles) key Benjamin Franklin's defense, which has allowed only 13 points a game - same as ALA-QC. The Chargers and Patriots have faced tough schedules to fashion their 12-1 records. Ben Franklin in addition to ALA-QC has played Snowflake twice, ALA-Gilbert North twice, NWC, Sabino and Coolidge. ALA-QC has faced ALA-GN, Yuma Catholic, Sabino, Coolidge and 2A finalist Phoenx Christian.
ALA-QC (12-1) has mostly toyed with its opponents this season. The Patriots have scored more points than any team in 3A (602) and have been sharp minus a rash of penalties that at times slows them more than opponents. They own three solid wins in the playoffs - 49-13 over Payson, 51-26 over Sabino and 39-24 over Northwest Christian.
"The thing about Benjamin Franklin and what makes them so good is they play hard and don't take plays off," ALA-QC coach Rich Edwards said. "We have to match their effort and eliminate the number of penalties we've had."
Balance on offense is a signature opf ALA-QC. They rushed rushed for 166 yards and passed for 179 in the regular-season win over Benjamin Franklin. Quarterback Rand Jensen threw three touchdown passes (all of the Patriots scoring plays). Two were to wide out Carter Taylor and one to Ethen Cluff, the team's top receivers. Jensen's thrown 45 TD passes accounting for 3,094 yards.
Last week's offensive standout was sophomore running back Aziya Jamison, who carried 42 times for 260 yards and three TDs. Jamison was called on only 8 times (91 yards) in the first meeting between the teams. Jamison has rushed for 1,435 yards and 24 scores.
---