Jason Harris finishes season as Arizona sacks leader
December 3, 2019 by Hunter Kelley, Arizona State University
---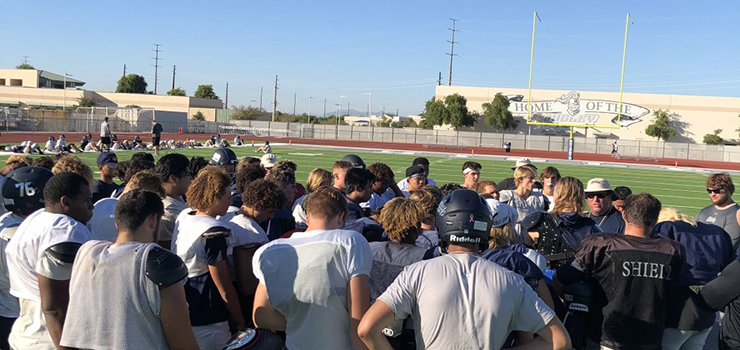 Hunter Kelley is an ASU Cronkite School of Journalism student assigned to cover Higley High School for AZPreps365.com.
For the past two-and-a-half years, Higley High School defensive end Jason Harris has battled his way through multiple injuries to become 2019's Arizona sack leader with 24, five more than his closest competition for the sacks crown.
Harris, 6-foot-8, 225-pounds, pulled this off despite missing the first two weeks of the 2019 season with a turf toe injury.
Harris will play in the Under Armor All-America game in Florida on January 2 against some of the top seniors in the nation.
In recent years the venue has showcased Arizona athletes such as Perry's Mo Latu (2011), Hamilton's Christian Westerman (2011) and Casey Tucker (2014), Chaparral's Davonte Neal (2012) and Connor Brewer (2012), Pinnacle's Spencer Rattler (2019), Saguaro's Christian Kirk (2015), Chandler's Brayden Liebrock (2019), Mountain Pointe's Isaiah Pola-Mao (2017) and Desert Ridge's Adam Bay (2017).
Harris is eager to face the nation's best.
"I'm looking forward to the competition, going against the top players in the nation, and seeing where I measure, what I need to work on, because there are some big linemen out there and they're the best of the best," Harris said.
Despite his successes, football wasn't always Harris's first love. It was basketball.
Harris's father, Sean Harris, a former NFL linebacker for the Chicago Bears and ex-linebacker at the University of Arizona, put his son in basketball at the age of three.
"He has played basketball since he was three and traveled all over the country in competitive basketball since he was eight," Sean said.
Harris and his older brother, Jalen, a linebacker for the University of Arizona, would always use basketball as a way to compete against one another.
"With him it's like I got to beat him so I could talk trash all day so every time we were working out it was always a competition to see who did it better or who could shoot the most shots, so we're always pushing each other to our limits and if you lost one game it was like I got you on the next," Jason said.
Harris says he will continue to love basketball, but has decided to commit to football.
"I didn't really base it off the offers I had, because I think if you love it, you know, I mean, it took me a minute to really find out what sport I really loved and I think over the years basketball was always my first love, and I will always have a love for basketball, but over the years I really started to enjoy football," he said. "I love really trying to figure out the different ways to rush the quarterback, because football can be just like chess. You can't use the same move every time. You have to mix it up."
One or two college programs sent offers even before he made it to high school and it made it sense because after his freshman year of football at Desert Ridge he totaled 6.5 sacks, on varsity.
Harris now has recieved football offers from multiple Division I schools and announced his top six in July -- Arizona, Arizona State, Colorado, Oregon, Texas A&M and UCLA.
He plans on committing at the Under Armor All-America game.
He also has received offers for basketball, including Texas Tech, Nevada and Ole Miss.
Harris battled injuries though his sophomore and junior years at Higley.
A shoulder injury suffered while playing AAU basketball his sophomore year forced Harris to sit out his first football season with Higley.
Then during his junior year, again playing AAU basketball, he injured his knee and spent more time with trainers than he did bettering his craft, but he played football that season, just not at 100 percent.
"Mentally I think it had a little effect on him, but me and my wife tried to stay positive and keep his spirits up. He just fought and worked through it. He committed to rehab, physical therapy people worked great with him and he continued to work and it started to pay off," Sean Harris said.
Harris still made the most out of every opportunity, and it didn't go unnoticed by his head coach.
"Just his work ethic on a daily basis, you know," Eddy Zubey said. "When he was playing basketball and football, then coming to school, before school, putting up a thousand shots, going to school, still working out, has a game later that day, he's very focused. The day in and day out grind once he was 100 percent healthy, to see him and what he had to go through to be an elite athlete in two sports was just amazing."
On the field Zubey appreciated his skill set.
"He is a unique talent. He has a great work ethic, being 6' 8" with the wing span he has and his motor is very unique," Zubey said. "It has been fun to watch him grow and improve.
"He has such a quick first step he will give offensive tackles a fit just getting off the ball, and his arms are just so long. He has a 7-foot wing span, being able to come off the edge. I think that's where he's going to make his money."
Sean Harris believes his son possesses a special mindset that can take him far in football.
"When he was younger he was always an impressive kid on the football field and on the basketball court," Sean said. "He was a mild-mannered kid off the court. Some people don't have that switch where they can turn it on and off and he's always been like that where once he's competing he's going 100 miles an hour and he's aggressive. He wants to be the best, and when he steps off the court it's a different person."
---