Resurrecting from ashes: Seton Catholic athletics continues to flourish in 65th school year
December 5, 2019 by Jake Santo, Arizona State University
---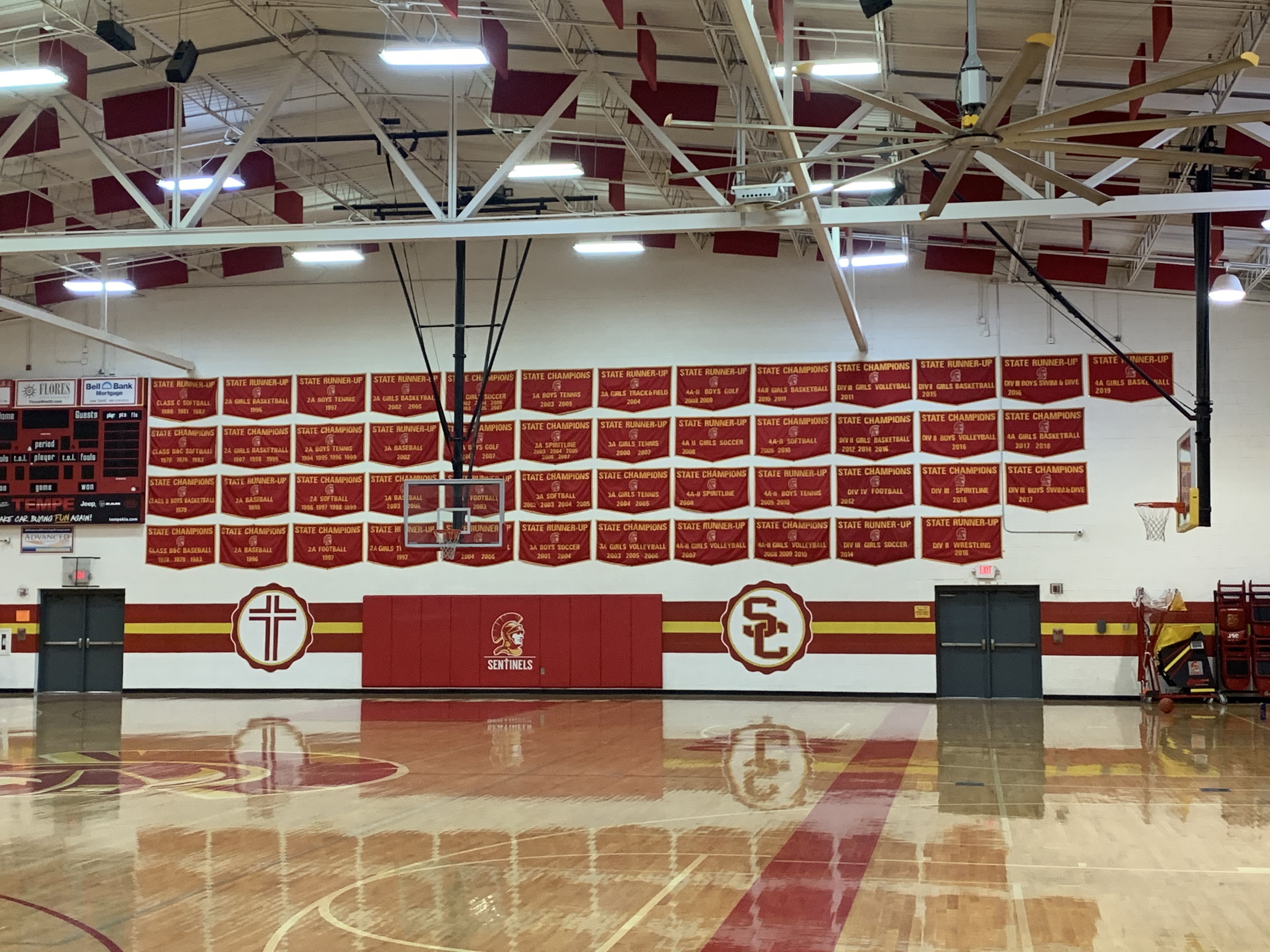 Jake Santo is an ASU student at the Cronkite School assigned to cover Seton Catholic for AZPreps365.
Charred and fried to a crisp, Seton Catholic could have disbanded in 1980. The school was set ablaze, and dreams were cremated in the burning complex. With little to work with, the school's leaders decided a new complex was needed to carry out its educational mission.
From the ashes of the original school, Seton has become a powerhouse athletically and academically since moving to its new home on Dobson Road. While staring at the championship banners stringed across the gymnasium ceilings and cases brimming with trophies, one realizes how different Seton Catholic is.
The fire
As a small school in the farming community of Chandler, Seton Catholic catered to those left out or forgotten by the larger, more urban education centers.
"It was rural," athletic director Matt Mayo said. "Seton was open for the migrant population of Chandler whose kids that you know, didn't always have the opportunity to go to the public high school. And so, our roots were in serving the poorest of our community."
Serving 130 students in 1980, Seton Catholic had the reputation of a tight-knit community, catering the underserved gaps of Chandler. The astonishment of a devastating fire sent shock waves rumbling across the Chandler community.
According to an article from The Arizona Republic in 1980, the extensive destruction caused by the fire resulted in $700,000 worth of damage to the Seton Catholic facilities. The school was a total loss. With modest plans to resurrect the school, Seton Catholic set out to resurrect its institution.
The rise
Starting from the ground up is never easy, especially for an entire community burned away, stealing with it the distinct memories of years gone by. Seton owned few resources at the time. The school felt compelled to rebuild, but athletic facilities were out of the realm of reality.
Longtime Sentinels softball coach Jerry Mullins remembers arriving at Seton Catholic as a teacher in 1985. Mullins recalls how Seton's facilities remained incomplete, five years after the fire.
"Everything was bare bones," Mullins said. "We did not have a lot of things at the time. We didn't even have our own gym or football field to play at. We had to go to Chandler High School to play our games."
With little amenities for the Seton athletic teams, the school improvised, using the resources provided to them. Seton Catholic athletes traveled to Chandler High School, conducted practice late at night, rotating around the practice schedules of teams from Chandler.
"We would spend very late nights practicing there," Mullins said. "We would play our home games there, too."
This temporary solution worked well for Seton. The Sentinels continually competed for state titles without a home to call home. However, calls for a permanent athletic facility permeated across the Seton consciousness. The Seton community stepped into help.
Longtime women's basketball coach and teacher Karen Self remembers construction of the gym in 1995 and how strenuous the process was.
"When our gym was built, we did not have enough money to fund the building entirely. In order to afford a proper wood floor, we had to put much of the building together by ourselves," Self said. "Every PE class, study hall, and free time by athletes was spent putting that building together. We painted with donated paint. We laid wood for the floor, and we found every way to squeeze a dollar to its fullest."
Self said what a difference support can make when a school is struggling to support their students' needs. Seton Catholic since has added practice facilities, a new football field, an all-weather track, stadium lighting, improvements to the baseball and softball fields plus state-of-the-art training equipment.
Academically the school continues to incorporate facilities for its educational setting too, helping to bridge the gap of lost years.
The legacy
This spirit of loss is what drives the Seton Catholic community to continually improve.
Self still reflects on the impact the 1980 fire had on the community at Seton.
"The ultimate coming together of our community was when the school burned down and had to be rebuilt at our current location," Self said. "While I was not here at that time, that spirit lives on and has been handed down over the years."
Seton Catholic today has an enrollment of 600 students, serving the Chandler area. The athletic programs compete regularly for Arizona state championships, with many programs playing at higher levels than comparable schools. Currently, the Sentinels have 36 state championship or state runner-up banners on the walls of a gymnasium. A gymnasium almost never built.
Seton Catholic is still planning on growing its presence in the community in addition to grand plans for the future.
"We have better equipment," Mayo said. "We have we have a very highly qualified staff right now of coaches that are doing a great job. And so just kind of top to bottom we just try to continuously grow and get better and places that we can improve."
Beach volleyball courts will be installed for the upcoming spring season, ushering in another new sports team representing Seton Catholic. Additional sports and teams could be added in the coming years, depending upon community support for such teams.
Sixty-five years ago, the tiny, rural school of Seton served the poorest residents of its community. Today, Seton Catholic is a much larger institution, but it strives to hold on to its original values.
"The school obviously has grown, and it's changed over the years. And it's developed in a lot of different ways. As has the city of Chandler, you know, it's just not the same place that it was 65 years ago," Mayo said. "We try to honor the history of how we got here. But I think, you know, the way that this area has grown and changed it reflects in the school itself. We've tried to grow and change and continue to serve the needs of the immediate community around us, just as we always have."
---