Title drought will end for either Phoenix Christian or Round Valley
December 6, 2019 by Jose Garcia, AZPreps365
---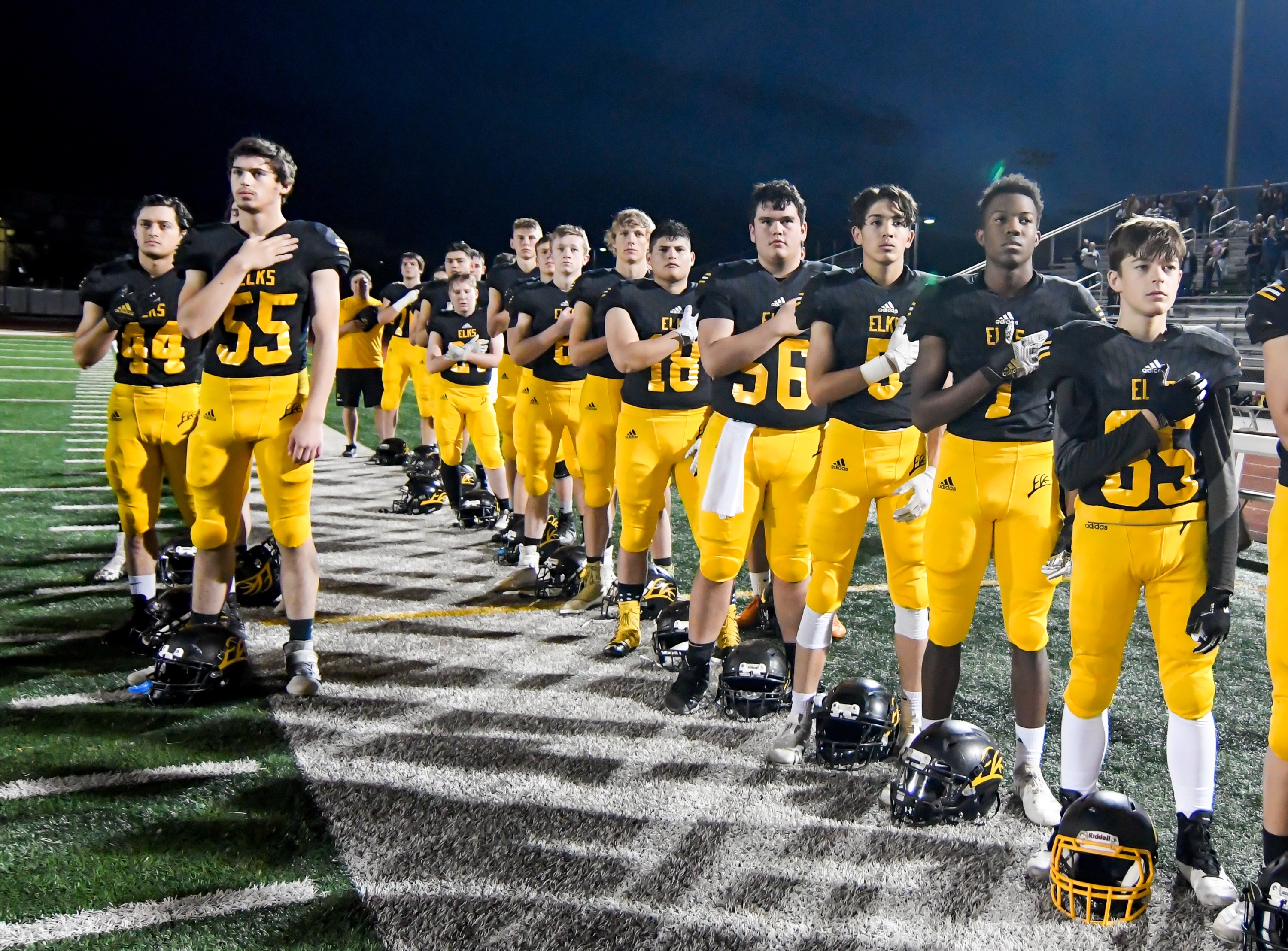 Phoenix Christian and Round Valley are eager to get their hands on a championship trophy.
The wait to do so has been long and frustrating for both. They've each come close in recent years, but Thatcher or other hurdles got in their way.
For the first time in four years, the 2A Conference will crown a team not named Thatcher. Phoenix Christian and Round Valley will vie to become the new champ Friday at Coronado High.
Round Valley has experienced more championship heartbreak than Phoenix Christian since former St. Johns High and University of Arizona star Marcus Bell was named Round Valley's coach in 2012. Round Valley's fans should skip the next couple of lines to spare them more heartache as we retell their postseason misery.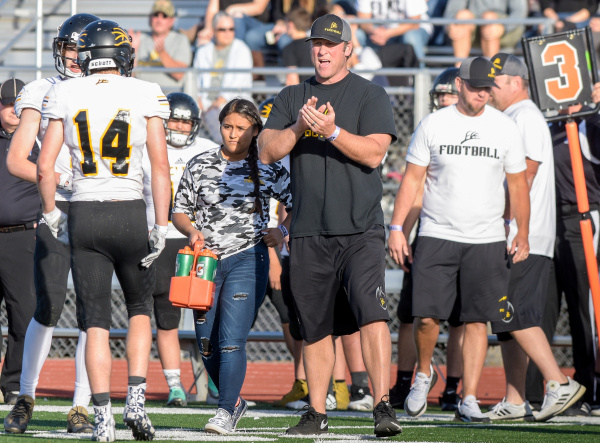 Round Valley coach Marcus Bell. Photo by Darin Sicurello/maxpreps.com.
Since 2012, Bell's boys have reached the semifinals five times and the big game three times, including last year and two years ago, but returned home with long faces each time. In fact, Round Valley is 0-4 in championship games since defending its 1979 title in 1980.
Coach Brian Cole joined Phoenix Christian in 2017, but he and his program finally got past Thatcher this year. No. 3 seed Phoenix Christian (12-1) snapped its three-game playoff losing streak to Thatcher, including during the previous two semifinals, two weeks ago in the semifinals when Cole's team won 28-0.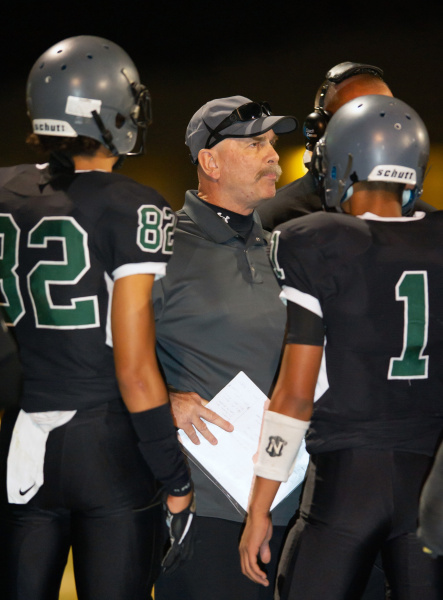 Phoenix Christian coach Brian Cole. Photo by Paul Campbell/maxpreps.com.
Phoenix Christian is now aiming for its first championship victory since 2004. This will be the third time in the past two years that Friday's 2A finalists have seen each other.
Third-seeded Phoenix Christian won the last meeting 21-16 on Sept. 27, when CB/WR Howard Russell had 101 total yards and picked off a pass in the end zone to end the game.
His Phoenix Christian teammate, Man-Man Freeman, rushed 29 times for 189 yards in that game. This time around, No. 1 seed Round Valley (10-2) will see quarterback Adrian Fleming (13 TD passes, 353 rushing yards in 8 games) for the first time.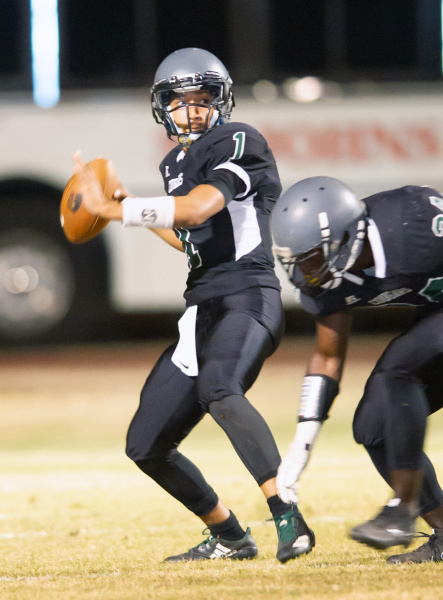 Adrian Flemming. Photo by Paul Campbell/maxpreps.com.
The junior transfer didn't start until after the fifth game.
"It (2A final) is probably going to be a close game," said Santa Cruz coach Rishard Davis, whose team played the 2A finalists this year. "It's going to come down to who plays their hardest and who wants it the most."
Davis added that the 2A is familiar with the teams' stars (Freeman, Russell and Round Valley's QB/RB/S Tayvin Bevell, RB/MLB Marc Irigoyen). But Davis said a couple of other players also are big contributors.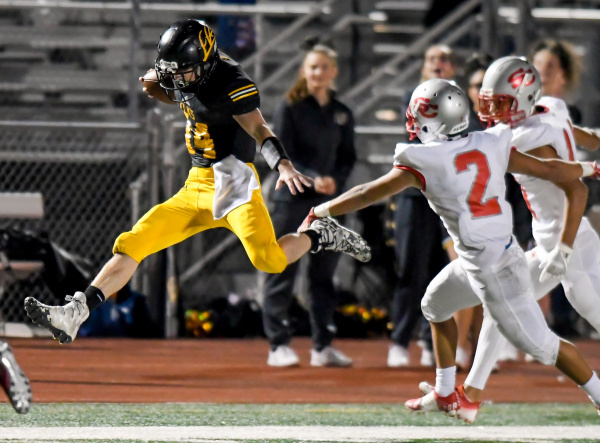 Round Valley's Tayvin Bevell. Photo by Darin Sicurello/maxpreps.com.
"(Phoenix Christian's) Mark Hocking plays on the offensive and defensive line," Davis said. "We could not block him the whole game. He and coach Cole's son (Zach, an offensive-defensive lineman), those two guys get overlooked but are cornerstones on the team. For Round Valley, No. 2 (Owen Young) on the defensive line, we had trouble with him when we played them (in the semifinals.)"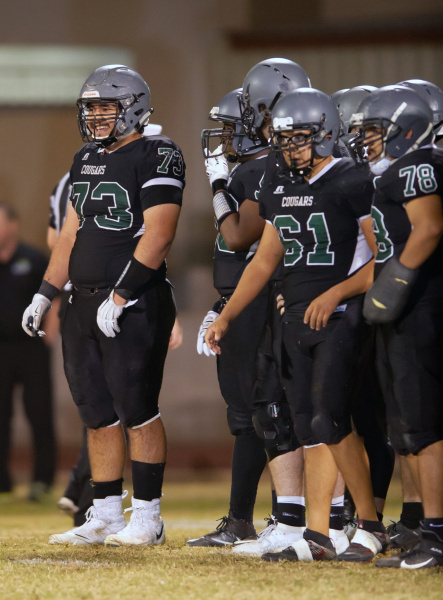 Phoenix Christian's Mark Hocking (No. 73). Photo by Paul Campbell/maxpreps.com.
Because of bad weather and road conditions, the 2A final was postponed, giving the teams two weeks off to prepare.
The time off to prepare will probably benefit Round Valley more.
"With Phoenix Christian, you don't know what they are going to do," Davis said. "I would be guessing if I were to play them this week. They have a lot in their arsenal. Round Valley has shown you what they are going to do all year, but they are gutsy and play hard. They make it hard on you. They try to spread you out to get some one-on-ones on the perimeter. They do a lot of things, but it's primarily a run first team."
---