Chandler closes decade with Open title
December 8, 2019 by Jose Garcia, AZPreps365
---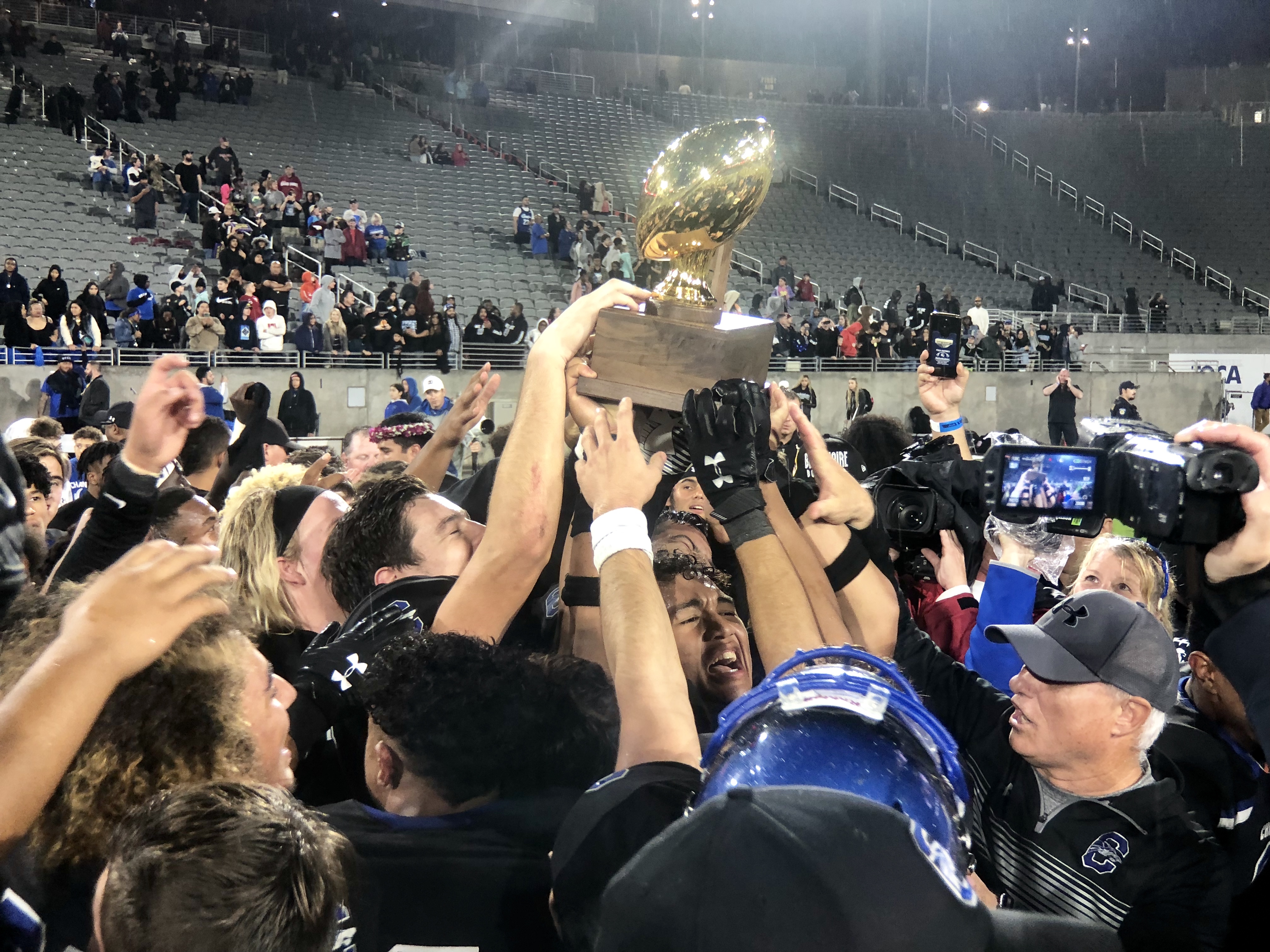 Another championship game brought out the best in Chandler's offense.
It started in 2016 and continued Saturday on a big school stage that was illuminated more than ever before. Chandler and Saguaro, two of the state's dominant football programs this decade, met at Sun Devil Stadium to settle who really is No. 1 thanks to the inaugural Open Division championship game.
Chandler almost ran away from Saguaro in the first half, but in the end the Chandler Wolves established that they are the alpha dog in Arizona after holding off Saguaro, 42-35. The championship win streak of the Wolves now stands at four, a record for a 5 or 6A school.
The team averaged 48 points in each of those four championship games.
Different leadership was in place for Chandler this season. Rick Garretson, an assistant at Chandler since 2010, took over as head coach this year.
"They (championships) are all great," Garretson said. "I've been a part of the four others with (former coach Shaun Aguano) on the offensive side of the ball calling the game, and they are all special. Every one of them. This is no different."
Chandler is 5-0 this decade in championship games.
In the backfield, it was another Chandler dynamic running back's turn to shine.
Dae Dae Hunter this year was the breakout star at the big school level. The senior, in his first and only season at Chandler, finished his high school career in spectacular fashion, rushing for 247 of his team's 353 rushing yards and two touchdowns in the Open.
Seventy-one of those yards came on the first play from scrimmage, when Chandler set the tone early.
"Man, this has always been a dream," he said. "At the beginning of high school I never thought I'd win a state championship, but here I am at (Sun Devil Stadium). I've never been here before. Never played here before, and then I win the state championship. So what else can you ask for, man. I've got the best coaches, best team. Man, everything is wonderful."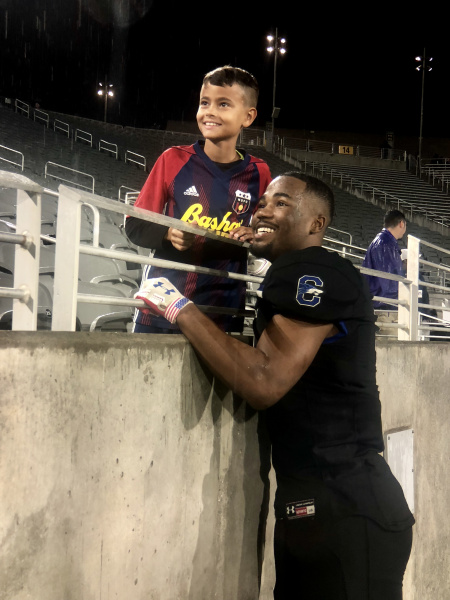 Chandler's Dae Dae Hunter takes a photo with a fan after Saturday's game. Photo by Jose Garcia/azpreps365.com.
Saguaro, the state record holder with six consecutive title victories entering Saturday's game, displayed some of that championship spirit after trailing by three touchdowns twice in the first half.
In the first half of Saturday's game, Saguaro was down 21-0 within the first six minutes of the game. But a big hit by corner Jacobe Covington, causing a turnover, seemed to stall Chandler's momentum and allowed Saguaro to score its first touchdown.
But Chandler answered with big plays and drives of its own after Saguaro got off the mat in the second half. Saguaro scored on the opening drive of the third quarter only to see Hunter go untouched to the end zone on a 74-yard run on Chandler's ensuing drive.
It was 35-14 at that point.
But Saguaro kept charging. Denzel Burke, Saguaro's deep threat, redeemed himself after turning the ball over after a long pass play.
On Saguaro's next drive, Burke (game-high 151 receiving yards) hauled in a 67-yard touchdown pass from Tyler Beverett with 4:52 remaining in the third quarter. Saguaro's special teams also contributed in the team's rally attempt.
Junior Josh Baxter blocked and recovered a punt attempt at Chandler's 21-yard line. Saguaro eventually cashed that in when Beverett (team-high 95 rushing yards) hit Will Shaffer on fourth and goal with a 5-yard scoring pass.
Saguaro was down only 35-28 with plenty of time left in the final quarter. But Chandler then gobbled up seven minutes with a 14-play, 85-yard drive that ended with a 4-yard rushing score by Hunter.
On that drive, Chandler converted two third downs and a 4th and 1. For the game, the Wolves were 7 of 14 on third downs and 2 of 3 on fourth downs.
Saguaro's offense, down to its final 3:09, went to work again. Shaffer capped an eight play, 64-yard drive with his second rushing touchdown in the game, this time from one yard out.
Chandler finally put away 11-2 Saguaro when Nason Coleman recovered the ensuing onside kick. After Chandler (13-0) ran out the clock, some of its players celebrated by slipping and sliding on Sun Devil's field.
The second half of Saturday's game was filled with a lot of points and rain.
The loss snapped Saguaro's 57-game streak against Arizona teams. For Chandler, it improved its overall win streak to 26 games and 33 games against in-state teams.
The team might continue winning next year since it returns 19 starters. The accurate Mikey Keene (18 for 28 for 186 yards and two touchdowns) had another good outing for Chandler in his first year starting under center.
The other team MVPs for Chandler were on the offensive line. They didn't allow Keene to get sacked and kept a formidable defensive line at bay.
"No excuses," Saguaro's Jason Mohns said. "That's a damn good team. They're the No. 10 team in the country for a reason, and they deserve it. They are the best team in Arizona this season."
---