Winslow baseball head coach Art Griffith inducted into NHSBCA Hall of Fame
December 18, 2019 by Oree Foster, AZPreps365
---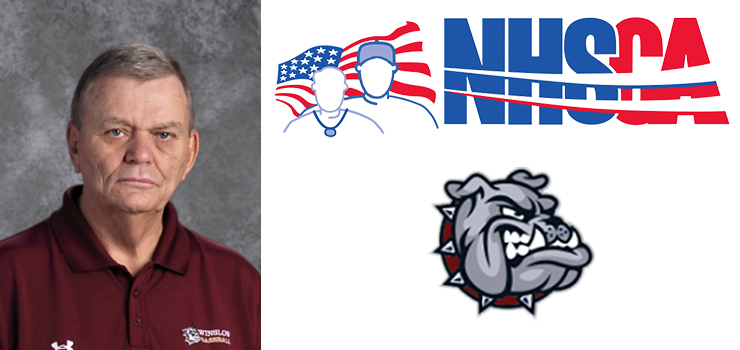 Winslow High School's Art Griffith has become the school's third coach to be inducted into the National High School Coaches Hall of Fame.
Griffith, who has been Winslow's baseball head coach for 50 years, was formally inducted into the National High School Baseball Coaches Association Hall of Fame on December 6, during the national convention and clinic in Columbus, Ohio.
"I was honored and humbled to be recognized by my peers at this level across the country," Griffith said.
Griffith joins former Winslow coaches, the late Emil Nasser and Don Petranovich in the Hall of Fame. Nasser is a member of the National High School Football Coaches Association Hall of Fame and Petranovich is a member of the National High Schoo Basketball Coaches Association Hall of Fame.
Winslow High School is recognizing Griffith during the Winslow and Chinle basketball game this Thursday at Petranovich Gymnasium as an inductee of the hall of fame.
As an active member of the state and national baseball coaching association, he was involved with the USA Olympic Baseball Program. He was an assistant coach with the USA Junior Olympic 16-U Baseball Team, which won a Gold Medal.
Longtime Winslow KINO radio station broascaster Loy Engelhardt said Griffith's coaching experience and insight into what's really taking place on the field is a must for the listener.
"I'm still disbelieving that Winslow High School now has three coaches in the National High School Coaches Hall of Fame." Engelhardt said. "He is the number one ambassador for the Winslow Schools and the City of Winslow. There is no great booster than Art Griffith. But unlike most of us, Griffith never fogets a name or face. Or the year he had the student in class. Griffith devoted hundred of hours to care and upkeep of Vargas Field (the school's home field, which belongs to the city), on his own time."
Engelhardt added, "No matter what corner of the state we're in there's always someone he knows. Always a great booster for kids in every sport. And, I've said, he's always made me look good."
Engelhardt continued, "Years ago, a catcher on a rival team told me during a game against Winslow, he was having all kinds of difficulty blocking curve balls from a left-handed pitcher. On his way to the coaching box the following inning, Griffith said softly, "adlust your mitt this way. It was a winner. And, it's a bond that exists today."
Griffith said two close baseball coaches from the state of Arizona nominated him for the Hall of Fame. Griffith said longtime baseball coaches, Jerry Dawson and Ron Davini, both members of the Hall of Fame for many years nominated him for the honor.
"(They, Jerry Dawson and Ron Davini are) two great role models and tremendous coaches over the years," Griffith said.
Griffith said he was overwhelmed when he received the word that he was being inducted into the Hall of Fame.
"(I) was very shocked and thrilled to receive such a prestigious honor, not only for myself, but also for Winslow High and the community who have supported our program for 50 years," Griffith said.
After an illustrious athletic career at Winslow High School, where he graduated in 1965, Griffith attended Northern Arizona University. He received his Bachelor's Degree in 1969.
Griffith played for and was coach Carl Weatherton's understudy until Weatherton retired as the Bulldogs' baseball head, due to health issues. Weatherton was Winslow's all-around coach, overseeing the Bulldogs' football, golf and baseball programs. Weatherton served as Winslow's athletic director for 25 years.
"(He was) a great coach and mentor," Griffith said.
Griffith retired in 2018, after 49 years in the classroom and continues as Winslow's baseball head coach. He taught American History and American Government for most of his teaching career. He also taught English, Weights, Sociology and Southwest History.
Two former Winslow student-athletes sent their congratulations to Griffith.
Former Winslow Lady Bulldogs basketball standout, Francine McCurtain, who is now girl's basketball head coach at Chinle High School said, "That is awesome, about Griffith receiving the hall of fame honor."
Former Winslow Bulldogs basketball star, Clifford Johns, who is a certified and licensed Architecture, said, "(Coach Griffith is) an awesome coach. He's always there for the kids. He went to high school with my parents as well."
Longtime Chinle High School boy's basketball head coach Raul Mendoza said, "Coach Griffith is definitely deserving of the honor. It couldn't have happened to a better person."
Longtime sportswriter Sam Conner said Griffith is an excelllent coach and great for all of the sports.
"He encourages kids to play all of the sports they can and that is really needed in a small school," Conner said. "He is definitely the best source of information about sports for me and orther reporters. Art is the scorekeeper at basketball games and a excellent broadcaster with Loy Engelhardt for football on KINO radio. He is a valuable friend."
Winslow High School girl's basketball head coach Jerron Jordan congraluates Griffith for being inducted into the hall of fame.
"Coach Griffith is well deserving of this prestige honor," Jordan said. "He is well respected in the Winslow Unified School District, City of Winslow and all of Arizona high school athletics. Thank you coach Griffith for all that you do for our student-athletes."
Former longtime Winslow High School girl's basketball coach Don Petranovich, a hall of fame inductee, congratulated Griffith.
"Congratulations coach Griffith," Petranovich said. "What an honor, well deserved. My relationaship with you has been an honor for me. Your coaching record and teaching have been exmplary, as well as your dedication to the students and to Winslow High School .... Art, thanks for bringing excellence to your coaching."
Winslow High School junior varsity baseball coach Scott Corum has worked on Griffith's baseball program for many years. Corum offered his congratulations to Griffith.
"Coach Griffith's love of baseball and his passion for sharing his knowledge and experience with young men keeps him going," Corum, who is also the boy's head basketball coach, said. "He is a tremendous resource to young coaches. He's seen it all in the game of baseball and can answer questions about rules and situations like nobody else I know. Even though he knows so much about the game, he still is learning about it. He attends conferences and clinics frequently. I really enjoy our bus trips together becuase I enjoy listening to all his baseball stories."
Former Winslow High School assistant baseball coach Ricky Greer, who is now Hopi Junior/Senior High School Athletic Director, said Griffith has dedicated his liefe to Winslow High School, the entire athletics' program and especially the baseball program.
"I absolutely love this stat, I don't believer any other high school in the state can make the claim," Greer said. "For the past 66 years, Winslow High School has had two baseball coaches and they are both hall of famers. Carl Weatherton coached the program from 1955 to 1969 and is a member of the Arizona Baseball Coaches Hall of Fame. He retired after the 1969 season in which coach Griffith was his assistant coach. Griffith took over the program in 1970 and enters his 51st year at the helm this spring."
Greer said baseball is such a complex and analytical game, handling the pitching, hitting, defensive alignment all by yourself is a large task. Greer said he was able to do it and win at a consistent level thoughout.
"One doesn't do that without a deep love and passion for students and the game," Greer said. "Coach Griffith epitomizes those characteristics and he has helped so many youth in Winslow over the years and various other communities. He often pulls players or students to the side and offers them encouragement and advice, which assists them on and off the field."
Greer added, "In many of our discussions before, duringf and after games that same compassion demonstrated itself through his goals. Is this best for the team and is this best for the player now and his future? Thos goals are hall of fame in my book. I'm so excited that the National High School Baseball Coaches Association thought so as well. Congrats coach."
---