Girls hoops: Hamilton's balance too much for Perry
January 9, 2020 by Les Willsey, AZPreps365
---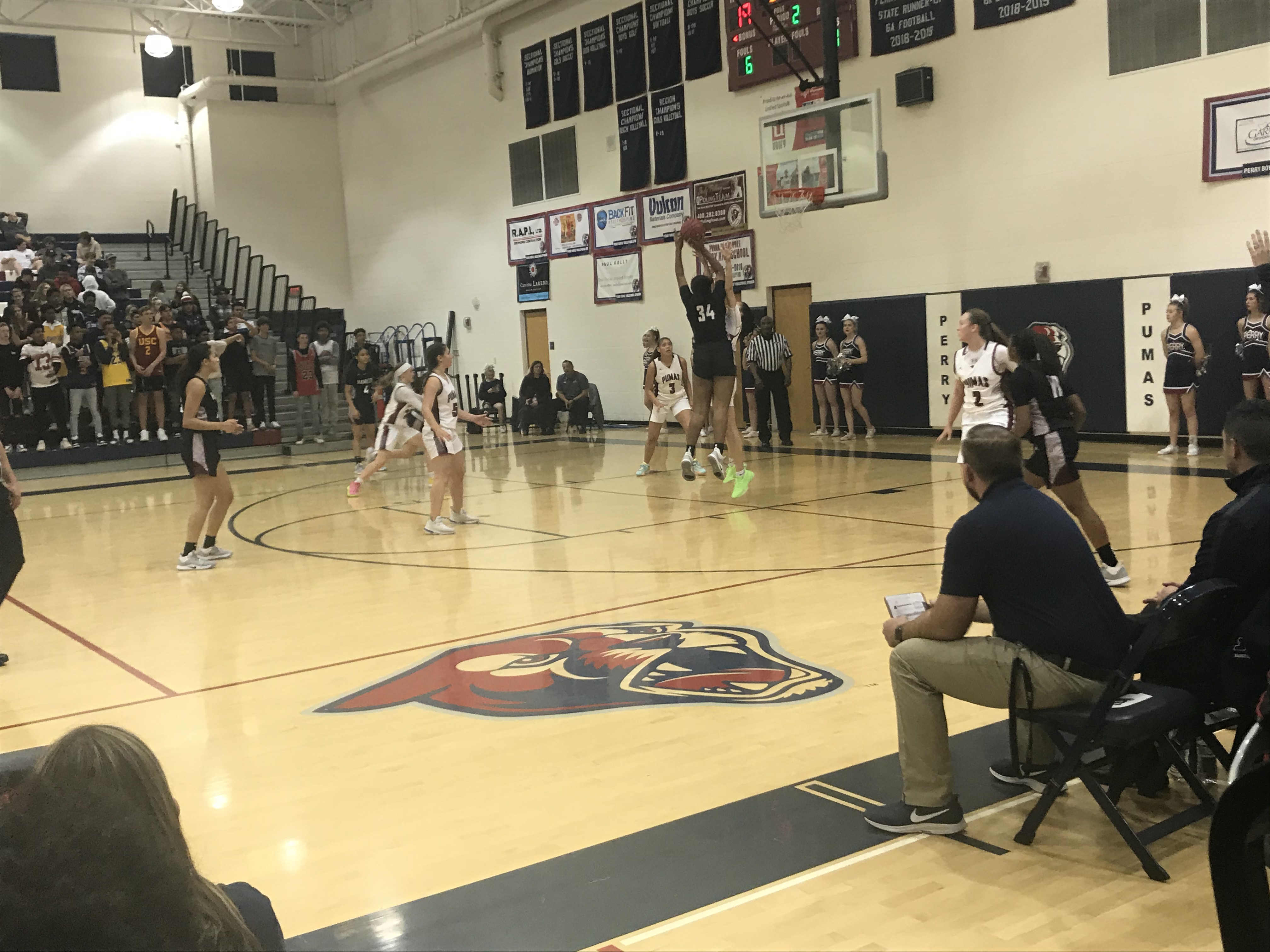 The defending 6A girls basketball champs - Hamilton - looked the part Thursday night in its current attempt at a repeat.
And why not. With virutally every player back that helped garner the 2019 title, the Huskies took it to another contender for the crown, in host Perry. Hamilton took control in the second period and was strong to the finish with a 64-49 victory in the Premier Region opener for both teams.
Returning veterans for Hamilton that coach Trevor Neider mixes and matches throughout games shared the ball, the scoring and most often good defensive pressure. Seniors Tori Davis and Zakiirah King, juniors Graciela Roybal, Amyah Reaves and Samara Curry plus reserves Raegan Farrington, Vanessa Washington and Amari Burnette were too much for Perry to handle.
The scoring leader for Hamilton this night was Reaves with 19 points. Davis and Currry added 10 points apiece followed by King (8), Roybal (7), Burnette (6) and Farrington (5). That balance - a staple for Hamilton - makes them hard to defend. Five different players have led Hamilton in scoring at least two times to date.
"What characterized us last year and this year is how unselfish our player are," Neider said. "We have a different player lead us in scoring about every game. We don't have players complaining about their touches. In this day and age, that's hard to come by."
Hamilton (12-4 overall, 8-0 power-ranking games) trailed after the first quarter, 13-10. Just more than halfway through the second period the Huskies pulled even, helped by the eight points King scored in the paint. Reaves had 10 of her 19 points in the first half and Davis seven of her 10. Hamilton took a 32-23 lead at the half.
Perry (9-5,5-1 prg) never was able to make a reasonable run in the second half. Burnette off the bench sank two threes in the third quarter for all of her points. Reaves with seven points and Farrington all five of hers highlighted the fourth quarter for Hamilton.
Perry was the antithesis of Hamilton offensively. The Pumas managed only four field goals in the first half. Junior guard Madison Conner, who was presented with a game ball before the game highlighting the 1,000th point of her career she scored last month, tallied a game-high 27 points. Fifteen of those points were from the free-throw line. Reserve guard Grace Oken was next with seven points.
6A girls basketball began Thursday with a logjam of unbeaten teams in power-ranking games. Seven was the number - No. 1 Pinnacle, NO. 2 Sandra Day O'Connor, No. 3 Chandler, No. 4 Perry, No. 5 Hamilton, No. 6 Cibola and No. 7 Valley Vista. The number dwindled to five with Perry losing and Pinnacle knocking off Sandra Day O'Connor. Pinnacle's power-ranking game record is 5-0 and Chandler is 7-0. Cibola blasted Yuma on Thursday to move to 6-0 and Valley Vista is now 6-0 after it beat Dobson on Thursday night.
---