Boys hoops: Brophy defeats Pinnacle, 60-46
January 10, 2020 by Les Willsey, AZPreps365
---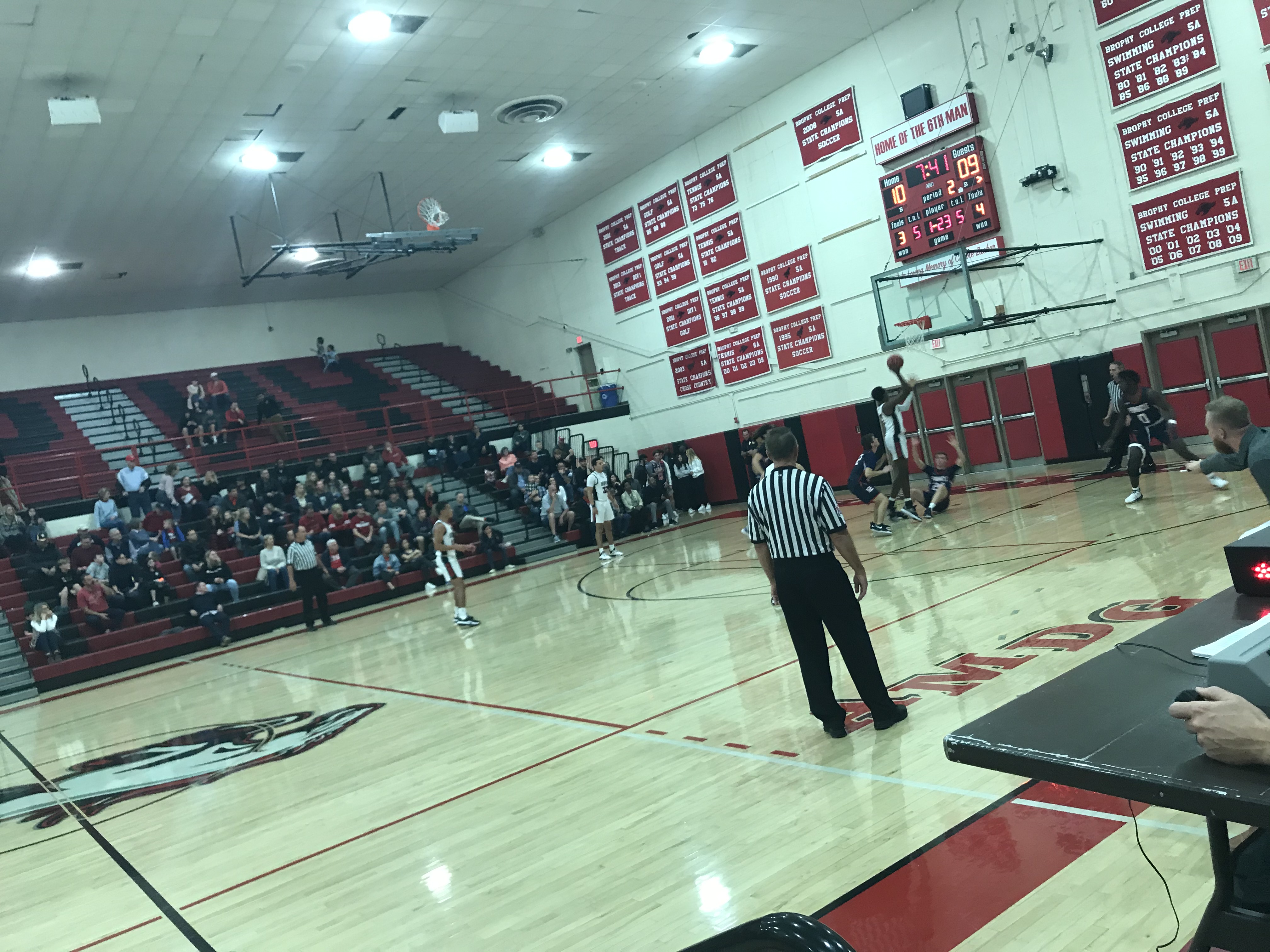 It was close. And it wasn't.
A more seasoned Brophy Prep attacked the basket and used tenacious defense in knocking off short-handed Pinnacle, 60-46, in a 6A non-region game at Brophy Prep.
"We preach defense and rebounding as a group," Brophy coach Matt Hooten said after watching his team move to 9-6 overall and 5-3 in power-ranking games. "When we do that we can compete with anybody."
Sophomore guard Miles Nash paced a Brophy attack with 14 points. Junior Desi Burrage was next with 12 and senior Arnold Dates completed the double-figure scorers with 10. Nash was perfect from the free-throw line and found himself there often sinking 12 of 12. The Broncos made 20 of 24 overall.
Brophy won its fourth game in a row - three of them of the power-ranking variety. That should raise the Broncos in the power-rankings when they are updated early next week. Brophy entered the contest No. 15. Pinnacle was No. 6 in the rankings before tipoff and is 5-9, 3-3.
Pinnacle got game-high scoring honors from freshman Royce Ramos with 19. Fellow freshman Ashton Reese added 12 points - all three-point field goals. Pinnacle's leading score at 16 points a game, senior guard Marcus Libman, did not score. Burrage and Nash shared the defensive work on Libman.
Brophy led at every quarter interval with leads between five and 12 points. Pinnacle struggled on offense both in shooting and taking care of the ball. The Pioneers finished with 23 turnovers. Pinnacle was down a couple starters, including injured 6-foot-8 senior center Tosh Baker. That left the paint an inviting destination. Brophy pounded away for buckets and the aforementioned boatload of free throws.
While Pinnacle was constantly playing catch up, it did manage to cut Brophy's lead to five late in the third period and four (48-44) with 3:03 to go. The late run in the third quarter was turned away with Brophy bumping the margin back to 46-35.
Ramos and senior forward Matthew Goodlow supplied all of Pinnacle's offense (13 points) in the final quarter. The Pioneers had a chance to pull within one after forcing a Brophy turnover at 48-44, but a long three by Libman fell short. Brophy secured the outcome the next two trips down the floor with a pair of three-point plays - the first a threeball from Quentin Cibulka folowed by a bucket and free throw from Burrage.
"Credit Pinnacle, they battled the whole game," Hooten said. "Our guys responded. We've been in a lot of close games and you hope you learn from those and can handle tight games late."
Pinnacle coach Charlie Wilde is hoping at some point to have a consistent lineup available and with all the pieces. Wilde had brought up younger players to fill in and had to make sure if they were JV or freshman players the quarters they played were within the limit. Not the same season it's been the last two years - so far anyway.
"We had three freshmen out there, they're all learning," Wilde said. "They will be our future. They are competing and doing what they are supposed to."
---