Coronado ready to deliver more good news
February 12, 2020 by Jose Garcia, AZPreps365
---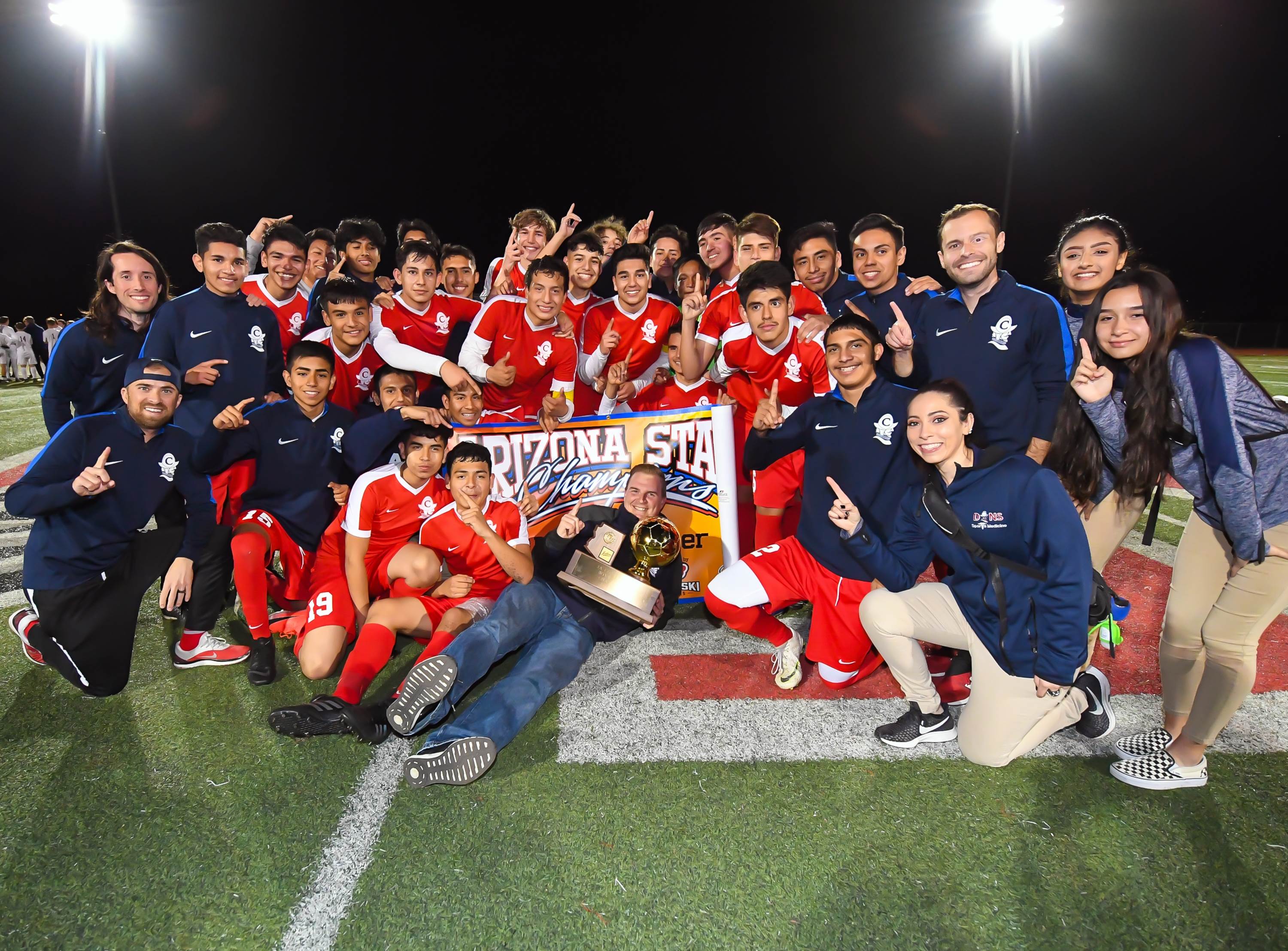 Nick Barker is managing two teams as the postseason looms.
His team at home is very close to adding another member. Barker and his wife, Danni, are expecting their first baby any day.
His team at school, Coronado, is an annual 3A Conference front runner. But it appears that Barker the coach and Barker the soon to be dad has it all under control — for now.
A newborn tends to change all the best laid plans. The Barkers are awaiting a boy while Barker's boys at Coronado are aiming to bring home a different bundle of joy — a championship trophy.
It's a hectic time for the coach, but his teams are capable of making sure all goes well. Defending state champ Coronado prepared to be without its coach just before the playoffs.
At times, Barker's assistants took over during the season.
There's talent on the field but also on the sidelines with assistants Paul Barker, Dan Murphy, and Chuck Schwartzmann. Paul is Barker's brother and served as Valley Christian's captain during its 2007-08 state title run.
"I couldn't have asked for a better crew of assistant coaches who are ready to go," Barker said.
The senior leadership is also in place to help guide Coronado, which is chasing its fourth crown since 2014.
One of those seven seniors is Yohan Palafox, who is following the championship footsteps of his brothers, Omar and Ramon. Palafox served as one of Coronado's ball boys during Omar's 2014 and Ramon's 2017 title seasons.
"Yohan is humble," said Barker of his midfield captain. "He puts his team first. He's always positive. When there's a bad performance, he's on a group message thread staying positive. I wish I could clone him. I think the world of him."
There's only one Gabriel Gonzalez, and opposing teams are likely glad that's the case.
The very quick and skilled Gonzalez, another of Coronado's senior leaders, is a threat to score every time he touches the ball. Last year's Conference Player of the Year scored 54 goals.
With teams having two or sometimes three defenders monitoring him, Gonzalez's goal production (24 this season) is down. But his presence is allowing teammates to get free, and Gonzalez (12 assists) is finding them.
Coronado (89 goals in 15 matches) loves to attack and does so rapidly. Even its defenders — senior left back Ezequiel Peralta has nine assists — are sometimes leading the attack.
But with Coronado constantly pushing forward, it has left them susceptible, at times, to counterattacks. It has given up 26 goals this season, including four to Veritas Prep.
Coronado's (12-2-1) two losses this season came to 5A Carl Hayden and 4A Arcadia.
"We are a team that's susceptible to losing games to put it simply," Barker said. "They are not invincible and teams have the ability to have us down. We understand that going into the playoffs. Those games allowed us to see the cracks."
But injuries and late season mental fatigue also played a role in those losses.
Coronado expects to be at full strength when the state tournament begins Wednesday, and, despite the stumbles, opponents know that that the state championship road still goes through Coronado.
"We choose to block out the noise," Barker said. "That doesn't mean there isn't any pressure, but the pressure we feel are the expectations we put on ourselves."
3A playoff notes
No. 3 seed ALA Gilbert North (12-2). The program dedicated the rest of its season to teammate Bohdie Larson after losing him in a car accident. The program responded with its first AIA playoff appearance. "I believe that the number one reason why we have been successful is that the boys, as a team, truly love each other," coach Michael Gonzalez said. "They are best friends on and off the pitch and they are the true meaning of a team." The team's leaders are senior midfielder Isaac Chavez, junior midfielder/forward Aiden Gonzalez (22 goals), and junior goalkeeper Jona Medina. "Isaac has a ton of playing experience at a high level," Gonzalez said. "He leads with his voice on the field and his demand of our players playing at their highest level. Aiden leads by example. He always works as hard in training as he does in games and he doesn't let down. Jona leads by his voice, constantly organizing his back line and by playing through his feet." Justin Provenzano has scored 14 goals. … No. 5 Veritas Prep (12-3). The team is led by three seniors, four-year captains forward Jason Nunez, goalkeeper Ben Power and Marshall Briggs. Six players on the team have each at least five goals. "Our team gained valuable experience, reaching last year's semi-finals in the state tournament, which has helped us play with more confidence, even when we are trailing in games," coach Richard Cardenas said. "We also play more as a team this year, with more players contributing on offense and defense." This will be the program's third playoff appearance. "Team chemistry is a big part of the Falcon program," the coach said. "We do not have a JV or freshman team, so our upperclassmen take the freshmen under their wings and treat them as valued teammates. This creates a positive environment in which everyone feels valued and happy, regardless of their role on game days." … No. 7 seed ALA Queen Creek (9-4). Seniors Josue Roque and Danny Dunn are the team's leaders. "Josue has been a four year starter for the school and has earned the respect of his teammates as a playmaker," coach Ed Alameda said. "As the attacking mid, he has a great sense of when to strike and when to deliver high quality passes. He is one of the team leaders in scoring and finds ways to make plays which keep the energy level up. Danny is one of our center backs and directs the midfield and back line. He has a high soccer IQ and embraces his role as team captain. Danny's technical skills and ability to read and understand the game makes him a great leader and respected voice in the backfield." ALA Queen Creek has scored 45 goals and allowed 10 since a coaching change at the end of last season. "What makes this even more special is the distribution of scoring," Alameda said. "There have been several matches with five or more different players scoring goals. Normally, high scoring players like Josue, Trey Harvan and Tagang Bawa would rack up multiple goals, however, under the new system they are expected to help build up the rest of team with unselfish play." … No. 8 seed Thatcher (13-5-1). The team is led by its three senior captains, forward Grant Richardson, defender Jaeden Carpenter and midfielder Aaon Hatch as well as goalkeeper Brandon Udall. "Our team's success has been due to great team chemistry and a common goal of success as a team," coach Isaac Rogers said. "Our goals and assists this season have come from multiple players on our roster." With the exception of one year, Thatcher has made the playoffs consistently for the last seven years. … No. 2 Phoenix Country Day (12-0). Team has outscored opponents 79-3. … No. 6 Benjamin Franklin (10-2-2). Team has outscored opponents 53-18. Senior Jacob Aiello leads the team with 16 goals and seven assists. … No. 10 Gilbert Christian (12-4-2). Sophomore Jake Dickinson leads the team with 10 goals and five assists. … No. 11 Odyssey Institute (11-4-2). The program has outscored 67-19 opponents. Thomas Samois has scored 23 goals and Thaddious Thurman has 15 with nine assists. … No. 12 Valley Christian (7-5-1). The program has won 17 matches in the past two season after winning only two games three years ago. … No. 13 Arizona College Prep (6-7-1). Team has scored 42 goals, with six players each scoring at least four goals. Seniors Nathan France and Kazushi Iwamoto have scored 16 combined goals. … No. 14 Yuma Catholic (12-5-1). Team has outscored opponents 84-42. Senior Anthony Bazua has scored 22 goals. … No. 15 ALA Ironwood (8-5). Team has outscored opponents 45-20. Three players have at least seven assists, led by Eloy Solis' with nine. … No. 16 Catalina (9-7-1). Team has scored 42 goals, led by Jilverto Velasquez's nine goals.
---