Liberty leads D-I and Sunnyside leads D-II heading into final day
February 13, 2020 by Andy Morales, AZPreps365
---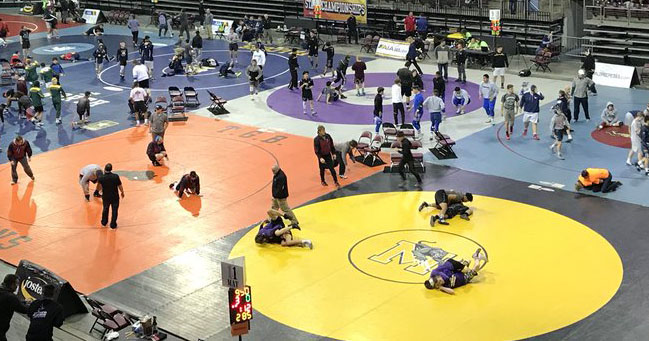 Liberty leads Cibola 148 to 132 after day one of the Division I state championships taking place in Prescott Valley. If the Lions hold on, it will be the third team championship in school history after winning in 2016 and 2019.
Zander Phaturos (113-pound), Tyler Sauter (138), Kamyn Stonebraker (160) and Matthew Stevenson (182) will represent Liberty in the championship round Friday night.
Liberty lost to Sunnyside in 2018 when both programs competed at the D-II level and the Blue Devils are on the verge of collecting their 33rd title in program history after putting in a dominating 216.5 to 120.5 lead over Mountain View Marana after day one of D-II competition. Sunnyside beat Mountain View 241 to 127 last year.
Sunnyside has James Williams (106), Job Lee (113), James Brown (120), Jesse Ybarra (126), Jaime Rivera (132), Sebastian Robles (145), Rene Flagoso (152) and Fernando Villascusa (160) in the final round Friday night.
D-III and D-IV boys and D-I girls start wrestling on Friday and will finish on Saturday.
---