Corona del Sol's 3rd-quarter burst sinks Mtn. View
February 14, 2020 by Les Willsey, AZPreps365
---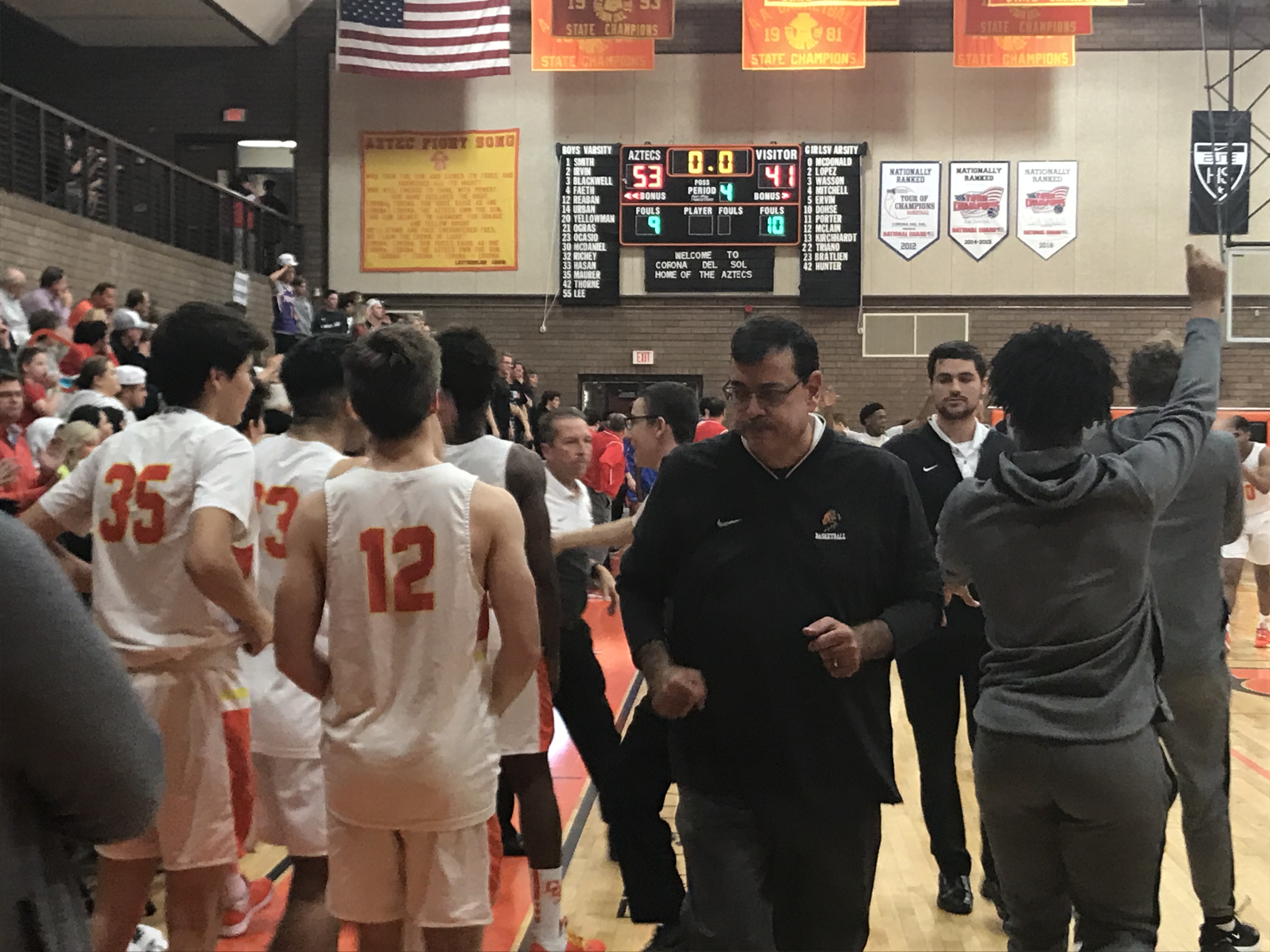 Corona del Sol has done a lot of shuffling with its lineup the last five weeks. Losing its best all-around player to a knee injury in early January. Adding a couple transfers at the holiday break who became eligible has helped with depth. Most recently, as in last week, adding injured forward Elijah McDaniel.
The constant all season, however, has been Eric Blackwell and the senior was at the forefront along with McDaniel Friday night leading a third-quarter surge that was too much for Mesa Mountain View to overcome.
#13 Corona outscored #20 Mountain View 19-6 in the third period to break open a tight game and end up a 53-41 winner in a 6A play-in game at Corona del Sol.
"When we lost Anthony (Irvin) we saw it hurt us not only in scoring, but defensively," Corona del Sol coach Neil MacDonald said. "We went through a tough patch without him, but the guys have hung together. Eric, he's a killer. Not afraid of the moment. He's averaged about 20 points a game on 13 shots a night. Tonight I thought our play earned the win."
Corona del Sol (15-12) moves on to the first round of state on Wednesday and will find out its opponent on Saturday at 4 p.m. with all the other conferences and schools when the tournament brackets are revealed on the AIA Basketball Bracket show live-streamed on AzPreps365. Mountain View wrapped up the season 14-13, coach Gary Ernst's 35th season at the school.
The lead see-sawed often in the first half. Corona led 10-9 after the first period and it took a hustle play by Blackwell to end the first half to give the Aztecs a 20-19 edge at intermission. Blackwell followe a missed jumper and converted the putback just before the buzzer. Blackwell scored 12 of Corona's 20 points in the first half and finished with a game-high 19.
The Aztecs carried over the momentum of Blackwell's final first-half bucket, outscoring Mountain View 17-2 over the first seven minutes of the quarter. Blackwell scored his final seven points in the third period.
McDaniel, a junior, just returned to action in last week's regular-season finale. He missed all of January and the first few games of February recovering from a broken hand.
"This was his second game back, and he's helped us on defense," MacDonald said of McDaniel.
McDaniel added a bonus by taking over scoring honors in the fourth quarter, netting eight of his 13 points. Corona led by as many as 18 in the final period, but saw Mountain View slice the deficit to nine with 3:16 left. Mountain View put up several threes in the final minutes, but didn't connect on any and the rally fizzled.
Kolby Doka led Mountain View with 8 points and Cash Clark, Nick Valencia and Matix Arnett had seven points each.
---