Santa Cruz wins D-IV again
February 16, 2020 by Andy Morales, AZPreps365
---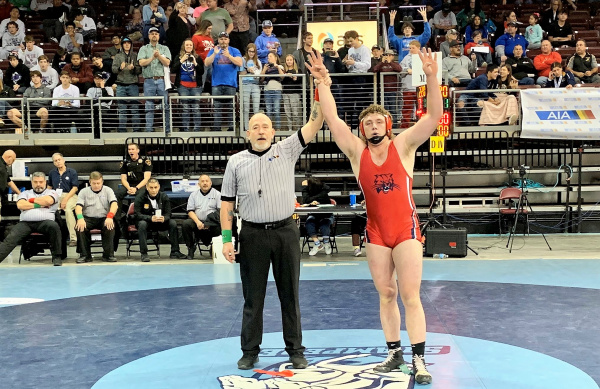 (Clayson Goodwin wins his fourth state title/Andy Morales/AZPreps365.com)
Santa Cruz and Morenci went back and forth on the final day of the Division IV state championships held in Prescott Valley but the Dust Devils stepped on top of the awards podium too many times for the Wildcats to keep pace.
The Dust Devils beat St. Johns 182.5 to 155 last year to win the program's first title since 1995 and the team beat Morenci 199.5 to 151.5 Saturday night to win the seventh title in school history. Morenci won back-to-back titles in 2016 and 2017 and the Wildcats took third place last year.
In all, five wrestlers from Santa Cruz won a state championship to easily outdistance the pack but Benson senior Clayson Goodwin (39-1) brought home the championship in the 220-pound division to secure his fourth state championship. He joins Alvaro Fenn (1976) as the only four-time champions from Benson.
DIVISION IV CHAMPIONS
106: Terrell Kinlicheenie (Joseph City) 42-3, So. over Soloman Lucero (Morenci) 16-8, Fr. (SV-1 12-10)
113: Davian Guanajuato (Santa Cruz Valley) 43-0, Jr. over Zachery Ruiz (Page) 52-6,. (Dec 11-7)
120: Cael Porter (Mogollon) 51-6, So. over Marcus Morales (Morenci) 16-2, Jr. (Dec 5-4)
126: Emilio Ysquirre (Santa Cruz Valley) 39-2, So. over Conrad Aguallo (Morenci) 26-4, Jr. (Fall 4:15)
132: Tanner Crosby (St Johns) 51-5, Sr. over Calvin Dunning (Morenci) 33-4, Sr. (Dec 9-2)
138: Wyatt Ogle (Santa Cruz Valley) 33-3, So. over Malaki Porter (Mogollon) 53-7, So. (Dec 5-2)
145: Clayton Sherman (Benson) 48-6, Sr. over Kaleb June (Page) 38-14, . (TF-1.5 1:32 (16-0))
152: Kelby Flowers (Willcox) 57-4, Sr. over Cody Torres (Morenci) 30-6, So. (Inj. 3:12)
160: Hunter Ogle (Santa Cruz Valley) 48-3, Jr. over Timmy Porter (Mogollon) 18-2, Sr. (Dec 4-1)
170: Gavin Davis (Arizona Lutheran) 59-0, Sr. over Brik Skousen (Thatcher) 52-8, Sr. (Dec 6-5)
182: Diego Chavez (Santa Cruz Valley) 45-2, So. over Robert Solorio (Parker) 47-7, Sr. (Fall 1:12)
195: Jad Mazboudi (Az College Prep) 54-2, Sr. over Salesi Morello (Am. Leadership - GN) 24-9, Sr. (Fall 1:35)
220: Clayson Goodwin (Benson) 39-1, Sr. over Kellen Gibson (Az College Prep) 57-7, Jr. (Dec 7-1)
285: Christian Contreras (Bisbee) 37-3, Jr. over Skylar Guerrero (Miami) 49-5, Jr. (Fall 4:57)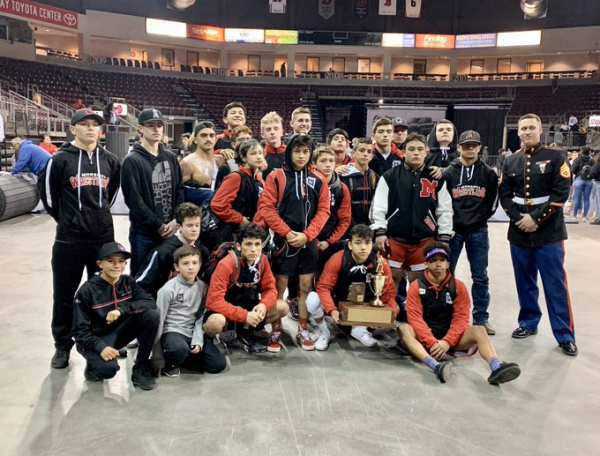 Morenci (Andy Morales/AZPreps365)
---