Broncos track and field team prepares under new coaching staff
February 23, 2020 by Lauren Shirley, Arizona State University
---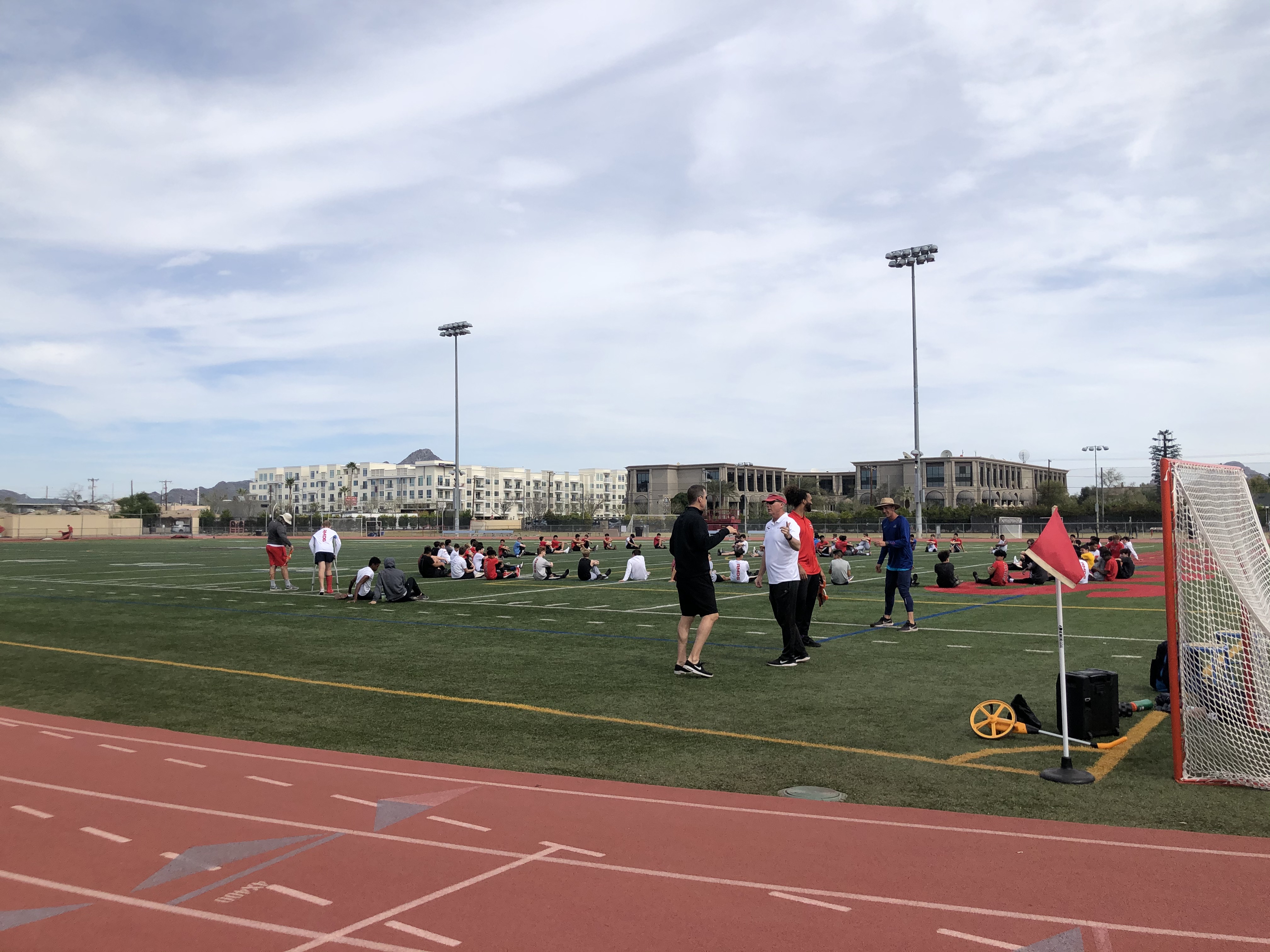 Lauren Shirley is an ASU Cronkite School of Journalism student assigned to cover Brophy Prep for AZPreps365.com
Brophy track and field is heading into the 2020 season under a new coaching staff that is taking a new approach by setting the tone with an intense preseason schedule.
The Broncos are now coached under Bill Kalkman alongside event specialized coaches Cole Walsh, Mitch Modin, Freddie Crittenden and Ben Thiel. Modin, Crittenden and Thiel are currently trying to make the U.S. Olympic team while they coach the Broncos.
"(Students) respond to these young guys and they can see how talented they are at track and field. That helps motivate younger kids," Kalkman said. "They'd like to be successful like these guys have been."
The team is made up of all classes and has state contenders, as well as great leaders. Seniors Harrison Cohen, Harrison Titzck, Marcos Gonzalez and Jose Acuna are all strong assets to the Broncos. according to Kalkman.
"Coming out here every day giving it all we can," Cohen said. "A big part of it is becoming a leader as we're seniors and leading by example and that sort of thing."
Titzck shared that Kalkman has encouraged seniors to dedicate extra hours and days to their team by adding Friday workouts and practices to their program. Titzck added that although it is a demanding schedule, it is rewarding to be able to work out and enjoy Fridays together.
Since track and field is primarily individual events, keeping the team's culture is very important. Ensuring all of the guys from upper to lower classmen are being supported and included during practice is important to these seniors.
Gonzalez said that he and other seniors want to help the younger athletes become consistent in their training and aim to train together as a team throughout the season.
As the season starts up within the next couple weeks, the Broncos aren't taking preseason training lightly. Cohen competes in long jump, triple jump and short sprints. Titzck runs the 100-meter, 200-meter and the 4x100 meter relay. Gonzalez and Acuna are both distance runners.
Adapting to the new coaching staff has been a challenge for this year's team because of the new workout and routines they are being put through.
"We have a new coaching staff, so that's tough to get acclimated to but with that comes different workouts," Cohen said, "They've been working us a lot harder this year in the preseason, which is getting us in better shape, but it's also a lot more difficult."
Like many teams that go through challenges, goals are also in sight. A goal that the Broncos are focusing on is to stay healthy and help each other stay consistent throughout the season.
"I think we'll train smart," Kalkman said, "We aren't going to try and get anyone hurt or overtrain. We've got three months to get ready to get to the state meet and we'll gradually keep working to improve."
"As a team, in general I think we just want to get better as the season progresses and stay healthy and make sure we're on top of what we have to do," Acuna said.
What makes this sport unique from others is the individual concept it has with a large roster. Cohen appreciates that the sport allows time for interactions with many types of people from all different schools and that it brings a fun aspect to a competitive sport.
"The team camaraderie, having fun with track and field, and supporting each other," Kalkman said.
"It's got that laid back atmosphere that you might not get in other sports but at the same time it's so competitive," Titzck added.
Desert Vista and Chandler are two of Brophy's main competitors this season, Cohen said.
"I'm excited for the home invitationals that we're having this year," Cohen said. "It's a lot of fun to come and race on our own track against different schools."
The Broncos will host the Perry Pumas on March 4 before competing in the Aztec Invite at Corona del Sol on March 7.
---