Officials overcome disabilities to become leaders
February 28, 2020 by Seth Polansky, AZPreps365
---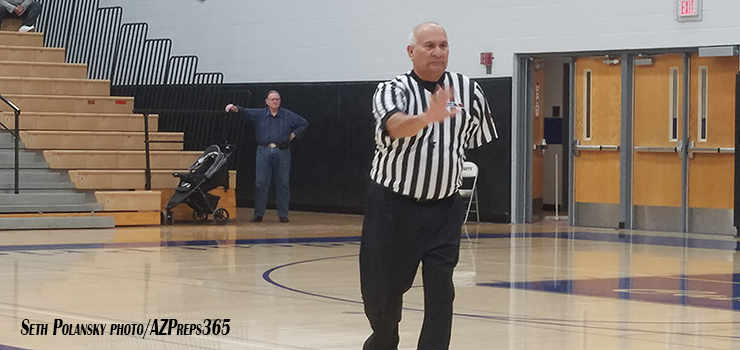 This might sound a little cliché, but it was a dark and stormy night. Anyone familiar with the Arizona monsoon season is all too aware of the damage storms can do to houses, vehicles and power lines.
Back in 1983 one such storm came through the Valley. And it left the usual path of destruction. A young lineman named Tom Rodriguez reluctantly answered a call from his foreman at SRP to be part of a large crew to restore some poles in Gilbert that had fallen into a canal. He and his crew had just come off an all-nighter in the Queen Creek/San Tan Foothills area and was finishing breakfast. But off he went to bring electricity back to residents in that area.
While reaching for the conductor atop a pole on site, Rodriguez made contact with a single phase line that was still hot as it was backfitted from a well site. In an instant his world went black. He awoke to his colleagues racing to get him down from the pole, start first aid and eventually get him onto a rescue helicopter headed for the Maricopa County burn unit.
One day later Tom Rodriguez had his left arm amputated.
In the years that followed Rodriguez was looking to get back in shape. As his twins were taking part in City of Mesa youth sports, Rodriguez thought it might be a good idea to become a coach for their games. After a while he realized there were more qualified folks to coach, so he looked into becoming a referee to stay active and close to his children.
"It was fun there watching them," Rodriguez said. "I saw the refs and thought I could do that. The City of Mesa kept me busy and I learned a lot. I got better in mixed leagues with higher skill levels of the players."
Time goes by and Rodriguez's kids are now grown. But being an official was a source of happiness. So he saw a website in 2006 that the AIA was hiring officials. Rodriguez submitted his information through the site, and 14 years later he is still out there doing what he loves.
Rodriguez said, "When I started training I was watching the other officials and just had to figure out, 'How can I do that? What's the easiest way for me?' It was the same way at work. And I would find ways. I had to, otherwise it doesn't get done.
"The biggest difficulty is staying in shape. If you're going to work with high school kids, they're quicker and faster. It's a heck of a game. Not only do you have to keep up, but you have to keep their confidence level up. They can see and understand, they know, and they can feel it. But what a concept. They pay you to exercise!"
On top of the exercise he gets officiating mostly freshmen and JV basketball games, and boys and girls volleyball matches, Rodriguez also ran marathons, half marathons and 10Ks. It definitely created that "runner's high." After races or high school games, Rodriguez always had the energy left over for projects around the house.
While Rodriguez utilizes a mix of exercise and sport (he even plays golf), everyday life will sometimes get in the way. It's been over 36 years since the accident but there are always things that pop up that most people take for granted. It's at those moments that Rodriguez takes pause before finding a solution. Like his shoe coming untied during a game. Acknowledge, adapt and move on.
"There are challenges, no doubt about it," Rodriguez said. "If you take it a step at a time or a day at a time, you can work it out. Sometimes it might be difficult, but just keep pecking away at it. Master one, master two…you'll become a better official, a better person all around. And have half a listen to your parents and coaches. People think they don't have an influence, but they do."
Gatewood has officiated several first round and quarterfinal playoff games in his 20-year career. (photo provided by Rodd Gatewood)On most of the same basketball nights but at a different gym you'll find Rodd Gatewood hustling up and down the floor as an official. His technique is perfect and he's always in the right spot to see the plays unfolding. The only thing is that he can't hear what is going on.
Gatewood was born deaf. But that doesn't stop him. Not much does. He is a leading official at the varsity level and was slated to officiate a state semifinal game during the 2018-19 season before a snowstorm altered the plans of the tournament.
One major adjustment for Gatewood is contact with coaches. Always a no-no in the world of sports, it is necessary on most nights in his games. And it doesn't bother him. Gatewood needs to be able to communicate with others on the court, and if it takes a tap on the shoulder to get his attention, then so be it.
"It's really similar to being hearing because of the hand motions to make a call," Gatewood stated. "Because I can't hear anything, I don't know of any trash talking or anything like that going on. But while the game is running, that's the only challenge. With hearing people I just have to make sure I am in front of them communicating."
Gatewood has been working with officiating partner Bryant Patterson for the better part of the last few years. It has made communication much easier. Both know when to look at each other to coordinate a call and Patterson is very good with enunciating so Gatewood can accurately read his lips.
"Every morning knowing there is going to be a challenge is a great motivator to tackle the challenge," said Gatewood. "Being able to get involved with the game, make those calls…it's a huge challenge. And I enjoy that."
Gatewood's love of basketball stemmed from childhood. He attended a deaf institute and was on the team. But he also would watch the refs working his games. It was intriguing and inspiring. That's what led Gatewood to get involved with the AIA.
After moving to the Valley from the Washington D.C. area over 20 years ago Gatewood took the plunge and attended an AIA officiating camp. He loved it. And since 2001 Gatewood has been a fixture on the court.
The longtime coaches and officials know him. New crops of players get to know him every few years. And they don't know Gatewood as being deaf. They know him as one of the hardest working officials on the court.
A very independent person, Gatewood doesn't look for accommodations for his condition on the court or in life. He's worked as an electrical technician for Boeing the past 22 years with Patterson nearby in another department. Every day is another, normal day. Just a little quieter.
"What bothers me most is the perspective of people with disabilities," added Gatewood. "I know that some people are like, 'Oh my God, how do I communicate with a deaf person? What do I do?' And they're the ones who are more apprehensive than I am.
"During the game, once everything starts, all those fears and apprehensions go away. My encouragement to people would be don't be scared and face those challenges. Don't be scared to approach people. I'm pretty aggressive and not afraid to approach anyone to clarify something. I would rather do that then have any misunderstandings. Fear can't be a factor."
---