Brophy tennis captain looking to end his final season on a high note
March 1, 2020 by Lauren Shirley, Arizona State University
---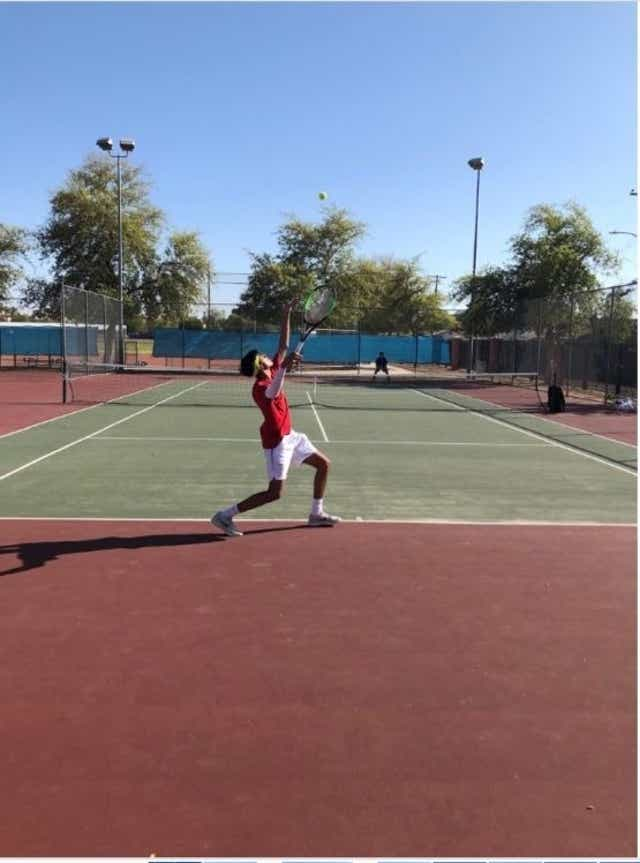 Lauren Shirley is an ASU Cronkite School of Journalism student assigned to cover Brophy Prep for AZPreps365.com
Brophy tennis senior Vipul Dua has fought his way since his freshman year to earn his place as captain on this year's roster.
Dua has been coached by Eric Chalmers since his freshman year.
"I think he had just picked up a racket maybe a year or two before," Chalmers said.
Dua didn't make the team his freshman year. However, Brophy tennis has its own program called the Bronco league that he joined. This gives players who don't make the official roster an opportunity to practice but not play in official matches.
After Dua didn't make the team his freshman year his determination for improving and making the roster the next year was apparent.
"He was the first guy who emailed me back being like, 'Coach, what do I need to do to get better? How can I make it? It's my goal to make it,'" Chalmers said. "We talked it through and he committed himself to working hard, and the next year he made JV."
Once he made junior varsity, Dua kept showing up for himself, Chalmers said. He then earned a spot on the back end of the varsity roster during his junior year, and has fought hard to get where he is now as one of the top eight players on the Broncos team.
"He earned that and the respect of his teammates through his work ethic," Chalmers said. "He's a great guy to have around and a really good example to all of our (players) who didn't make the team this year or who aren't on the ladder where they want to be."
Junior varsity coach Brendan Knight started working with Dua his sophomore year. Knight said that although Dua was a bit inconsistent, his strokes are now more fluid, his confidence has increased and he has become a strong competitor on the court.
Dua has had a large support system throughout his tennis career at Brophy.
"My parents (have) always come to all my practices and all my matches, and the school team has really helped a lot. Coach Eric has always been really supportive," Dua said.
After working hard to earn his spot on the team, Dua has also earned his spot as captain of the Broncos.
"He embodies what this program is all about, which is working hard, a competitive spirit and having a winning tradition," Knight said. "We have a lot of confidence in him and all the coaching staff is behind him this year to lead these players in that role."
Dua's role isn't just to be a strong leader and a key member of Brophy tennis. He also coaches at a youth tennis clinic at Paseo Racquet Center in Glendale. Dua's tennis coach from outside of Brophy inspired him to want to coach and give back.
"I decided to coach and decided to stay with it because I like showing the kids how to play tennis," Dua said, "This is their first time playing, and a clinic is how I started playing."
As Dua continues to coach and share his knowledge, he is hoping to pass the love of the game on to the younger athletes he coaches.
Dua wants to help kids find love for tennis, like he found his. Many kids haven't played before so he strives to cultivate passion and love for the game through these clinics.
While the Broncos head into the season looking for another state title, the coaching staff believes in Dua as a player and leader. Knight said Dua is independent and always goes above and beyond for his team and that being captain gives him the chance to empower this role and take authority.
Chalmers has been by Dua's side since freshman year and has seen the change in his game over his career and said he plays every match like it's his last one.
Dua's ultimate goal this year is to have a strong season and create a positive culture among his teammates. Since the team has many young members, he wants to make sure they are a part of the Brophy tennis family and pass on the tradition, like last year's team did for Dua.
After graduation, Dua will be heading to Santa Clara, California, for college where he hopes to win a spot on the school's tennis team.
---