Desert Vista handles Mtn. Pointe for 6A title
March 3, 2020 by Les Willsey, AZPreps365
---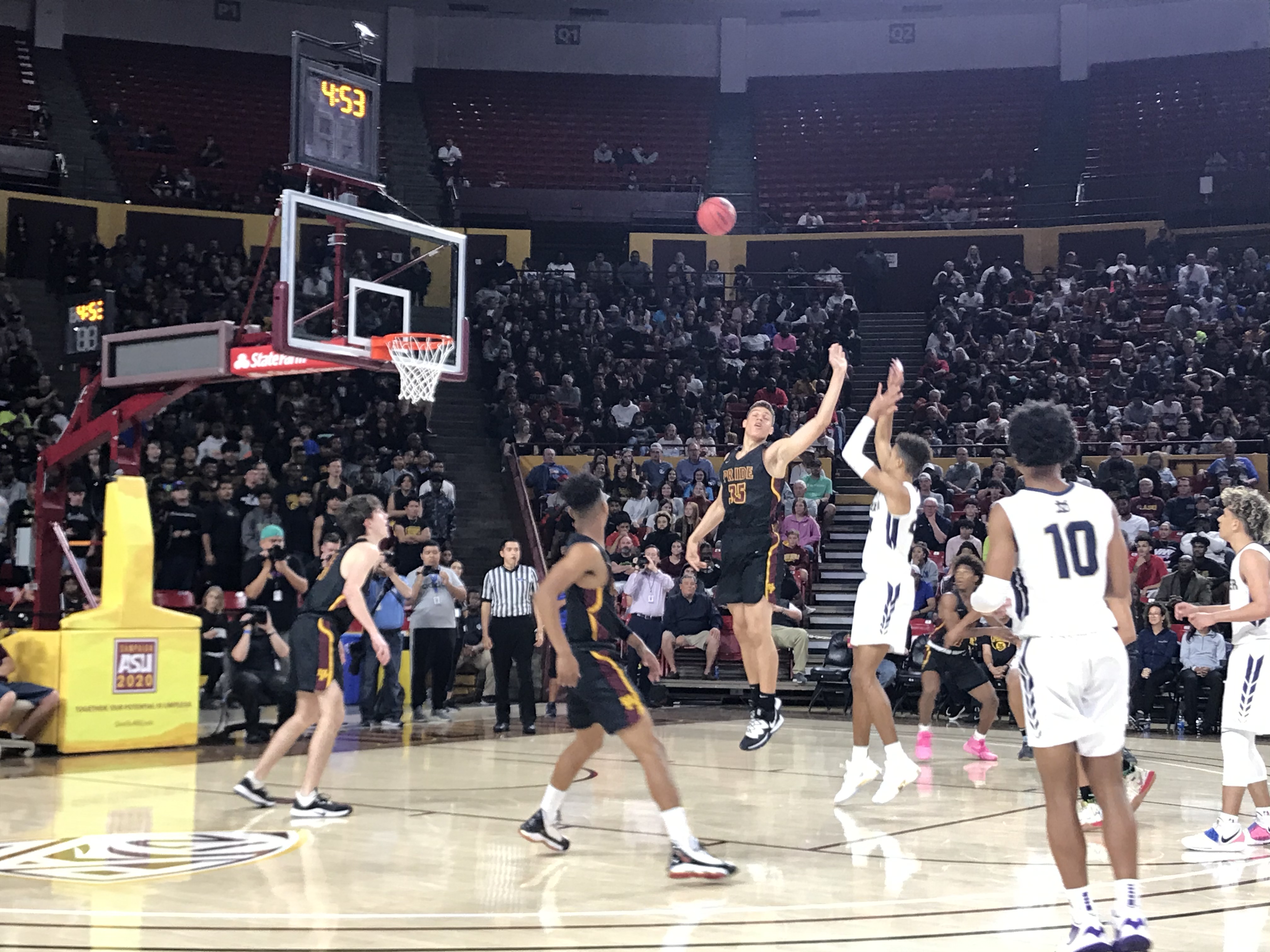 #1 Desert Vista and 11th-seeded Mountain Pointe last played a month ago - their second meeting. Both coaches said their team was different since then.
Desert Vista's "different" proved better on Tuesday night as it knocked off Ahwatukee rival Mountain Pointe for a third time, 75-55, at Desert Financial Arena. A fast start guided by senior Osasere Ighodaro and sophomore Desean Lecque was the catalyst for the wire-to-wire win.
"We made a lot of changes," Desert Vista coach Gino Crump said. "We put in a lot of different sets. Just revamped the offense and defense.... I couldn't ask for a better ending.'"
The championship was the second in school history for Desert Vista (28-3), the other won in 2008. It was the first for current coach Gino Crump, who finished his fourth season guiding the Thunder posting a record of 89 wins, 24 losses. Mountain Pointe (17-12) took home its second runner-up trophy in the last three years under first-year coach Kaimarr Price.
The difference many nights this season for Desert Vista is its defender of the lane - the Marquette-bound Ighodaro. The 6-foot-10 forward-post capped his career with 20 points, seven rebounds and four blocked shots - those totals from the first half only.
He scored all 12 of the Thunder's points in the second quarter. By game's end the totals were a season-high 32 points, 11 rebounds and six blocked shots. He made 14 of 16 shots as the Thunder as a team shot 60 percent. Several of his baskets came off assists from point guard Marcus Wady, who handed out 10 assists for the night.
"(Ighodaro) was incredible," Crump said. "This year he's reached the level I always thought he could."
Lecque was pretty good himself netting 21 points on 9 of 16 shooting. Lecque and Ighodaro combined for 17 points in the opening quarter that spearheaded a 23-13 advantage that wouldn't wane and finally ballooned as the final quarter advanced. It wasn't for a matter of trying by Mountain Pointe.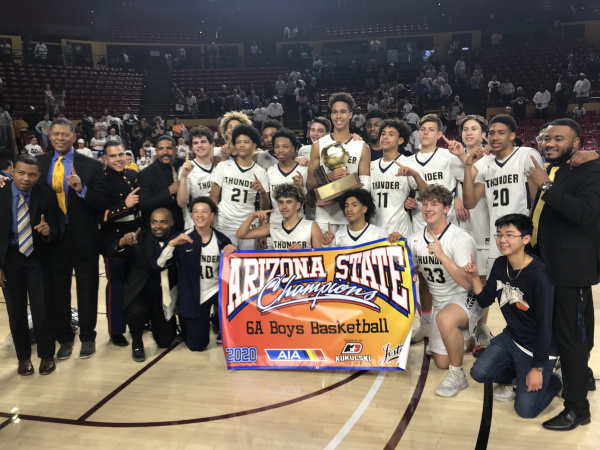 Desert Vista displays its 2020 championship banner, the second in school history in boys basketball. (AzPreps365 photo).
"Mountain Pointe didn't quit, they are relentless," Crump said. "They stayed in it hitting a lot of big shots in the second half."
Mountain Pointe freshman Mark Brown and senior TJ Tigler combined to make five of those big shots (threes) in the third quarter to give Pride fans some hope. Brown finished with a team-high 18 points and Tigler hit for 14 off the bench as usual.
Mountain Pointe managed to pare a 16-point, third-quarter deficit to 52-43 late in the third period. The margin was 60-50 with 5:30 left, but that's where the Pride ran out of gas.
Ighodaro's offense - the huge night which was double his season average of 15 a game - was a game-breaker for the Pride. He held nothing back.
"It was my last game and I had to be aggressive," Ighodaro said. "A do or die game for me. In a rivalry and for a championship my senior year."
---