Valley Vista wins another close playoff game, this time for the title
March 3, 2020 by Jose Garcia, AZPreps365
---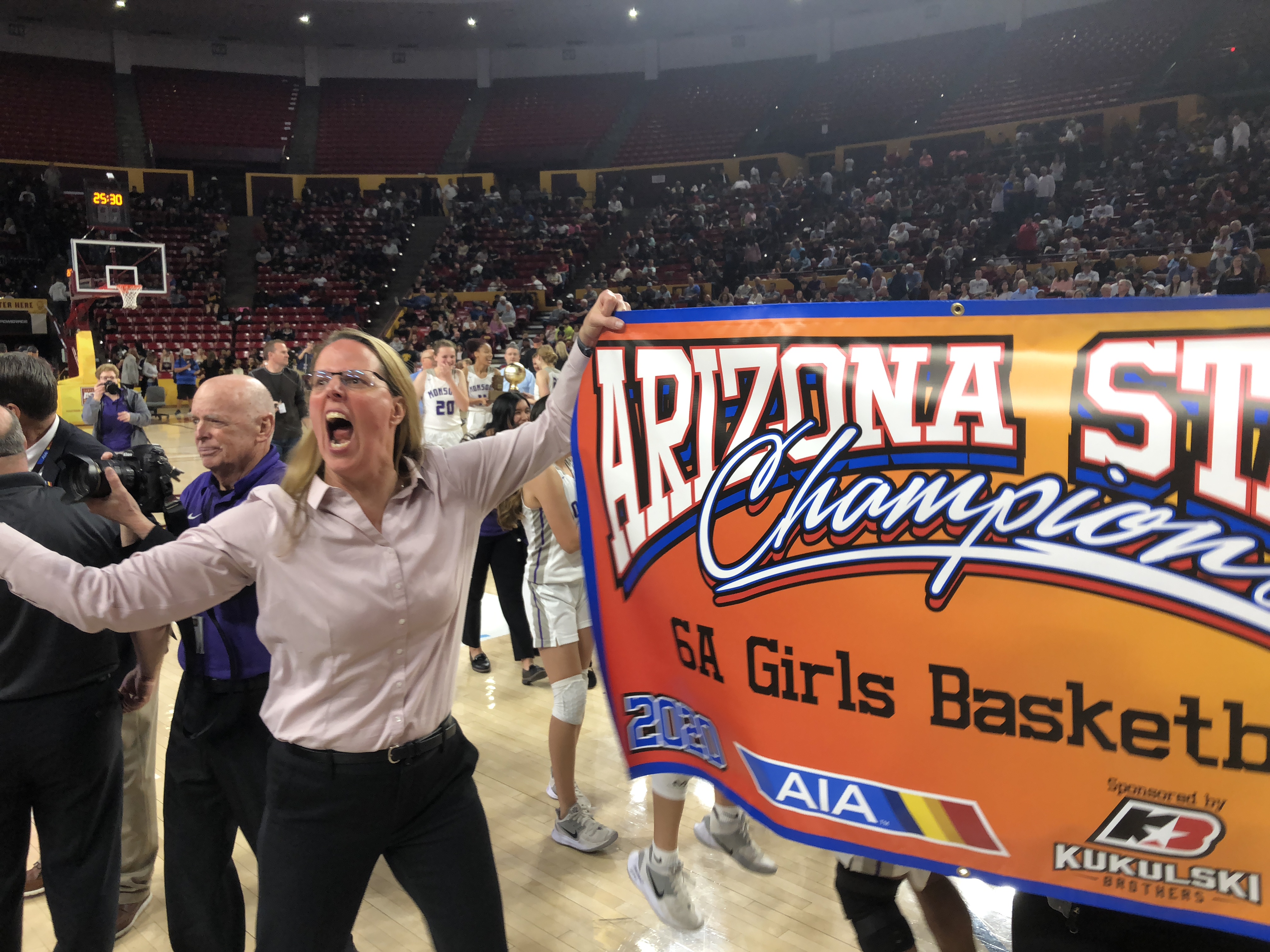 Valley Vista coach Rachel Matakas can jump.
While she was celebrating on the court with her team, Matakas took a couple of steps back and then tried to climb onto a couple of her players' backs. But the former college basketball player was just warming up Tuesday night.
As she stood behind her bench after receiving her team's prize, Matakas threw the 6A Conference championship trophy to a couple of boys on Valley Vista's basketball team in the stands. One of the players caught it.
Whew.
Matakas and her team let lose after some late-game, nerve-racking moments against a tough adversary, Hamilton. Valley Vista won the championship, 42-38, at Desert Financial Arena in a game in which the outcome wasn't determined until the final seconds.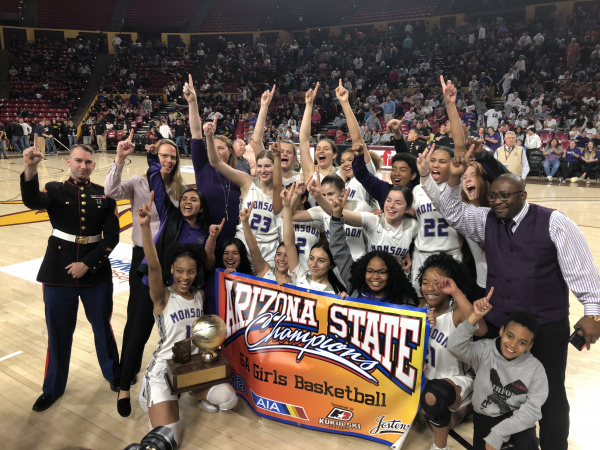 Valley Vista
"Grit. Grind. And honestly the Perry game," said Matakas about how her team won another close postseason game.
Valley Vista defeated Perry in the state semifinals with a Marisa Davis lay in just before the buzzer.
"We were here (in this situation) last week," Matakas said. "I said, 'Hey, make your free throws. Lock them down on D and go get rebounds.'"
In the end, Valley Vista put the ball in the hands of its best weapons, Davis and Jennah Isai.
They were getting to the basket and getting fouled, but the team missed seven free throws in the fourth quarter. It converted when it mattered most, though.
After a free throw and Hamilton's Victoria Davis made a layup after somehow splitting two defenders, Valley Vista trailed 38-36 with 52 seconds left in the game.
But Isai was then fouled, made her two free throws with 33.6 on the clock, and Hamilton followed with a missed jumper. On the next play, with Valley Vista in the double bonus for most of the second half, it almost gave the ball back when Isai fell.
The ball, however, fortuitously rolled to Davis, who took a couple of dribbles before being fouled on a shot attempt with 14.6 left. Davis said she started dabbling with a new free throw motion before state.
She said she didn't know exactly why, but who cares. It worked.
The tall junior guard made her final charity stripe attempt to put Valley Vista ahead 40-38. Hamilton's quick guards hit open shots and found openings in the lane, allowing their team to remain in the lead for most of the game until late in the third quarter.
After a full timeout and with 9.9 left in the 6A winter basketball season for girls, Hamilton tried again to find a crease, but its shot on a drive didn't go in. Isai was fouled again and made both tries.
The final 2.8 seconds ran out. Valley Vista finally exhaled.
The program from Surprise was the champ for the third time in the past four seasons.
"I wasn't nervous," said Davis (14 rebounds), who along with Isai each scored 18. "I was like we have to get this. We have to get this. Those last free throws made everything."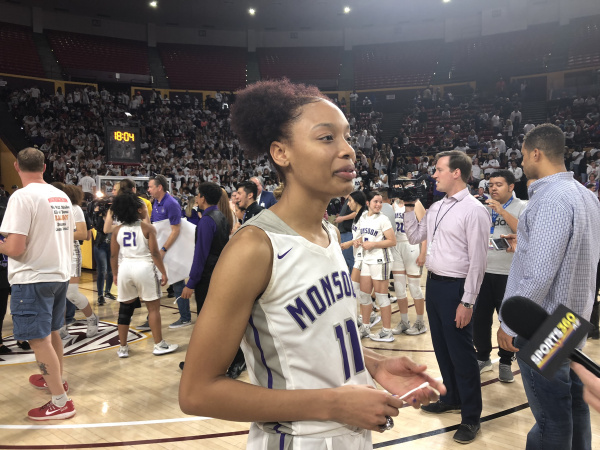 Valley Vista's Marisa Davis
With under a minute remaining in the third period, Davis' put back off a free throw miss by Isai put Valley Vista in front, 28-26, for the first time since her team led 1-0.
Hamilton's (23-8) match-up zone gave Valley Vista fits early in the game. A scoring drive by Hamilton's Amyah Reaves' (12 points) in the second quarter left Valley Vista with its biggest deficit in the game, 15-3.
But Valley Vista, which didn't make its first field goal until the 5:52 mark of the second quarter, started to settle down after that. This season, Valley Vista didn't lose to an Arizona team and ended its season with a 29-3 record and on a 20-game win streak.
"That school (Valley Vista) is my community, my home, and my life," Matakas said. "And they all work hard, and they all have a purpose. This is the result. That's why all these people come here. Because they love girls basketball."
---