Hamilton's early burst sinks O'Connor
March 10, 2020 by Les Willsey, AZPreps365
---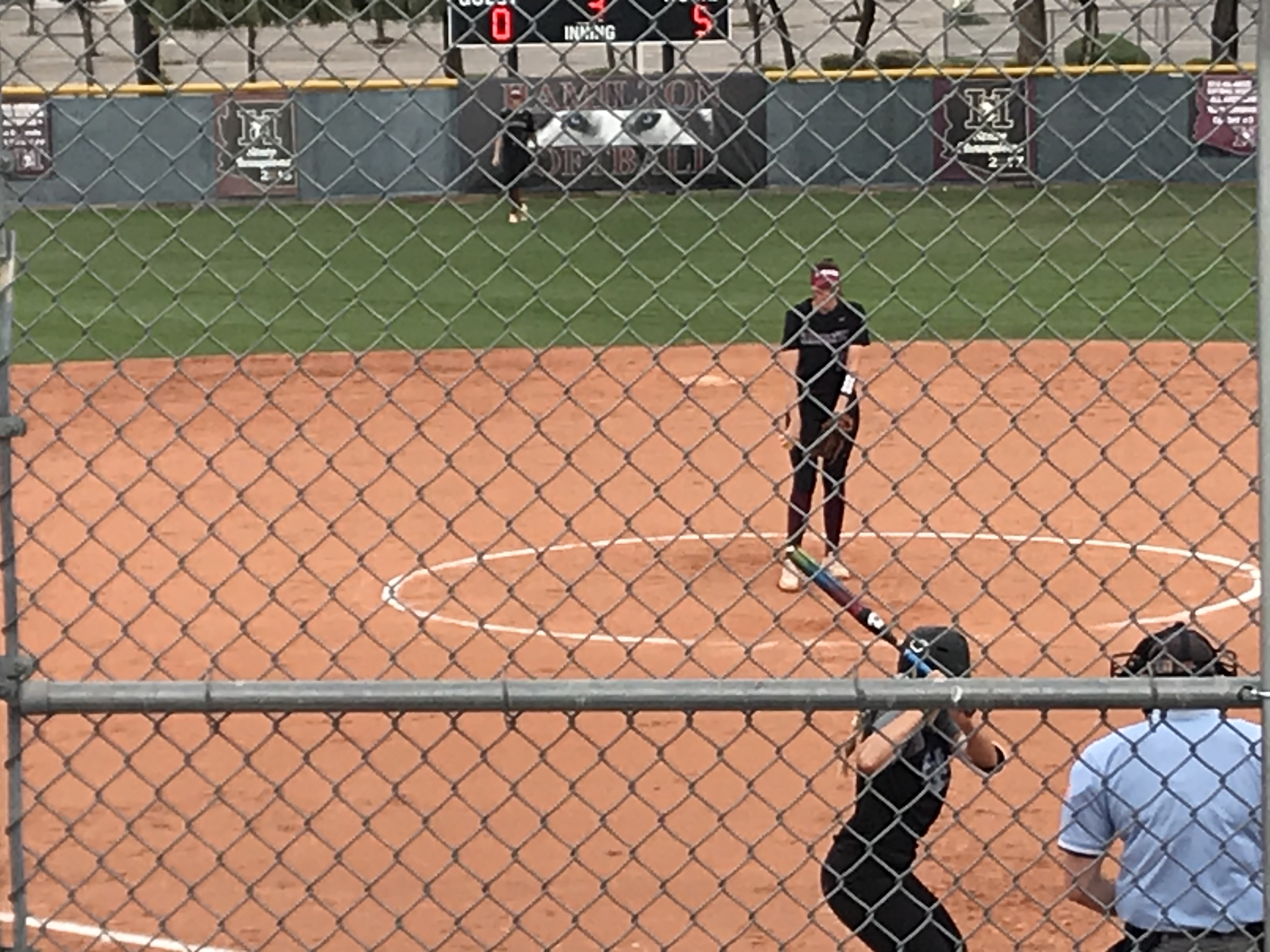 Defending state champion Sandra Day O'Connor and Hamilton will be in the mix for the 6A conference title again when May comes around. They met Tuesday on the heels of competing in the prestigious Ray Kops Tournament of Chmapions in Bullhead City last weekend where coming home .500 or better in games is a nice effort.
Their first game back in the Valley was against each other so competition didn't recede. It was a day mostly for hitters and Hamilton's four-run, first inning was the difference as it outlasted O'Connor, 9-6, in a non-region contest at Hamilton. Hamilton lost three games in Bullhead City, but is 6-3 overall and 3-0 in games that count in the power-rankings.
"The reason we go (Bullhead City) is the competition," Hamilton coach Rocky Parra said. "Your pitchers get used to facing lineups that are tough 1-9. I can't think of anything better than that for them."
Four pitchers took to the circle in this one - two each. The best outing of the game belonged to Hamilton starter Allison Weyandt. The tall - 6-foot - sophomore worked five innings. The first three she blanked a powerful O'Connor lineup on two hits. Weyandt gave up a pair of unearned runs in the fourth and two in the fifth before Parra turned to staff ace Loganne Stepp for the finish.
Weyandt's line for her afternoon's work was eight hits allowed, four runs (two earned), no walks and one strikeout.
"Allison pitched well today," Parra said. "She threw a complete game against a good team in the tournament and struck out five batters on 3-2 counts with a change up. We got runs early and she kept us ahead."
The teams combined for 15 runs and 23 hits (O'Connor won that aspect, 12-11). Hamilton's four runs in the first were courtesy of three straight hits to open the game (one a two-double by Teagan Dobson) and RBI down the lineup from Kelly Downs and Emmalynn Skaff (team-high 3 RBI day).
Hamilton's first four batters reached base in the first and O'Connor coach Melissa Hobson elected to lift starter Danielle Wilson. Hobson called on Riley Lauffer and for a few innings Lauffer kept Hamilton in check enough for its bats to make a comeback.
O'Connor (12-4) scored in each of the last four innings, but Hamilton with a 5-0 lead before the Eagles scored, answered rallies with two runs of its own twice. Hamilton's two runs in the fourth came with two out and noone on. Freshman Cailynn Parsons two-run single in the fourth and Skaff's two-run single in the sixth provided insurance runs blunting O'Connor's comeback bids.
O'Connor's top five hitters in the order are usuallu the most dangerous. They were a combined 4 for 17 with no extra-base hits. Six-through eight hitters Kaitlyn Laudrick, Lela Allen and Kathleen Georges picked up the slack (7 of 12 with 3 RBI).
"We know the top hitters in their lineup can really hurt you," Parra said. "We didn't give them anything to hit. They're good enough sometimes that's not enough."
Hamilton's first three hitters set the table nicely for the rest of the order. Loganne Stepp (3 for 5), Hannah Vargas (2 for 2, HR, two walks) and Dobson (2 for 4) scored six of the runs.
---