Senior spotlight: Tolman's all-around game a joy to watch
March 20, 2020 by Jose Garcia, AZPreps365
---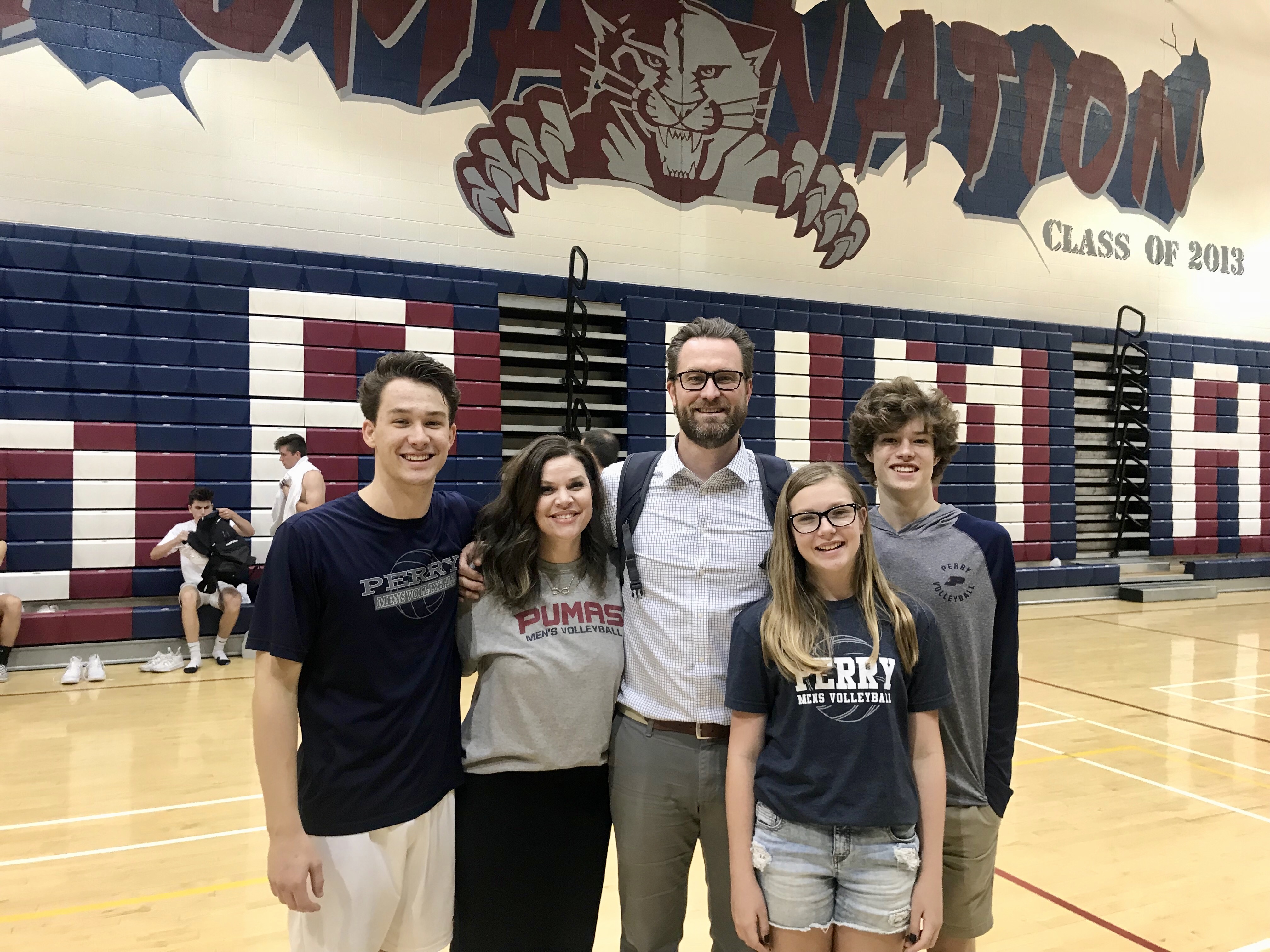 Forget about the perfect passes to the front row for a setter.
What excites Deb Tolman is watching her grandson, Daxton, use his quick first step to help him chase errant passes on the volleyball court. Daxton often redirects those wayward passes into assists, the final treat for Deb.
"There's just something about seeing Daxton run that my mom (Deb) loves," said Perry's head coach, Ryan Tolman, Daxton's father.
Ryan's son runs Perry High's multi-weapon offense.
A volleyball gym rat, Daxton developed into the state's best setter under his father's tutelage. But as Daxton was continuing to leave his high school volleyball mark, the spring sports season was halted this week because of the Coronavirus pandemic.
He and his volleyball team, like the rest of Arizona's high school spring sports teams, are hoping they can play again this season.
"The guys are still hungry to try and play as much as they can," Daxton said.
He and his teammates are staying in touch via group messaging.
At home, the volleyball chalk talk continues with family members. There's younger brother Gehrig, Daxton's back-up setter, star volleyball player in the making and good trash talker.
"We have arguments about who is better," said Daxton laughing. "He (Gehrig) is already telling me, 'Dude, I'm so much better than you.'"
There's the youngest Tolman sibling, Lily, who is beginning to find her way on the volleyball court.
Perry's volleyball team's biggest cheerleader also resides at the Tolman residence.
"To put it short, my mom (Katie) is the biggest supporter out of everybody," Daxton said. "She's the team mom. I can hear her all the time. She's the loudest cheerer, the definition of a soccer mom but in a volleyball sense."
And of course there's dad/coach.
Volleyball hooked Ryan during his state championship tenure at Desert Vista High. Tactically, he was green at first.
But since picking up his first volleyball book, Ryan, now in his 17th season as a coach, emerged as one of the best teachers in a state filled with quality high school volleyball coaches.
"It's probably been the best part of playing volleyball," said Daxton about being coached by his dad. "He pushed me harder than the other guys. At first I didn't understand why he was being hard on me.
"When I was younger I wouldn't listen. But at about 17 and 18, when I started to get into volleyball and started to listen more, I began to appreciate that he was by my side."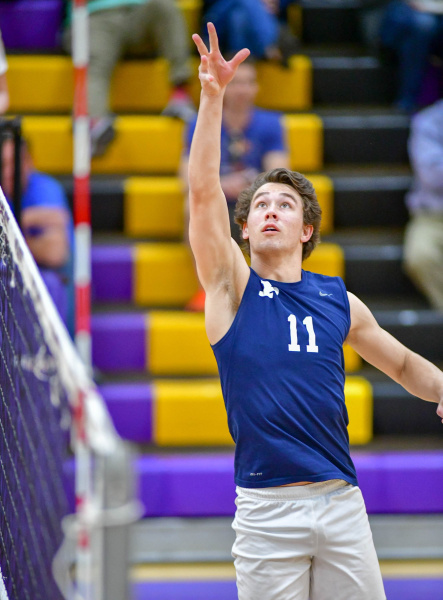 Perry High's Daxton Tolman is known for reaching into his volleyball tool kit to do anything he can for his team. Photo by Jack Beasley/maxpreps.com.The impact Ryan had on his son is evident in Daxton's all-around game.
Besides putting up a hittable ball about 98 percent of the time, opponents also prepare for Daxton's topspin jump serve and front row offense.
The 6-feet-2 Daxton is known to catch opponents off guard with a quick tip or momentum shifting kill. Every step of the way, Ryan's been there, ever since Daxton's first word — ball.
"It's hard to put into words how special it has been to coach him," Ryan said. "I'm sure in a couple of years, when I'm looking back at our time, I'll be able to articulate it better. But I can tell you this. It's going to be hard knowing he won't be around when I look back.
"It's nice to not to worry about his spot. It's easy to write in No. 11 (Daxton's number) and not worry."
One of the setter's biggest highlights came behind the service line.
During a regional club championship match, Daxton started the final game with five aces to help his club, Aspire, win. His other big moment came when 8th seeded Perry knocked off No. 1 Chandler in the state quarterfinals two seasons ago.
A block by Daxton ended that five-game match.
Next season, Daxton will shoot for more accolades while playing for Benedictine University in Mesa. This season, Perry started off well, finishing second in the first big tournament of the season, Chandler's Wolf Howl.
Nathan Schildgen, a middle blocker, outside hitter Carson Bashford and opposite Trey Smith are regular benefactors of Daxton's sets. Perry also boasts one of the best blockers in the state in middle Jackson Park.
Daxton said his team also starts the state's best passing core in Bashford, libero Spencer Keller and outside hitter Dalan Smith. Those players routinely pass the ball to the middle of the front row, where most setters prefer to receive the ball.
But to Deb, Daxton's grandmother, that's likely as boring as it gets.
The thing of beauty is watching Daxton go all out.
---