Video gaming helped Brophy Esport standout adjust quickly to new normal
April 1, 2020 by Jose Garcia, AZPreps365
---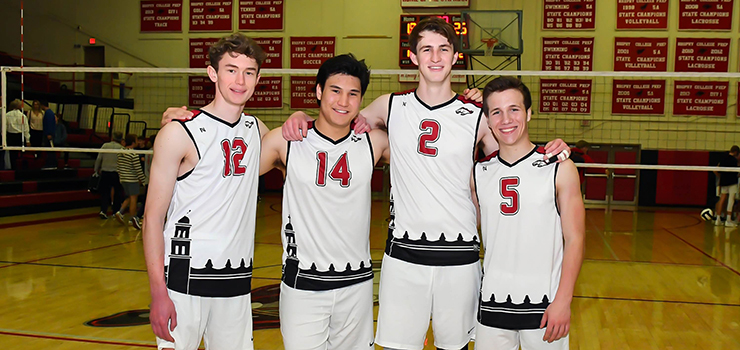 Jack Munhall switched to a different game mode when his high school volleyball career ended abruptly.
Like all of Arizona's high school spring sports athletes, Munhall learned on Monday that the Coronavirus officially closed the 2020 spring season and school year. But video gaming is filling the competitive void for Munhall and probably other students, allowing them to also stay at least virtually connected with friends as social distancing continues.
After schools were ordered closed on March 15, Munhall continued sharpening his video gaming skills.
"Other kids were bored, but for us it just means more training time," he said.
This school year, the Arizona Interscholastic Association introduced Esports as a sanctioned activity for its member schools, and Brophy surfaced as the school to beat.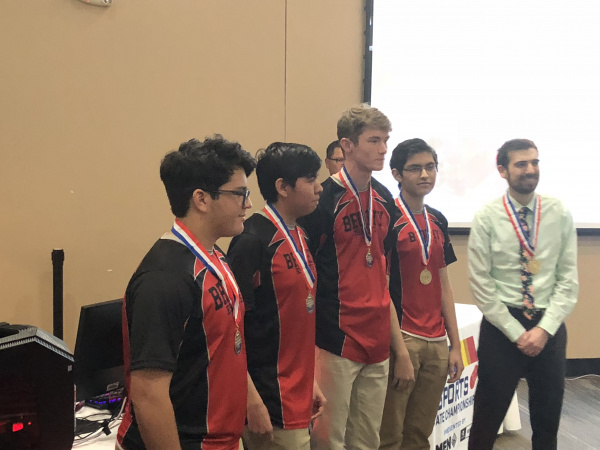 Jack Munhall (middle) and one of Brophy's Esports teams were crowned champs in the fall season. Photo by Jose Garcia/azpreps365.com. It eventually won the Esports Rocket League and League of Legends fall championships. In Arizona, Munhall became the man to beat in Rocket League, a soccer with cars video game.
Esports teams can continue to compete in scrimmage mode using PlayVS, the AIA's official Esports platform. This spring, the Esports season for the AIA's 104 teams was also cut short.
Ninety-four AIA Esports teams from 35 different schools competed in the fall. At home, Munhall adapted to the quarantine smoothly.
His gaming computers are always at the ready, and he's using his gaming headset to communicate with his friends while winning Rocket League matches frequently. But now that Brophy's online instruction is up and running, classwork comes first for Munhall, who recently received a University of Notre Dame acceptance letter.
He is undecided on which school he'll attend next, but playing volleyball at the club level and video gaming will continue wherever he ends up.
"I enjoy playing Rocket League just as much as volleyball," the senior said.
Jack Munhall/photo by Mark Jones of maxpreps.com.
Esports on Brophy's campus is strongly backed.
It starts with an Esports coordinator, Shawna Khan, a video gaming enthusiast ever since her playing days on Vectrex, a home video console developed in the early 1980s.
Khan is Brophy's registrar and has also worked in Brophy's business department. But gaming is her passion.
Two years ago, when Brophy got the OK to start its Esports program, Khan "pestered" her administration to let her help guide Brophy's gamers.
Khan and Brophy's tech department, at one point, built 11 computers. She was the right pick for the Esports job.
Khan and Gilbert High's Alyssa Beck-White are two of Arizona's trailblazing female high school coaches who are heavily involved in Esports. But Khan isn't the only one managing Brophy's gaming teams of about 30 students.
Brophy's director of scheduling and student activities Tony Oldani, assistant athletic director Frank Antonioli, coaches Jake Kelly and Philip Birgenheir and volunteer alum Kyle McCoy also play big Esports roles for their school's teams.
Brophy's Esports teams might be sidelined from AIA high school competition, but when they return they'll have the coaches in place to resume as frontrunners.
"I want to share my love for gaming and support the boys on campus, have fun and learn teamwork and advance their skills," Khan said.
Arizona's high school teams are sidelined, but the athletes continue to train on their own and communicate.
azpreps365.com is planning to stay in touch with Arizona's high school sports community during these trying times. One way is through a communtiy page we started, where we'll post blogs, photos and social media interactions until #playball instead of #socialdistancing starts trending.
---