Dominant tennis team wonders 'what could have been?'
April 13, 2020 by Drew Messing, The Gregory School
---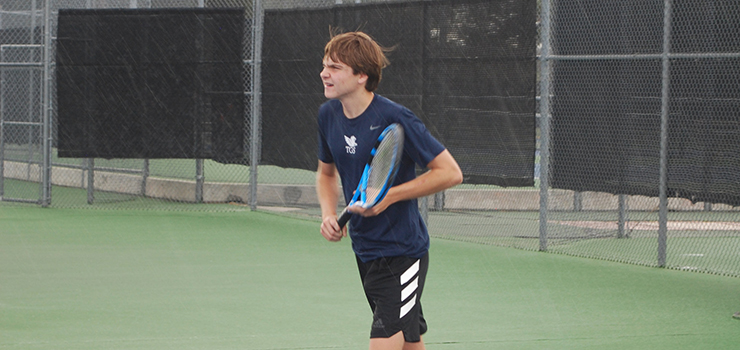 Fifty-three wins and one loss. The Gregory School boys' tennis team won all six of their team matches and 53 out of 54 of their individual matches this season before it was cut short due to the COVID-19 crisis. On March 30th, Governor Doug Ducey announced that on-campus education at Arizona schools will be canceled for the remainder of the school year. As a result of this decision, the Arizona Interscholastic Association announced that the spring season and championships have been called off.
As a member of the TGS tennis team, I am beyond saddened that we are not able to continue our promising season and pursuit of winning a state title. However, the decision is logical and parallel to the country's increasing efforts to protect people at risk of infection of COVID-19 and to limit the spread of the virus.
What rubs salt into the wound is that our team will never be able to compete together again. Four of our six roster spots are occupied by seniors. Unlike the National Collegiate Athletic Association, which decided that all student-athletes who play spring sports will receive an additional year of eligibility, high school student-athletes participating in the spring season across Arizona will not be granted an extra year of playing high school sports. In addition to their final season being cut short, seniors will not be able to compete for a state championship.
Junior Leo Gruenstein said, "It hurts knowing how much we have worked towards the end goal of winning state championships on the individual and team levels. It especially hurts because we have to say goodbye to this year's great group of seniors who will graduate with so much left on the table and will never know what could have been."
When asked to describe this year's tennis team in one word, Senior Wilder Cooke chose "Dominant." Cooke explained, "We have not lost a regular-season match in three seasons, I went to the state singles finals last year, Drew Messing and Stryder Rodenburg won the 1A doubles championship last season, everyone has improved tremendously, and neither Drew nor myself lost a single game the entire year."
Another senior, John Henry Clashman, described the path The Gregory School team followed before its sudden and heartbreaking end. "Ever since [we] realized our potential three years ago, all we had our hearts set on was winning the state championship. Because of that, all of us had been working for years to get better so that we could accomplish this goal. This season was our chance to be rewarded for the hard work that we put in, to avenge our past selves, and to not only win the championship, but also be a role model for other small schools to show that we can dominate larger competition." The Gregory School has a high school student body of around 150 and is one of the smallest schools in Division Three. Regardless of TGS's small size, the boys' tennis team has won 13 state championships, the latest being nine years ago. The team has achieved enormous recent success: an active regular-season win streak of 38 matches, spanning back four seasons.
The TGS tennis team worked hard for several years to be the best unit possible and to have the greatest chance of winning a state championship. Even though our team has tasted success, the 2019-2020 tennis season's cessation will always have us wondering: "What could have been?".
---